Global Positioning System (GPS) technology has revolutionized how we navigate our everyday lives and the way we communicate. However, GPS is not available indoors, and while tools such as cell tower triangulation or wifi signal strength metering can provide an indoor position fix, the results are unusable because the tools are not accurate enough. But what if we had a navigation system that worked indoors? Enter indoor positioning system (IPS), a system used to locate objects or people inside a building using lights, radio waves, magnetic fields, acoustic signals, or other sensory information.
Takemetuit is a Calgary startup developing high accuracy IPS for retail, warehouses, unmanned systems and more. The company had developed a prototype system using some lab space at ACAMP, but in order to mature the product, they needed to do testing in a realistic environment. While the lab suited the development phase, it did not have the size or setup for realistic testing.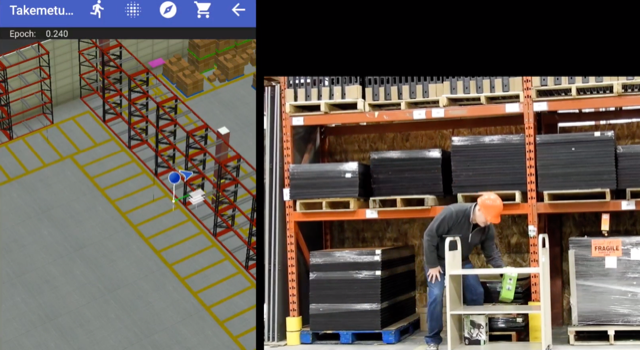 Takemetuit needed a suitable, cost effective solution - they were looking for a large warehouse type environment with shelving that had a lot of reflective surfaces, different shelf heights, and a high ceiling. The location needed to be regularly accessible during the day, and be a place they could bring customers on occasion to demonstrate the technology. 
"Our access to Living Labs was instrumental in the final development of our product," says Bruce Gilkes, Business Development Manager with Takemetuit. "We needed a realistic environment to test our system and Living Labs provided not only an ideal space, but also assistance when we needed it. Living Labs allowed us to accelerate our development and we are now in pilot discussions with several large companies. We wouldn't have been able to do this a quickly or cost effectively without Living Labs."
After considering various options that were not optimally equipped or affordable, they contacted The City of Calgary about Living Lab assets that might suit their needs. The Living Labs coordinator helped them find an ideal space located near their existing lab, and helped ensure that the installation of their equipment went smoothly, and that they were able to leave the setup in place over a longer duration.
This is a great example of how The City of Calgary's Living Labs is supporting business and investment in our local economy. Under the Living Labs initiative, The City of Calgary works with Calgary Economic Development to make public spaces, transportation corridors and land more accessible for the testing of technological innovation.

With many City assets at our fingertips, whether it's physical space, data, or technology that's needed, The City is eager to work alongside entrepreneurs and researchers to find solutions to their unique needs and help bring their innovative ideas to fruition. Contact LivingLabs@calgary.ca  for more information.