Reducing fresh water usage though IoT product development
Random Acronym is Calgary based technology incubator focused mainly on servicing remote water operations in the unconventional oil & gas sector. In 2016, Random Acronym began work on their WaterTracker ecosystem, which combines remote data acquisition hardware and cloud data management to help reduce fresh water usage and associated operational costs.
The company first developed the software component of WaterTracker. Then, based on client feedback and market observations, they began experimenting with telemetry hardware and developing interfaces for common equipment and instrumentation and use of water sensors to ensure data integrity.
The hardware development ran into challenges posed by limited access to real-life data. What limited real-life data they were able to acquire through testing and pilots was unreliable due to third-party equipment errors, lack of equipment diversity, and connectivity issues. To address this, an in-house laboratory was developed. While in the development phase it was beneficial, the lab failed to provide the type of learning that real-life water data streams could for the fine tuning of their solution. Being a small technology incubator in Calgary, Random Acronym was faced with the lack of cost-effective access to real-life operational water data to further develop the hardware components of WaterTracker.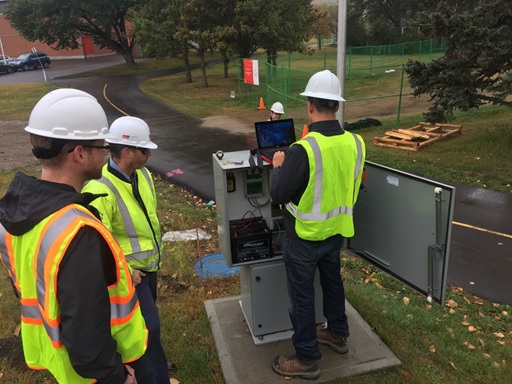 Field installation with the Water team from The City of Calgary
Random Acronym first learned about the City of Calgary's Living Lab initiative through the media coverage on drone testing completed at the East Calgary Landfill. The City of Calgary, with its water infrastructure and qualified staff, was the perfect partner to accelerate Random Acronym's development. They were provided with verified and documented data streams and access to a variety of water sensors, which greatly reduced their development time and costs for hardware implementation.
The collaboration with Living Labs also introduced them to other local companies who have actively contributed to the success their platform.
"The City's Living Labs has enabled us to accelerate our product development, expand our network, and gain experience in a new market sector." Says Marlon Fleming, Director, Random Acronym. "It has been a great experience with technical, commercial and emotional impact. As a technology startup, it is great to participate in this program and experience the support of our community through this initiative. It is a simple and impactful program."

Calgary's Living Labs help accelerate innovation and economic diversification in Calgary by providing City-owned data, digital and physical assets to allow businesses and researchers to move forward on bringing new ideas to life. We are eager to bring together like minded innovators to create a thriving innovation ecosystem. Find out how we can support you. Email us at LivingLabs@calgary.ca  ​