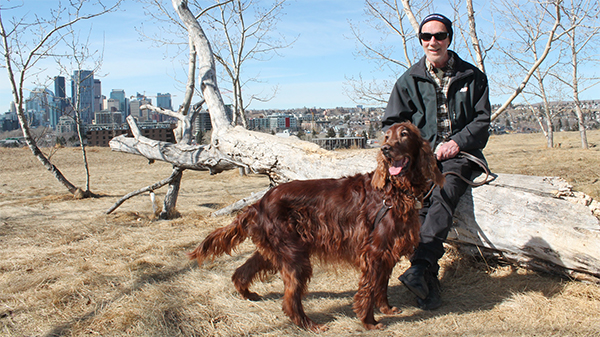 Rosa the Irish Setter is no stranger to Calgary Animal Services. The energetic 9-year-old was recently rescued from the Bow River during a tragic incident where her dog walker entered the river to save the struggling Rosa who had been chasing geese along the riverbank and broke through the ice. The caring and conscientious dog walker was overcome by the powerful current.
As he reflects upon that day and the loss of his longtime friend, Rosa's owner, Gordon, grieves about the events that unfolded from when Rosa was picked up that morning.
"That day I had a meeting until 7 p.m. and strangely, Rosa wasn't home yet," Gordon explains. "My phone rang and it was Animal Services saying they had Rosa and could I come pick her up. They were actually closed, but they said they would stay until I could come."
The City was able to identify Gordon as Rosa's owner through the licensing program. Once he arrived at Animal Services, it was then that Gordon learned about the death of his friend and how Rosa was pulled from the river.
"Rosa was rescued by EMS and they took her to Animal Services as she was severely hypothermic," Gordon recounts. "There was a team of veterinary staff waiting for her and they rejuvenated her and warmed her up. That is not as easy as it sounds; you have to do it slowly and carefully."
"I am so grateful to them that in this time of great human tragedy and how things would be triaged, someone thought to rescue my dog. It was so unexpected and sad. But in light of what happened that day, getting Rosa home was so appreciated."
Gordon also expresses his appreciation to Animal Services for their care of Rosa during the 2013 flood where he was forced to evacuate his home in the inner city for safety precautions and had to lodge with a family member.
 "It was not easy to find boarding at 11 o'clock at night when the Calgary Police Service is knocking on your door, asking you to leave your premises," says Gordon. "I phoned Calgary Animal Services and asked if I could bring Rosa there. They were so good, they took her in, made her comfortable and let me know she could stay as long as we needed."
That stay ended up being five days.
The money I spend on registering licensing the dogs is the best money ever spent.
In 2020


651 spay neuter surgeries performed for animals placed for adoption.
Reunited 1322 cats and dogs with their owners.
The health team performed 185 dental procedures.
Dr. Cheema performed 1058 surgeries.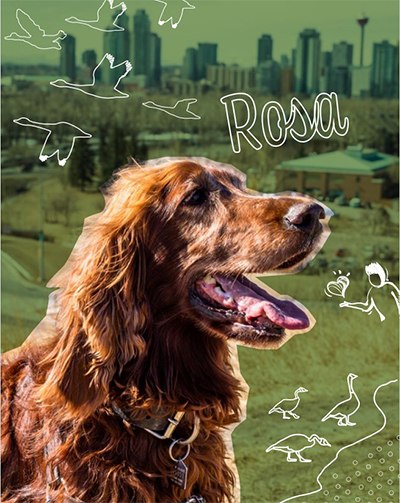 "I was so very grateful. When I got [Rosa] back she was happy, healthy and had been cared for," says Gordon. "The money I spend on registering and licensing the dogs is the best money ever spent."
Pet licensing is not only essential to the reunification of treasured pets like Rosa, the fees are partially used to fund medical services for injured or sick animals. The City of Calgary Animal Services Centre Clinic plays a vital role in the health and wellbeing of stray, lost and impounded animals. All impounded animals where an owner is not identified receive a detailed general physical exam after intake. They are then vaccinated, dewormed and, if needed, spayed/neutered before being put forward for adoption. The centre also has capabilities for dentistry, in-house diagnostics and a wide range of surgeries such as orthopedic, abdominal and ear and eye procedures. The clinic is also a teaching facility for the University of Calgary Veterinary Medicine program, offering student training for shelter medicine and surgery rotations.
"Our team provides very compassionate care for the wellbeing of these animals with the outcome of reuniting the pet to the citizen, or finding an adoption home," says City veterinarian Dr. Jagjit Cheema, who leads a team of six technicians and five animal care shelter assistants. "Providing an animal a second chance at life is very rewarding."
The passionate Dr. Cheema explains that the centre also provides safe keeping of animals for owners who are deceased, hospitalized, incarcerated, or affected by natural disasters.
"In 2013, with the flood, our clinic housed a lot of pets that had nowhere else to go," says Dr. Cheema. "And in the past year we also housed animals from COVID-positive owners. Some of those citizens needed to be hospitalized, so we took in their pets while they got well."
The City's licensing program is often talked about at North American conferences and is held up as a leading example of how fees can fund compassionate services to serve a city's animal population and citizens.
"It feels very good, and I am proud when we see our hard work pay off. The City's foresight in funding its own medical clinic can just do wonders," says Dr. Cheema. 
Did you know?
The City of Calgary is the only municipality in North America that provides free spaying and neutering surgeries to pets of low income residents?
No video specified. Configure this component to add a YouTube url.
Categories: Animal Services