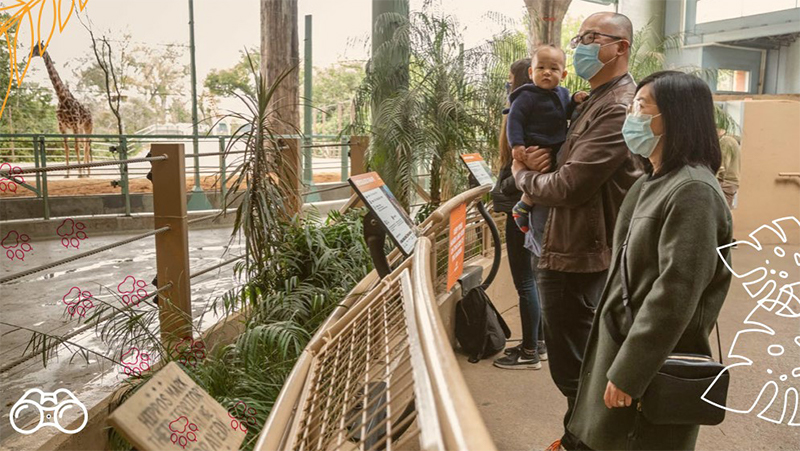 Visits to the Calgary Zoo create long lasting memories of fun, adventure and learning. Born and raised Calgarian Mike agrees and warmly reminisces about visiting the Zoo with his parents as a child.
"I remember when the polar bears were there... I remember the first time the pandas came and can still sing the song," laughs Mike. "My mom always used to say, if you ever wanted to calm me down, just take me to the Zoo. I remember the dinosaur park when I was a kid with friends, getting a picture up in the archway. Being able to do that now is pretty cool with my own kids and watch them experience it in the same way."
Now a parent to three-year-old Evangeline and three-month-old Emmett, Mike and his wife Heather are very active Zoo members, enjoying the many member benefits and supporting the Calgary Zoo's renowned commitment to wildlife conservation. He says those memberships have been put to frequent use during the pandemic, which saw Alberta under never-before-seen restrictions, preventing families like Mike's from enjoying their usual outings.
"We love travelling, seeing grandparents, but of course we couldn't do all that," says Mike. "The Zoo was a place that, for at least two or three hours, [the pandemic] just melted away. For us as parents, it was - how do we make things as normal as possible, how can we give our kids the experiences that we want to, realizing there are boundaries around that."
No one was more committed to remaining open than the Zoo itself, understanding what an enormous loss a long-term closure would be to a community desperately seeking joy and wonder during a prolonged and unpredictable pandemic. In March 2020, the Zoo had to close its doors with uncertainty about when and if they would be allowed to reopen. After recovering from the aftermath of the destructive 2013 flood, Zoo employees and supporters were willing to find that same incredible resilience to meet this new challenge and create a safe place to visit on their 124 acre urban forest.
"We thought, 'If we can't do this, who else can?'" explains Alison Archambault, the Zoo's director of brand and engagement. "Our executive team approached Alberta Health Services, the Province and The City with a proposal of how we thought we could operate. We were extremely grateful for those interactions as we were able to reopen in May 2020,"continues Alison. "To date we have been incredibly fortunate to be one of the few zoos in North America to be open full time since May. We recognized the responsibility and opportunity to give Calgarians a safe place to visit and our staff pivoted and worked exceptionally hard and long to make sure we could keep people safe, including our visitors, members and staff."
A comprehensive operational plan was enacted that would see online-purchased, timed ticketing, hourly and daily capacities for patrons, physical distancing guidelines, masking in buildings and indoor habitats, increased sanitization, and a pre-set, safety-minded experience. The animal care team operated in a separate environment so that if one team became impacted by COVID-19, the other team was able to ensure the animals were cared for at all times, with the required expertise on each team to look after each species of animal.
An increased employee presence across the property helped visitors navigate the new normal. After decades of people excitedly scurrying through the gates and scrambling to see their favourite animals, patrons were treated to a one way Zooventure guided by both directional and safety signage. Staff worked around the clock to answer questions or concerns around safety, member benefits, opening hours, ticketing and more, with daily consultations happening behind the scenes with The City and AHS to recalibrate as restrictions changed to ensure patron, employee and animal safety. "With the changing restrictions, safety was our utmost priority," explains Alison. 
As a regular visitor over the past year, Mike says, "It wasn't sterile, they did a really great job of communication. If there was a line up, they had people there informing you of what was going on – lots of visual cues and signage everywhere – paws on the ground for distance and arrows directing you. But it wasn't intrusive. We all knew we were operating in the 'out of the ordinary', but [visiting the Zoo] was still a human experience."
Alison's colleague Katie Frost is proud that even during this unusual time, the Zoo was able to generate some new revenue streams while deepening their education of conservation work. By creating new afterhours experiences, such as Locked Zoo, teams of visitors could participate in an escape game and solve puzzles to save a species.
"Conservation is a significant reason why we exist…extinction didn't take a break during the pandemic so it was important work to continue," explains Katie. "With these new, sold-out experiences, we were also able to attract some people to the Zoo who hadn't visited since they were kids."
While we can't put the pandemic behind us yet, Katie says she is touched by the positive experiences that resulted. "One of the pieces we will remember is the support of the community," she explains. "We had people offering all sorts of help and support – donations, the way the showed up to the Zoo, adapted along with us and being open to constant change. The way people stepped up was phenomenal and continues to be mind-blowing."
Alison agrees. "Our staff has been incredible, but we could not have done it without the support of our donors, our community, our civic partners. It takes a community to get through something like this and we are reminded of that right now. The love and warmth and the encouragement we felt and we continue to feel from the community is unlike anything we will probably experience again. It helped us get through this very tough time."
In return, the Zoo was that source of hope and joy to others enduring this tough time. Mike concludes, "It was so engaging compared to the other places we were allowed to be. The Zoo was actually an escape from the reality of the pandemic, not a reminder of it. We felt safe for us as a family to go, even it if was modified. It was a slice of normalcy in what has been a very abnormal time for all of us. I think it is probably one of the things we did the most during the pandemic. I've sat at the kitchen table for work for the last 15 months, so it was this ability to do something different and watch a two, now three, year-old grow up in front of our eyes at the Zoo." 
Did You Know?
The Calgary Zoo is the third highest attraction visited in Alberta, only behind Banff and Jasper.
Over 600 signs and 3,400 paw prints were used for wayfinding and to communicate distancing guidelines.

A group of lemurs is called a conspiracy.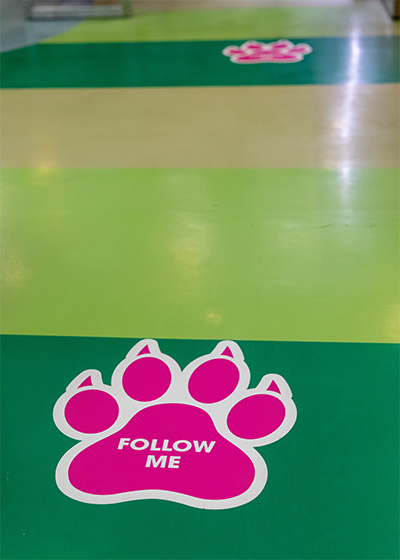 Answer the call
The Calgary Zoo recycles unwanted mobile phones as part of the Gorillas on the Line initiative.
Coltan is a mineral found in phones and other small electronics. It is mined from areas where endangered gorillas live. Recycling old mobile phones helps reduce the demand for coltan and protects gorilla habitat in Africa.
In 2020, the Calgary Zoo collected over 1,400 phones, the equivalent of 25 per cent of the total collected from across all participating zoos.
No video specified. Configure this component to add a YouTube url.
Categories: Calgary Zoo, Recreation