Creating connections through digital equity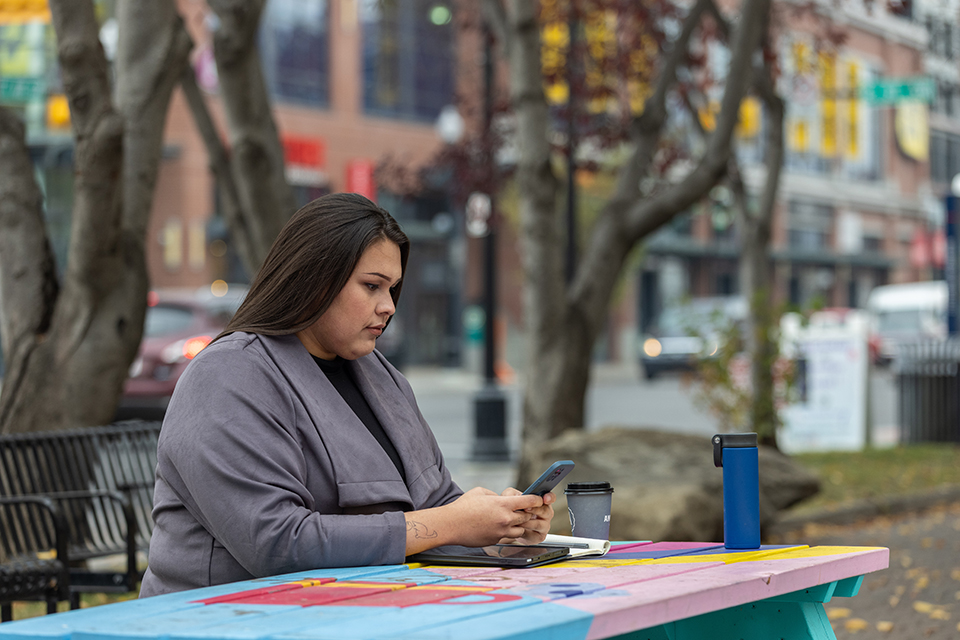 Access to technology has become vital during recent months. An October 2020 McKinsey & Company report notes that "digital adoption has taken a quantum leap" during the pandemic, accelerating the digitization of customers and operations and has "transformed business forever" with the largest shifts during the crisis the most likely to remain in the long term. Adjusting to COVID-19 meant that staying connected to family, friends and education, applying for programs and services, and the creation of safe workplaces required a quick adjustment to adopt digital technologies and resulted in the innovation of both processes and products.
While many businesses, schools, and households were able to react quickly to the changing environment and move to online platforms, not all Calgarians had access to the equipment and networks to enable life to continue so seamlessly.
"We hear of parents who drive their kids to sit outside of a McDonald's to be able to connect in to their free Wi-Fi so they can attend online school," explains Meaghon Reid, executive director of Vibrant Communities Calgary, an organization working to reduce poverty in Calgary through the Enough For All initiative. "And they had to share one device, like a phone, between the parent and two school kids when schools went online. This scenario and many others around digital equity is one of our biggest challenges."
Digital equity seeks to ensure that everyone—especially groups who are historically underserved or underrepresented—has the information technology capacity needed for civic and cultural participation, employment, lifelong learning, and access to essential services. Removing barriers to digital inclusion and participation and working towards giving people of all backgrounds and circumstances optimal digital resources is essential to advancing equity.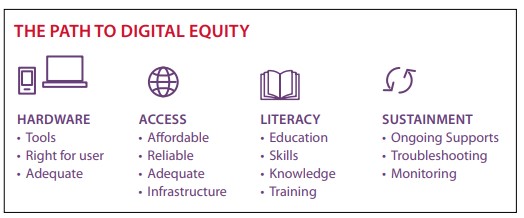 "When you're a Calgarian who lives in poverty – approximately 200,000 people at this point in time – if you are making decisions about 'heat and eat', the computer and the internet are going to be the first to go," says Meaghon. "Access to the internet is a basic need because access to any of the services a person in poverty may need is all on the internet. How do we reframe that digital equity, education about how to use technology and the sustainability of it all, is a new basic need?"

Another way digital equity impacts Calgarians is through inclusion. Meaghon explains that physical isolation has been normalized during the pandemic with most of us adapting to online work and socialization. "We've offset this isolation with digital inclusion, but for people in poverty, you are now much more isolated than your neighbour. So, while the technology challenged us – the hardware, connectivity, sustainability and access – we also have a challenge around isolation. I can't feel included if I am cut off from technology."
One of the goals of Enough for All is that we live in a strong, supportive, inclusive community. Though Calgary is one of the most connected cities in Canada, findings show that persons with disabilities, Indigenous people, low-income individuals, newcomers, and seniors are the most impacted by poverty and lack of access to technology and online services.
What actions are we taking?
The City of Calgary and its partners are supporting the advancement of technology and infrastructure in a number of ways that aim to contribute to achieving digital equity. Through collaborations with partners like Vibrant Communities Calgary, the Is kitsii gome (Seven Brothers Circle), and the Calgary Public Library, The City is laying the groundwork for a more formal strategy. The City is looking to better understand the digital equity issues faced by Calgarians and where The City can help with the challenges, and perhaps catalyze, coordinate, and align organizations that are already mobilized in this work.
"We are bringing community partners together to have a holistic community conversation about who's doing what and where the gaps are," says Monique Nesset, Smart Cities program manager. "The other component is around research. We're hopeful to partner with some of our post-secondaries and bring together that academic mindset. How do we know if we are moving the needle in the right direction, how extensive is the problem and what are the best avenues to take?"
Coupled with research and a meaningful, inclusive strategy, innovative and cutting-edge infrastructure is critical to achieve digital equity. Ground-breaking technologies leveraging a connected infrastructure, mixed in with successful experimentation help our city become more sustainable by bringing openness to data sharing and technology, building trust, and transparency.
Calgary as a Smart City
Smart cities use data and technology to provide a sustainable and better quality of life for citizens. Through innovative solutions, a smart city delivers real value to citizens and businesses and has the potential to improve every aspect of community life. One of the goals of The City's smart city approach is to become Canada's most inclusive and resilient community by connecting all Calgarians, enabling access to the services, supports and information needed to be engaged and participate.
"Technology and data are the tools we will use to deliver our solutions; however, people will remain at the heart of everything we do," explains Monique. "We will be planning and building out the projects for Calgarians using a Human-Centred Design (HCD) and management framework to ensure we are being inclusive. Our HCD approach will put the end-user at the core of the conversation to co-create and ensure solutions are what they need and are delivered with ease of use as a focus."
Eduroam
Eduroam (education roaming) is a global initiative that provides simple, easy, secure connectivity from thousands of hotspots across more than 100 countries. The City of Calgary is now the second municipality in Canada to offer eduroam, based on the most secure encryption and authentication standards in existence today. Post-secondary students, staff, and faculty from participating organizations can now securely connect to the internet when they enter Calgary's Municipal Building. Local students who have eduroam set up on their phones or laptops can automatically connect free of charge to the internet when on the main level of the Municipal Building, and access course materials, research and more without the costs of using their own data.
5G and beyond
As a means of supporting innovation, market competition, and remaining an attractive place to start or grow a business, The City is supporting wireless service providers (such as Rogers, Freedom Mobile and TELUS) to access City-owned assets for the deployment of small cell wireless equipment that will enable the next generation of wireless networks. The service providers are investing millions of dollars to deploy 5G and are most interested in accessing City street light poles. Street light poles are ideal for wireless infrastructure equipment due to their height, power availability, and locations throughout the entire city.
While 5G capabilities are promoted as a major economic driver, this technology will be instrumental in achieving digital equity. A lack of high-speed connectivity may limit opportunities for Calgarians, especially those in underserved populations and communities. As 5G becomes more available, it may offer a more cost competitive option for high speed connections and be widely distributed throughout the city using City infrastructure.
Availability of 5G may also improve services and systems such as educational online platforms, water management systems, autonomous vehicles, critical communications of first responders, access to healthcare services and professionals, and so much more. With the advancements made possible by the future of 5G, it is hoped that the Federal government, which governs policy on next generation mobile networks, will use the capabilities to help narrow both the economic and digital divide. 
Internet Exchange (YYCIX)
The City was involved in the inception of the Internet Exchange (IX) in Calgary. IXs are found all over the world and help make the internet faster and keeps data more secure. An IX is a neutral point on the worldwide internet network that interconnects various autonomous internet operator networks. These may be connectivity providers, citizens, businesses, public administrations, application providers, or content providers.
The City of Calgary provides fibre optics as an in-kind service to the non-profit IX, which is used to build a highly redundant IX network. This means there is duplicated infrastructure where additional or alternate instances of network devices and connections are installed to ensure an alternate path in case of a failure on the primary service.
"The IX plays a fundamental role in how the internet develops around the world, helping to provide faster, more reliable and cost-effective connections," says David Basto, Information Technology project manager. "We work very closely with technology carriers and other broadband enablers to deliver better service for all of our citizens and start to bridge that inequity gap."
The majority of IXs across the globe have a presence in only one location; the YYCIX is located in five locations around Calgary, made possible by The City's extensive fibre network. 
"When people are connected, they have the opportunity to be more engaged – in employment, education, and to one another," concludes Monique. "This is a complex problem, but by building a collaborative, community approach we can ensure Calgarians have the hardware, access and digital literacy skills they need to fully engage and participate online. By increasing the participation rate of Calgarians in the workforce, in civic, social and recreational activities through connections to technology and information, we can include everyone in all that our city has to offer."
Did you Know?
The City of Calgary has a 600+ km fibre network across the Calgary
Calgary has the 3rd largest internet exchange (IX) I Canada
Calgary is 4th in North America on the Open Cities Index
More than 82 public Wi-Fi sites available downtown
Meaningful participation in civic life and emerging economies is increasingly dependent on being connected. Reducing digital disparity is imperative to achieving our economic outcomes.

~ Resilient Calgary strategy
Categories: Digital, Equity, Information technology