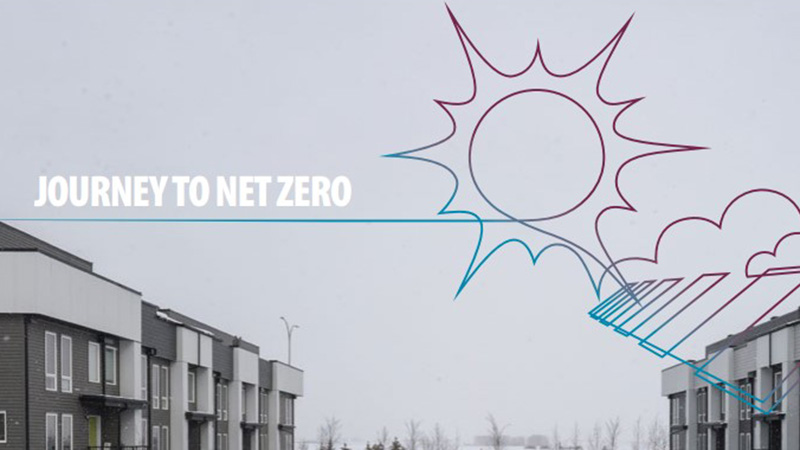 Many Calgary homeowners are feeling the pinch of rising utility costs and are looking for ways to ease the strain on their wallets. With net zero and net zero ready homes on the rise in Calgary, it is possible that your home could lessen some of those costs.
Net zero homes use the latest in green building techniques and technology to construct homes that have the capability to produce as much energy as they consume annually. A 'net zero' home is up to 80 per cent more efficient than an average new home. A 'net zero ready' home is equally as efficient but doesn't include on-site renewable energy systems, like solar panels.
"One of the ways homes reach net zero status is through an exceptionally tight building envelope," says Chris Williams, vice president at Avalon Master Builder, one of the first builders in Calgary to commit to green building technologies and energy and resource efficiency. "These homes are more comfortable overall, they are healthier in terms of indoor air quality, improve temperature control, reduce noise and require lower maintenance as the mechanical systems, for example, are simplified."
Socially conscious consumers looking to make a personal impact on their environmental footprint can be concerned about affordability, but Chris says it is important to examine monthly costs rather than your initial mortgage cost to understand the attainability.
"Even though we all budget on a monthly basis, when it comes to housing, we may think, 'oh those solar panels are an additional $15,000? - I don't know if I can afford that'," explains Chris. "Though it feels like an upfront cost, when you add up the costs of the monthly mortgage payment and subtract the utility savings, you get an exceptional living experience for very little extra cost per month over a standard home."  
Unlike upgrades like granite and hardwood, net zero features pay for themselves.
Energy-efficient homes used to be a niche market often with a high price tag, but advances in technology and the streamlining of green building practices have made these types of homes more attainable. As well as saving homebuyers money on utilities, net zero homes may qualify for the Canada Mortgage and Housing Corporation's (CMHC) Green Home Rebate, which offers a refund of up to 25 per cent on CMHC mortgage loan insurance premium when buying or building an energy-efficient home.
Throughout their years of experience in constructing energy-efficient homes, Calgary-based Avalon has established themselves at the forefront of the local homebuilding industry with their progressive and enviro-conscious designs. They work closely with the Canadian Home Builders' Association (CHBA) to share valuable information for the benefit of all members and participate in the CHBA's Net Zero Home Labelling Program to standardize the technical requirements for two levels of net zero labels.
"This program is the best way to prepare the industry and protect the consumer," says Chris.
One of Avalon's latest projects under construction, ZEN Sequel in the southeast community of Seton, is a series of stacked townhomes including eight net zero and eight net zero-ready units. The development   is part of CHBA's Net Zero initiative and represents one of seven projects across Canada intended to encourage the construction of net zero and net zero ready multi-residential buildings.
"For us, it has certainly created that competitive advantage because we've been doing net zero homes since the early 2000s, but by no means do we see that as our goal," says Chris. "We think we're better off to share everything that we've learned so that everybody is just building in this fashion because that's only going to help us all meet the building industry climate targets set for 2030 and 2050." 
In November 2021, Calgary City Council voted to declare a climate emergency, directing the pace and scale of climate action to be accelerated, and adopting a target of net zero greenhouse gas emissions by 2050.
To help build Calgary's low carbon economy and reach our emissions reduction target, The City of Calgary is researching best practices and incentives to reduce greenhouse gas emissions generated by buildings. One example is a new 'priority stream' pilot being developed to enable builders of net zero housing like Avalon to have their required permits fast-tracked. Projects designed in keeping with the standards of nationally recognized building certification and labelling programs, like CHBA Net Zero Homes, would benefit from streamlined application reviews, access to dedicated staff, general corporate support, and additional exposure through The City's communication platforms.
The pilot is intended to recognize and promote enhanced construction practices and reduce the demand for traditional sources of energy like natural gas and coal generated electricity. Canada has committed to net zero by 2050 and there are many policy decisions that will be required to support the journey to achieve this target.
"As a municipality we have an opportunity to offer a range of incentives to builders that seek this type of quality in building construction," says Martin Beck, senior planner on The City's Climate team. "Process-based incentives like streamlined approvals can make a difference, but if we can look at offering other incentives such as additional density or floor area exemptions to partially offset the extra capital required to build net zero housing that's attainable to all Calgarians, we need to seriously consider it. Other places in Canada are doing this and we can get there too."
The City will be working closely with Avalon on their next net zero multi-residential project slated for the community of Arbour Lake. The project will offer rental, market, and affordable housing units built both at net zero and net zero-ready standards.
"You have an energy efficiency label on your fridge and your washing machine, but very few are demanding the energy performance information of your home," says Martin. "We want to play a larger part in helping buyers and renters understand and take advantage of the cost and comfort benefits associated with high performance homes, in part made possible by funding programs, such as the one offered by CMHC. We need to all get comfortable in making decisions that prioritize energy efficiency and improvements to building envelopes while making that product attainable and equitable for all types of consumers."
"We have builders, trades and manufacturers right here in Calgary that can help make this happen. It is a tremendous opportunity to diversify and grow the local economy, provide additional housing that's more affordable to operate, all while reducing our environmental impact."
What is net zero?
In Canada, achieving net zero emissions requires shifting to technologies and energy systems that do not produce greenhouse gas emissions, while removing any remaining emissions from the atmosphere and storing them permanently. Left in the atmosphere, emissions trap heat and cause climate change.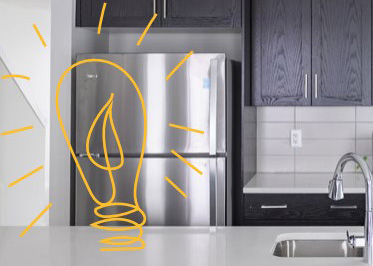 CHBA Qualified Net Zero Builders
(source: Canadian Home Builders' Association)
Effect Home Builders Ltd.
de Waal Developments
Habitat Studios
Mattamy Calgary
Avalon Master Builder
Net Zero Developments
Rosecrest Homes
Effect Home Builders Ltd.
Dolce Vita Homes
Homes by Sorensen 
Landmark Communities
Effect Home Builders Ltd.
Greener Homes Ltd.
Jayman Built
Butterwick Construction
Grandeur Housing Ltd.
North Ridge Developments
With net zero homes, the cost of utilities doesn't really matter as much because your energy in and energy out is balancing, and you're protected against future utility increases.

Chris Williams, Avalon Master Builder
Basic features of a net zero home
The basic features of a net zero home are:
a heating and cooling system that uses an Air-Source Heat Pump and Heat Pump Water Heater;
double coated, triple pane windows;
solar panels;
heat recovery ventilator;
energy efficent appliances;
additional insulation to create an airtight envelope;
LED lighting; and 
each home is tested and audited by an independent third party to ensure standards are met or exceeded.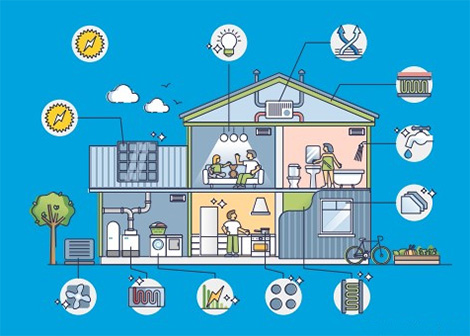 Journey to net zero video
Categories: Clean energy, Development, Net zero, Planning