Two Wheel View helps youth pedal to their potential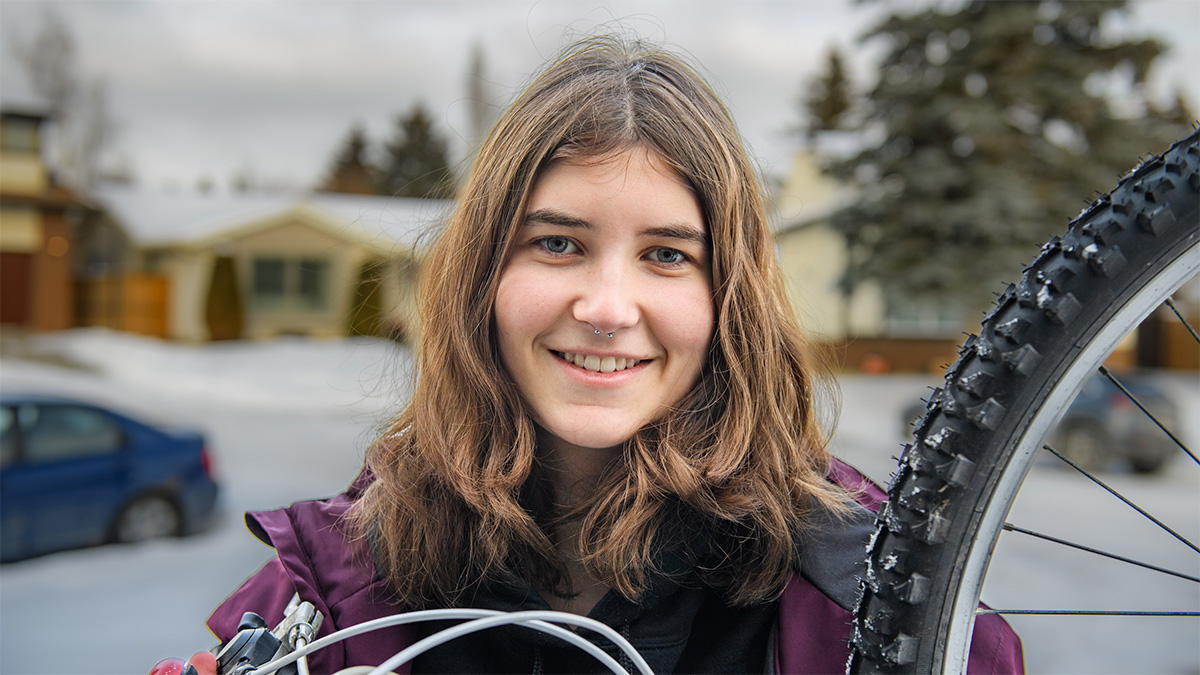 Most everyone remembers their first bicycle. The excitement of shiny new wheels, or a hand-me-down from an older sibling. A bell on the handlebars, reflectors on the spokes and the feeling of the wind on your face, the freedom of pedaling to a friend's house, to the local park or to school.
"I remember my red tricycle. The seat could move up and down, and I put my stuffies in a container under the seat," laughs 16-year-old True. "Now that I have a bigger bike, I like riding down the hill and across the bridge. I ride to my friend's house and feel like I have a bit of independence. I prefer my bike to riding the bus."
True was a participant in Two Wheel View's (TWV) Earn-a-Bike program when she was 13. Founded in 2001, Two Wheel View, is a Calgary-based non-profit that uses the bicycle as a vehicle for change in the lives of local youth. The Earn-a-Bike program (Bike Club) develops leadership and teamwork skills and teaches bike mechanic capabilities to youth in grades 7‑12. Over the 10-week program, participants receive a healthy snack, play games, learn how to fix a bike, and, with the help of mentors, discuss timely, age appropriate topics including community, leadership, and self-esteem.
TWV believes in offering programs to support youth in the critical hours outside of school when young people are less likely to be supervised and have the potential for making poor decisions that can result in accident, injury, or crime.
"It's about the bicycle, and not about the bicycle," explains Laura Istead, TWV's executive director. "It's the social emotional skills, reconnecting with community, and teamwork. Getting kids out of the house and on two wheels gives them resources they can access – part time jobs, school – and sometimes helps them get away from things that might be stressful or troubling. It gives them a bit of sense of freedom and independence all through the use of a bicycle."
The organization is on track to provide 300 bikes to youth this school year. TWV collaborates with community partners like schools, community associations, libraries, and other agencies to help get a collective of kids together. Teachers are asked to identify students who could benefit from the program and who wouldn't otherwise have the opportunity.
"We don't qualify young people through the criteria of a certain background or a socio-economic status," explains Laura. "We believe all youth are vulnerable and can benefit from this type of program."
"We know through all of our programming that kids are getting to school more days because they have access to a bicycle to get them to school."
True says her Grade 8 teacher approached her and suggested she consider the program to bolster valuable life skills all while earning a bike. "My teacher gave me a form and said that I would learn how to build bikes and stuff, and that sounded pretty cool.  During the program, we actually took apart a whole bike, like every piece, and learned how everything worked. And then we put it all back together."
Laura says that it is important to teach the practical skills of bike repair so that when participants earn their bike at the end of the 10-week session they also know how to maintain the bicycle. She says that these bikes will likely then be passed to other members of the family or the community, so it is important that they are maintained.
"We work with a lot of newcomer communities and sometimes these kids have had to leave their bikes behind as they come to Calgary to make a new home," she explains. "These bikes are having adventures beyond what we know. We help youth understand the access they now have to their communities, bring in the bike map to show here is where your home is, your school, other resources like leisure centres, libraries. Help them understand their community better and how you could use your bike to get to school."
At the end of 10 weeks, the program holds a graduation and participants earn a gently used bicycle, a new lock and helmet, a tool kit so they can use their newly acquired bike repair skills, a City of Calgary pathway map, and a pathways book from local author Lori Beattie.
"They ride home and it just so amazing," says Laura. "The kids really connect and find a lot of friendships through the program. It is really beautiful to see. From the beginning when everyone is so awkward to the end of 10 weeks, they have created their own community to be a part of."
True, who is now considering a career in social work after her experience in TWV, agrees. "It was so amazing - I even fixed my mom's bike! They match every child with exactly what they asked for. I got a turquoise bike that I still ride today. If I ever upgrade my bike, I will donate this one back to Two Wheel View."
TWV recognizes that the city's pathways and infrastructure are instrumental to running a successful program and to changing lives from the seat of a bicycle. Providing knowledge and networks is critical.
"Having that connected infrastructure is key," says Laura. "We want to be able to have our youth feel safe and be confident on the road. There is work to be done to teach people how to access the existing infrastructure and what it can look like, and what it can do for you. We just assume that people know once they have a bicycle, but in many instances, they don't."
"The 5A network is infrastructure, it's connectivity but it's also just this other layer of integrated, connected services, reaching people, all kinds of people," continues Laura. "I think most people want this connectivity and opportunities to see their city in a new way.  And to make it all meaningful by figuring out ways to bring [5A] into the culture and conversation. People travel and fall in love with the use and necessity of bicycles in other places like Amsterdam, but we can have that too. There are opportunities to have this baked into the culture in what we do and the communities that we are building, and the connectivity."
True has her learner's driver's licence but wonders the need to have her full driving licence given the costs of owning and maintaining a vehicle, insurance, fuel, and the climate costs.
"There should be way more bike paths on the road to make getting around easier," says True. "Why do I have to get my driver's licence when I would prefer to cycle places? There's only so far you can go on a bike. But if it was more accessible then I definitely would use my bike a lot more."
About Two Wheel View
Two Wheel View receives funding through Family & Community Support Services (FCSS), a joint municipal-provincial funding program designed to establish, administer and operate preventive social services. FCSS emphasizes prevention, volunteerism, and local autonomy. Calgarians experiencing vulnerabilities are the primary beneficiaries of programs and services funded through FCSS. TWV also receives support through The City's Crime Prevention Investment Plan.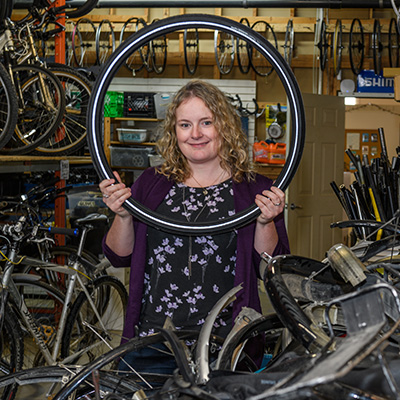 What is the 5A Network?
The way Calgarians get around is changing. More people are choosing to walk, scoot, skateboard, or cycle for their daily commute to work or school, for errands and for fun. We can get more value out of our transit and road networks by extending the reach of the services we already provide, through additional or improved pathway and bikeway connections to transit and parking. At the same time, Calgarians and visitors alike celebrate and enjoy our pathway and bikeway network as a great way to be active and see our city.
Learn more about our Pathway and Bikeway Plan - the Always Available for All Ages and Abilities (5A) Network.
Categories: Pathways, Transportation, Youth