Parks, pathways and natural areas
The City of Calgary provides more than 8,500 hectares of parkland and natural areas, as well as 1,000 km of pathways for you to enjoy. We also:
maintain more than 1,100 playgrounds, over 475 soccer fields and over 430 baseball diamonds
mow the equivalent of nearly 3,800 McMahon stadiums during the growing season; public parks every two weeks and playfields once a week
routinely plant thousands of trees throughout Calgary each year
maintain picnic sites in nine different parks across the city
ensure the 8,400 park benches throughout the city are in good condition when you're ready for a sit-down.
Calgarians tell us every year in our annual satisfaction survey how much they appreciate the quality of life provided by City parks, pathways and natural areas. To enhance and protect these resources, we actively promote environmental awareness and stewardship through education programs, speci​al events and volunteer ​initiatives such as the annual Pathway and River Cleanup.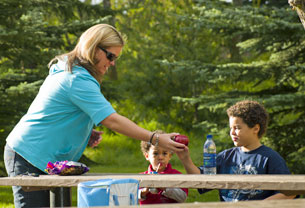 Park hours
All Calgary parks are open from 5 a.m. - 11 p.m. except:
Parks and pathways safety