The urban livestock licencing program enables Calgarians to keep backyard hens under the Responsible Pet Ownership Bylaw. The program launched last year with limited licences, and we saw great success, so we are opening the program to anyone interested this year!
Applications for hen licences will begin on March 29, 2023. The program will be opened seasonally (spring to fall), and there is no limit on the number of licences available.
If you're interested in participating this year, follow the steps below and don't balk (bawk!) at the process.
Process and requirements:
---
Please read through all the requirements listed below in detail and have all your documentation complete prior to applying. Incomplete applications will be closed.
Applicants will not be able to obtain their hens until their applications have been approved and they have received their licences.
You must be over 18 years to apply for an urban livestock hen-keeping licence. If under 18, a parent or guardian can apply on your behalf.
Each hen keeper needs to complete an introductory urban hen-keeping course, specific to the local context. It is also recommended that each licencee have support and assistance from a recognized mentor for their first year of hen keeping.
There are currently two approved training options for Calgarians wanting hens:
Education:
Attach a copy of your hen training certificate when you apply.
Site plan examples:
Hen applicants must provide a site plan with details of the coop and an attached run showing where it will be placed on your property.
Community Peace Officers will conduct random checks on licensed locations throughout the year to ensure all housing is consistent with what was approved in the application for the license and in good repair.
Your site plan is an aerial view of your backyard showing where the housing (coop and run) for your hens will be built. Please refer to the City of Calgary requirements:
Your site plan must include:
The dimensions and location of the coop and fully enclosed run on the property
If the coop has eaves, show that it is at least 0.6m from any property line
Attach a copy of your site plan when you apply
Hen applicants must provide a diagram of the housing they plan to build in their backyard to demonstrate their ability to maintain the hens' physical well-being. An enclosure must house hens with enough space (per hen) inside and out.

It is encouraged not just to build your coop and run to the minimum size requirements for the number of hens you're requesting but to increase it as your space permits. You can build your coop and attached run up to 107 square feet (10 m2) at which point you will require a building permit. The hens will enjoy the extra space, and it will minimize behavioural issues.
Please note that prefabricated coops may not be suitable for our climate and regulations.
Referring to your hen keeper training program and manual will be important for site planning. There is an example provided on pages 74-75 of the manual.
Coop
You will require a Development Permit if the coop and run is over 107 sq ft (10 m2).
You will require a Residential Electrical Permit if you want to hardwire electricity into the coop. You do not need an electrical permit to run an extension cord from your home to the coop to operate a heat source and/or heated waterer in winter.
Coop specifications:

The coop must provide a minimum of 4.2 sq ft (0.37 m2) of indoor space for each hen
The chicken coop must have:

Roof
Windows
Venting, preferably on 2 sides of the coop
Heat source (avoid heat lamps as they are a severe fire risk)
Waterer
Feeder
Roosting platforms/bars
Nest boxes
Appropriate hen enrichments
Light (optional)
Outdoor Run
The outdoor run is attached to the coop and provides a minimum of 10.2 sq ft (0.92 m2) of enclosed outdoor space for each hen.
It must be fully enclosed with galvanized steel mesh.

The mesh should be installed on the entire outside of the outdoor run, including the roof, and sides, and either placed all along the ground of the outdoor run and then covered with gravel or can be dug down 18" around the outside perimeter of the outdoor run to stop any predator from digging in.

In addition to the fully enclosed run, your yard needs to be securely fenced, with the fence reaching the ground.

If there is space between the fence and the ground, it must be covered with galvanized wire or closed off.
Attach a copy of your housing details when you apply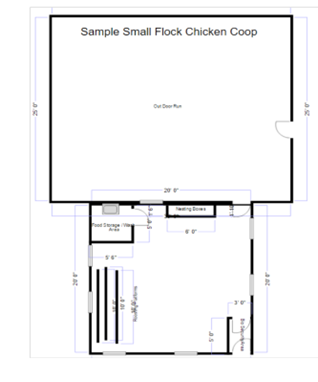 Applicants need to contact Planning & Development regarding the chicken coop you are planning to build and where it will be situated in your backyard.
To obtain a pre-application enquiry file number from The City of Calgary Planning and Development, call 403-268-5311 and ask for the pre-application enquiry to be created. You will need the following information:
Your address (where the coop/run will be located)
Size of proposed structure you may build for your hens (total area, heights, if the floor will be elevated from grade)
Approximate location of where the structure will be located
If you would like to hardwire electricity to your coop or other building elements
Learn more about Planning and Development requirements for home improvements.
Keep your pre-application file number on hand you will need it when you apply for your hen licence.
You will need to acquire a free Premise Identification (PID) number from the Government of Alberta. Premises Identification Program | Alberta.ca
"If you own livestock, poultry or other animals in captivity as defined in Alberta's Premises Identification Regulation, and the animal is kept at a premises other than a commingling site such as a stable, you need to apply for a PID Account and obtain at least one PID Number associated to where the animal(s) are located."
Keep your PID number on hand you will need it when you apply for your hen licence.
You must be the owner of the property or have written permission from the property owner as a requirement for your licence. If you are not listed on the title for the property written permission from the property owner must be submitted, even if you are married, living common-law or a family member.
Attach a permission letter when you apply (if you are not listed on the title).
Please read, ensure you understand and agree to adhere to generally accepted good hen keeping practices and complete any necessary provincial registration.
Attach your signed declaration when you apply.
Applicants need to research and have a veterinarian established that can provide care to livestock. You will be asked to provide the veterinary clinic name, phone number and location on your application.
You can find a Vet List on the Alberta Farm Animal Care web site veterinarian.
You will be asked to confirm the number of hens you are requesting to licence (the Responsible Pet Ownership Bylaw requires ownership of between 2 and 4 because hens are group animals). Roosters are not permitted, and young hens (pullets) shall not be younger than 16 weeks old. Hens must not be acquired before the licence is approved.
Applicants are to have a rehoming contact established outside of the city before applying. You will be asked to supply a contact name and address of where you would rehome your hens (if needed) outside of Calgary.
You can apply online or by calling 311.
ONLINE:
In the last step of your application attach:

Training Certificate
Site Plan & housing details
Declaration
Permission letter (if you are not the property owner)
311
If you call 311 to apply you have 30 days to submit the required documents. They can be submitted in the following ways:
Email UrbanLivestock@calgary.ca
Mail to City of Calgary, PO Box 2100, STN M, (Mail Code 36)
ATTN: Business Liaisons, Calgary, AB, T2P 2M5
Drop off at Animal Services (2201 Portland Street SE), Calgary AB,
ATTN: Business Liaisons
Hours of operation: Contact Us - Animal Services Centre (calgary.ca)
City staff will review applications for program requirements.
Incomplete applications will be closed.
Complete applications will be assigned to a Community Peace Officer to review and approve/deny.
Denied licence applications will be notified by email.
Approved applications will be notified by email or phone.
Please note this review stage can take up to 30 days.
If approved, city staff will contact you for payment of the licence fee.
Or you can call 311 and ask to be transferred to Animal Services.
Once payment is received, licences will be emailed or mailed.
Build your coop according to your site plan and housing details.
You can start building your coop at any time in the process but it is advisable to wait until your application is approved to ensure the coop meets the requirements.
Congratulations! You have begun the journey of a lifetime; being an urban hen keeper will show you that it's even more than it's cracked up to be! 
Urban hen licencing is regulated under part 4 of the Responsible Pet Ownership Bylaw.
Licence or permit holders must:
Have proof of ownership of the property where the livestock is kept (or proof of consent of the property's owner).
Have proof of completion of any training or mentoring. 
Keep all housing consistent with what was approved in the application for the licence (and in good repair).
Not keep less than two or more than four hens without approval through licencing application.
Not slaughter a hen or a pigeon within city limits.
Must not sell or give away the licenced hen to another person without the approval.
Must notify the City of Calgary if the hens are being relocated or moved and must agree to an inspection of any new location.
Egg selling or distribution must adhere to municipal, provincial and federal legislation.
Urban hen licencing ensures proper housing and care conditions are met for hens, and that any neighbouring concerns are addressed. Report concerns or direct questions to 311.
Citizens holding urban hen licences will receive a renewal notice that will contain instructions on how to renew their licence
You are required to renew your licence annually (from the date of issue)
You can call 311 and ask to be transferred to Animal Services to renew your licence
Urban Livestock licences cannot be renewed on MyID – Animal licences
Local urban hen keepers will have training on how to ensure biosecurity and what to do if a bird gets sick with avian influenza. This training is covered in the required hen-keeping course, as mandated through the licencing program. Avian flu does not typically occur in smaller hobby flocks, and the backyard hens will be limited to groups maximum of four per household. The Province of Alberta offers additional information on keeping small flocks safe, clinical signs and reporting.