Parks in Calgary's downtown core face a unique set of challenges, so The City has compiled the Centre City Open Space Management Plan to help greenspaces in high density areas flourish.
The following downtown parks are undergoing or will undergo improvement projects:
Why do we need a Centre City Open Space Management Plan?
Downtown parks provide a unique contribution to the overall quality of life of Calgarians as well as assists in the economic well being of an attractive, vibrant downtown. However, they face the following issues:
They are located within high density neighbourhoods, and therefore experiencing a high level of use;
They have public safety/social issues (i.e. sites that routinely experience camping by the homeless, open alcohol, drug use, panhandling and prostitution);
They have both a local and regional/city-wide attraction;
They host a wide variety of events and have a city-wide attraction (e.g. Folk Fest, Cara Fest, The Children's Festival, Rope Square, Canada Day, etc.); and
They contain historically significant elements, such as art, monuments and unique vegetation.
As a result of the above issues, The City has developed the Centre City Open Space Management Plan and the Centre City Parks & Public Realm Enhancements Plan from collaborative efforts of both a external partner committee and the general public.​​​​​​​​​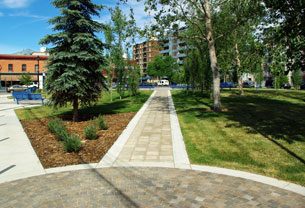 ​​​​​