Where we are
The Crowchild Trail Study is complete. The short-, medium-, and long-term recommended plans were approved by Council on May 8, 2017. Construction of the short-term plan is scheduled from October 2017 to late 2019.
Medium- and long-term changes and upgrades for Crowchild Trail will be prioritized for funding through The City's 10-year transportation infrastructure investment plan - Investing in Mobility.
Overview

From Feb. 2015 to Dec. 2016, we worked with thousands of Calgarians to identify short-, medium-, and long-term changes and upgrades to address current issues and challenges along Crowchild Trail from 24 Ave. N.W. to 17 Ave. S.W., and to accommodate the continued growth of Calgary in the years to come.

The Crowchild Trail Study was a transportation corridor study with a six-phase process that provided a variety of engagement opportunities for Calgarians to participate in each phase of the study. Examples included in-person events, community events, online, walking-tours, and sounding boards. Learn more about the six-phase process in the Project Library.
The six-phase study process was consistent with The City's Transportation Corridor Study Policy. Calgarians were invited to participate right from the start of the study, before the project goals were established. The project goals were developed with citizens' input and were based on three key principles:
Maintain and enhance bordering communities.
Improve travel along the corridor.
Improve mobility across the corridor.
Throughout the study, we engaged with:
Residents who live within a block of Crowchild Trail.
Residents who live in communities bordering Crowchild Trail.
Community Associations for communities bordering Crowchild Trail.
Businesses located within a block of Crowchild Trail.
Large Institutions along the corridor such as the Foothills Hospital and the University of Calgary.
Emergency responders who use Crowchild Trail to deliver emergency services.
Users of Crowchild Trail, inclusive of multiple types of travel.
Interest groups and agencies active in areas of goods movement, the environment and heritage.
Property owners who are impacted, as concepts were developed and refined, and recommendations were identified.
A summary of the engagement opportunities, what we heard, and outcomes from each of the six phases is available here. Feedback gathered from each phase was used to inform the technical work and decisions required in each phase. The diagram below provides an overview of the recommendation selection process.

Hear what Calgarians said about the process
Watch this video for an overview of the short-, medium-, and long-term plans
---
Learn more about Crowchild Trail's history and future needs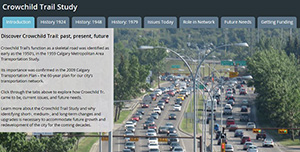 ​​​​​​​​​​​​