McHugh Bluff slope remediation project
Project update – October 2022
We are continuing to monitor the site for changes in slope conditions and stability. Our contractor has installed Geocoir matting on the upper part of the slope to help mitigate erosion.
We are completing the stability work in two phases:
Phase one: Stabilize the upper portion of the slope.
Phase two: Stabilize the lower portion of the slope.
We are currently in the phase one design stage. Once design and construction plans are finalized, we will be able to develop a more detailed construction timeline. Construction is likely to begin in 2023.
Project overview
In August 2021, heavy rain caused a section of the McHugh Bluff slope behind houses on 3 Avenue N.W. to become instable. The City of Calgary engaged contractors to monitor the site and provide a geotechnical report of the slope failure. Following their review, a plan was presented to Council to remediate issues along the slope, both in the short-term and long-term. This work includes installing:
soil nails with shotcrete
sheet drains
horizontal slope drains
high strength wire mesh/steel plates/geosynthetics
reconstruction of the existing gabion basket retaining wall adjacent to the pathway
Short-term remediation measures were completed on part of McHugh Slope in spring 2022. To delay the process of surface slope erosion in the short-term, the erosion gullies were secured with coir matting.
We've had to close the pathway along the McHugh Bluff for the foreseeable future, due to slope failure. Please see the map below for the closure and detour.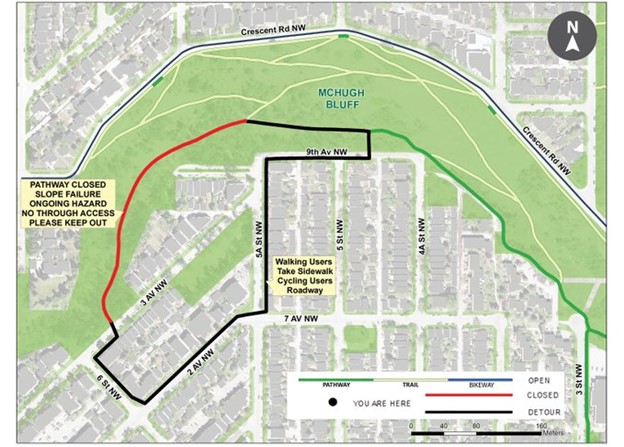 Frequently Asked Questions
No, The City of Calgary and our contracted partners continue to monitor the slope. Repair work is expected to begin in 2023.
Following a slope failure, trees and other material fell onto the pathway. Out of an abundance of caution and to protect the slope stability until construction work can begin, the pathway has been closed. Please follow the signs onsite and use the detours provided.
Timelines
Preliminary design: Fall 2022
Contract tender: Winter 2023

Contract award: Spring 2023
Construction: 2023