Stay tuned for more information on how to learn more and provide your input.

What does rezoning to R-CG mean?
---
The R-CG District is the Residential – Contextual Grade-Oriented Infill District. It includes both existing residential developments and allows for the construction of single-detached homes, semi-detached homes, rowhouses and townhouses. It makes it easier, and legal, to build different types of homes in our communities. This gives Calgarians the ability to find housing they need, and can afford, in a community they want to live in. 
Rezoning means that Administration will propose changing the zoning to R-CG on properties in all communities in Calgary that are currently zoned for only single-detached and semi-detached homes (typically R-C1, R-C2). In new communities this means properties currently zoned as R-1 and R-2 will be proposed to change to R-G. You can learn more about these districts here. 
What does rezoning to R-CG not mean?
---
Rezoning does not mean:

| | |
| --- | --- |
| | Property owners will be prevented from replacing existing homes with new, single-detached homes, nor will it remove existing single-detached homes. |
| | Eliminating single-family homes or only supporting rowhouse developments. It's about increasing housing options and meeting the demand from Calgarians for homes that have front doors at ground level (not apartments). |
| | Removing the development permit process. The landowner will still need to apply for (re)development and building permits to ensure the proposed new home(s) remain compatible with the surrounding community. |
Next steps
To move toward a citywide land use bylaw change, we'll take the following steps:
Preparation: create maps of the parcels that are subject to change; prepare notifications; and communication.
Communication: prepare plain language materials, letters and mail drops, and other communication methods to ensure Calgarians understand the change, what it means and why.
Notification: send out legal letters to landowners; include broad public communication on how to participate in the public hearing and advertising.
Public Feedback: the public will have the opportunity to provide feedback to Administration on the proposed changes, just as they can on any land use redesignation.
Recommendation: Following research, analysis and consideration of public feedback, we'll prepare a recommendation and report. This recommendation will reflect all inputs received on this work to that date and is not predetermined prior to the Recommendation step.
Calgary Planning Commission (CPC): Our recommendation is presented to CPC for a recommendation to Council.
Public Hearing of Council: The CPC recommendation will be advertised; the public can make their views known to Council by written submission or verbal presentation, and Council makes the final decision.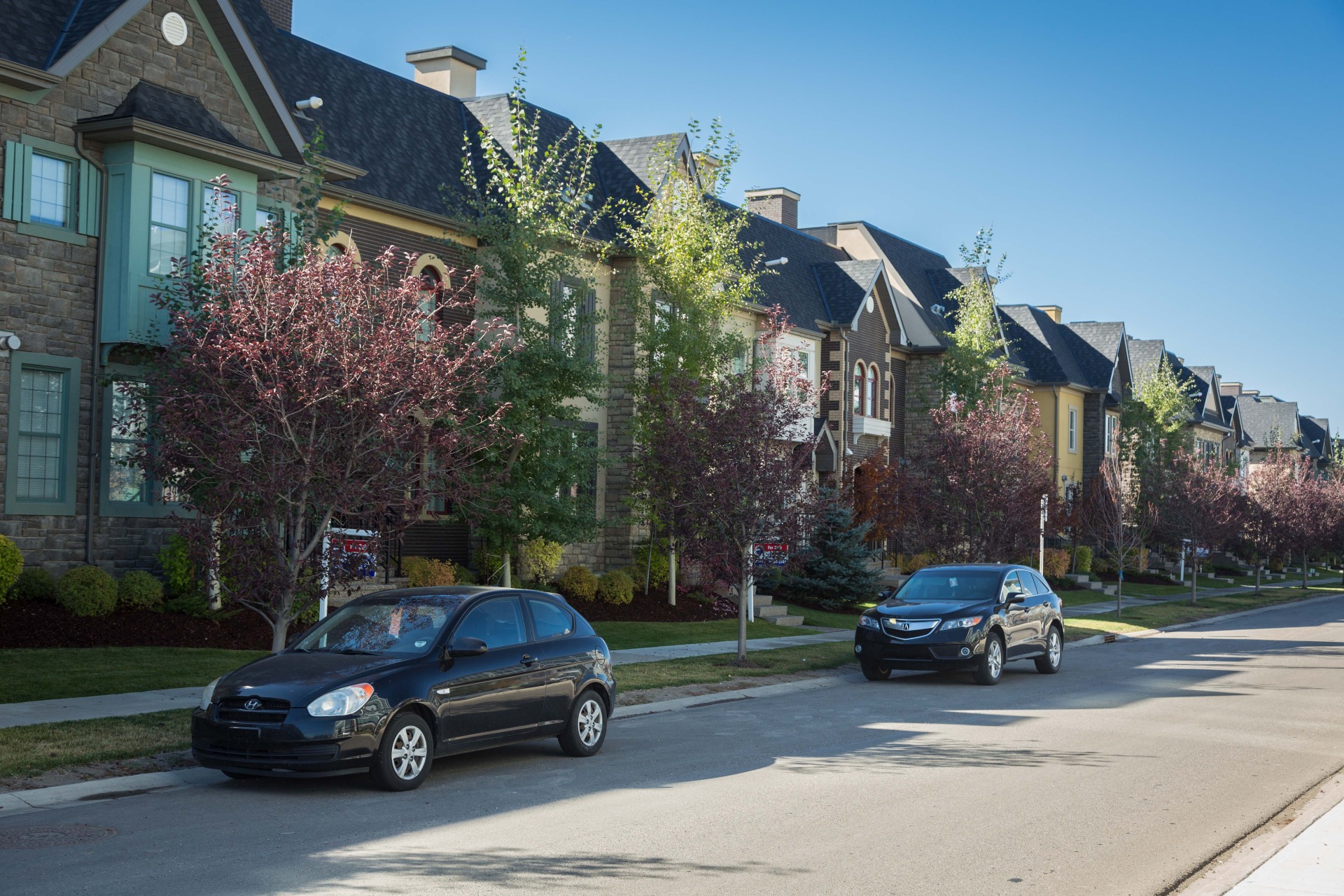 Rezoning improves affordability for all
As with other goods, the balance between housing supply and demand influences price and availability. Research evidence and expert consensus is clear: abundant housing in a variety of locations, types and price points is fundamental to housing affordability. Rowhouses, for example, give Calgarians a type of home that is in high demand at lower price points compared to single and semi-detached houses in the same community. It improves relative affordability compared to if they are not widely available.

Citywide base zoning will also allow new community builders to respond to housing demand more organically, without the need to rezone land parcels when consumer preferences change.
Rezoning helps to revitalize maturing communities
Cities are constantly growing and changing, and our communities need to keep pace! 

Most mature communities, especially those built prior to 1980, are below their historical peak population. Due to declining population in those areas, and higher efficiency houses being built, there is existing infrastructure capacity (roads, transit stops, water and wastewater management, etc.) to handle more types of housing.
Additional benefits of having diverse homes across the city:
Walkable communities with amenities like schools, parks, and grocery stores.
Attraction of new businesses and people to Calgary.
Creation of interactive spaces that encourage connection and a sense of togetherness.
Long-term support towards a sustainable and greener future, through things like access to pathways and increasing transit options to encourage low-carbon modes of transportation.
Costs to maintain utilities, roads, and sidewalks and other amenities are shared among a larger population, helping to keep property taxes down.
Allows Calgarians the opportunity to live and remain in the same community close to friends, family, and the things we know and enjoy, as our housing needs change over our lifetime.
current-item
Category Icon and Label
Nov. 2023 - Mar. 2024
Start Date | End Date
Information sharing with citizens and interested groups.
upcoming-item
Category Icon and Label
Early 2024
Start Date | End Date
Public feedback collection on zoning changes.
upcoming-item
Category Icon and Label
Early 2024
Start Date | End Date
Notification to impacted landowners.
upcoming-item
Category Icon and Label
Q2 2024
Start Date | End Date
Proposed rezoning presented to Calgary Planning Commission for recommendation to Council.
upcoming-item
Category Icon and Label
Mid Q2 2024
Start Date | End Date
Public Hearing meeting of City Council (date still to be confirmed).
Rezoning supports climate action
Creating attractive communities requires thoughtful planning.  The future sustainability and livability of older communities is being challenged as new communities build more housing and absorb larger portions of the city's population growth. 
Encouraging more housing in existing communities is one of the most powerful actions the City can take to reduce greenhouse gas emissions and achieve our climate goals.  Allowing more housing within the existing footprint of the city improves our sustainability by:
Allowing more people to live in new, more efficient homes.  New housing can be 35-50% more energy efficient than the older housing it replaces.
Decreasing the distance between trips to work, school or amenities.
Creating more opportunities to get around the city by walking, biking, or taking transit.
Preserving natural grassland and agricultural land on the outskirts of the city.
For these reasons, the Municipal Development Plan (MDP), the Calgary Climate Strategy, and the Climate Implementation Plan encourage more housing to be developed in existing neighbourhoods.
Fact: New communities play a large role in enabling supply and affordability. Nevertheless, the demand for homes in established communities is very high. Restricting different types of housing, including ground-oriented and apartment dwellings in established communities, would result in demand outpacing supply and further increases in rents and prices, reducing affordability.
Fact: Consumer choice has strong impacts on city growth. Significant brownfield redevelopment opportunities are limited. TODs and corridors have land value, population and job targets that mean most new homes will be apartments. While apartments are crucial, demand for ground-level housing in Calgary is high.
Fact: Land use redesignations will be reviewed and may change under a Local Area Plan (LAP). A completed and approved LAP, along with other relevant statutory documents, are used as guides for redevelopment and growth in a community. 

Fact: Based on current market analysis, there is no evidence that there is any negative impact on the property value of houses adjacent to rowhouse developments.
Fact: To improve the space for waste and recycling bins, Administration has added requirements to Development Permit applications for:

Site design and screening;
More room for on-site waste and recycling bins through greater flexibility in site design; and
Providing educational resources to applicants

Bylaw changes now also allow bin-sharing, the use of new technologies, and bin enforcement. Further long-term improvements are also being explored. 
Fact: On-street parking is for everyone. Where parking congestion is an issue on streets, we take steps to ensure that there is enough parking available by managing the space with permit parking, time restricted parking, or paid parking. We also work with builders to make it easier to use different modes of transportation for future residents, such as providing bicycle parking and building better sidewalks, among other things.
Fact: No, infill redevelopment is the result of Calgary consumer demand. Allowing developers to build additional homes where there was previously a single-detached home increases supply and affordability for all. 
Fact: No, landowners who wish to build are still required to meet the existing rules and to go through a Development Permit application process. 
Fact: Restrictive covenants are restrictions on private land titles that are agreed to by the owners of those parcels. The City is not involved in these covenants as they are agreements between private parties. These covenants also do not restrict The City's ability to approve land use bylaws that achieve City objectives and strategies. 
Fact: Permit fees are higher depending on the complexity of what's being constructed to ensure the final building is safe for its occupants and neighbours, and that it meets all City requirements. The City does not require homes to have luxury features; homebuyers choose the finishings that they want and can afford. 
Fact sheets
R-CG: Residential Grade Oriented

Development Permit Process