When it rains and snow melts, water flows from our rooftops, driveways, lawns, streets and sidewalks. The stormwater system carries water to storm ponds where the water is held long enough to settle out sediments and pollutants.
​
Types of storage ponds
Dry ponds
A dry pond is dry most of the time and can have playing fields in it.
During a heavy rain, dry ponds will fill with water very quickly. This prevents the system from becoming overwhelmed, avoiding water backups into basements or flooding into houses, garages or businesses.
Almost all the dry ponds have ultrasonic sensors that record water depths. The sensors also inform us when the ponds are filling with water.
To protect citizens, these ponds do the following:
Fill and drain slowly
Have gentle slopes at the edges
Use signs to warn people about flooding during rain
Use alarms to alert us that the ponds are filling
Are inspected by security guards during rain storms
After a rain event, dry ponds can take up to 24 hours to drain the water.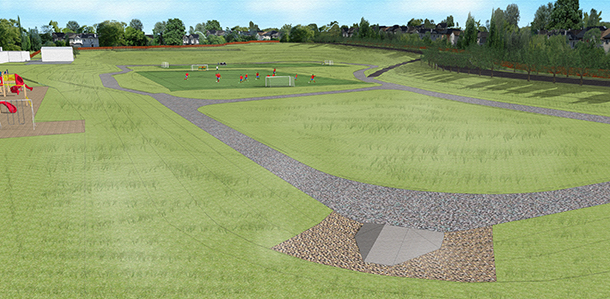 Wet ponds
A wet pond captures and contains stormwater – for a while. Wet ponds slow down water long enough to settle out some of the sediments and pollutants, helping return cleaner water to our rivers and streams through the stormwater system.
Typically they are designed with normal water depths of three metres. These ponds can dry out in the summer although normally they keep their base all year.
Wet ponds have a continuous flow of water. The combination of the movement and depth prevent mosquitoes from forming.
We also provide measures for dealing with beaver habitats in parks. If you notice beaver activity in a wet pond, please call 311.
If the pond is located in an existing off-leash area or park, then off-leash dogs are allowed to access the wetpond.
For all other parks or areas, off-leash access is not allowed. In general, we caution against anyone or their pets coming into contact with the water in any wet pond for safety and water quality concerns.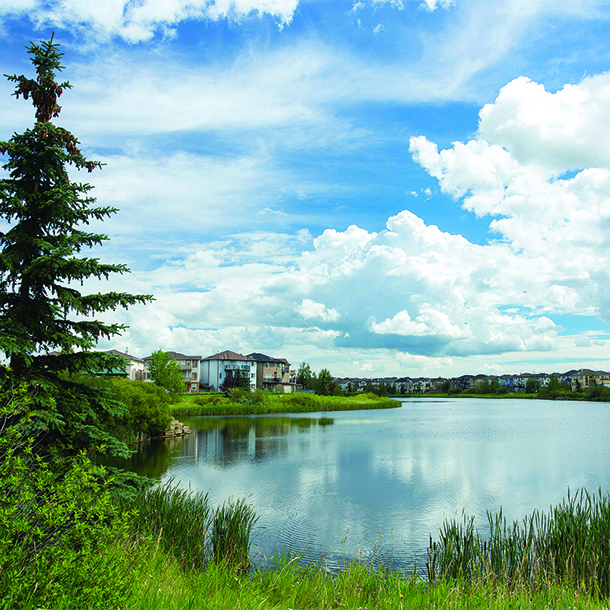 Wetlands
A wetland is a natural area of land that is saturated with water either permanently or seasonally.
It contains plants and the water is quite shallow before a storm. A wetland is not directly connected to Calgary's stormwater system.
The plants that grow in the wetlands help filter out fertilizers and pesticides.
To learn more, visit Conserving Our Wetlands.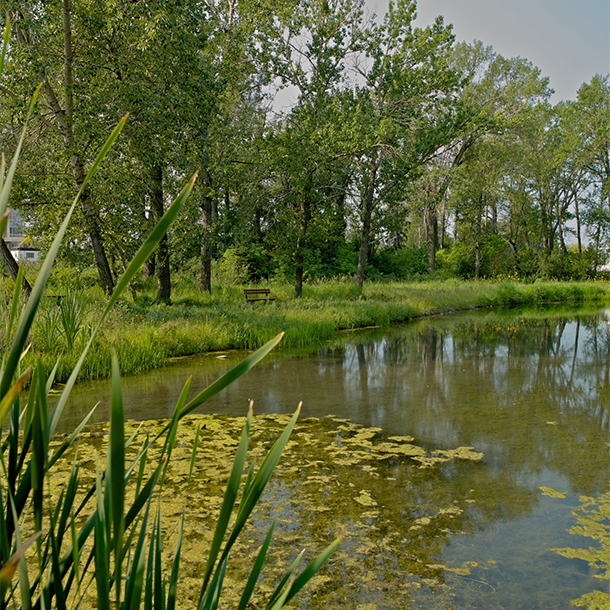 Tips for your local storm pond
Our storm ponds are all work and no play - they have an important job to do. Because of changing water levels and poor water quality, they are not for recreation.
Stay out of the water
Keep your pets away from the water
Stay off the ice
Do not add fish to a storm pond
Do not go fishing in a storm pond
Do not dump garbage in a storm pond
Dispose of hazardous waste properly
To learn more, see ourStorm Pond Brochure.​
Storm pond odour concerns
If you notice an odour issue, please call 311 or use the 311 app to register an odour service request.
Water crews respond to 311 storm pond odour concerns. They work to vent areas of the storm collection infrastructure which help reduce the odour. Crews monitor H2S levels at all storm ponds across the city.