Christmas tree composting program
Help keep Christmas trees out of the landfill by using your green cart.
Put your cut up tree in your green cart
Remove all lights, ornaments, tinsel and tree stand
Cut your tree into small pieces
Place in your green cart (make sure lid can close)
If your green cart is full:

Put cut branches in paper yard waste bags and roll tops closed
Set bags 0.5 metres (2 feet) from side of your cart
Please note: Trees that are not prepared properly will not be collected.
Christmas tree drop-off locations – open Dec. 26 to Jan. 31
Take your tree to a temporary drop-off location. This program is for residential use only.
Remove all ornaments, lights, garland, tinsel and tree stands
Do not wrap, tie or bag your tree, even if the bag is labelled as compostable or biodegradable.
If you wrap or bag your tree to transport it, remove the bag before dropping off.
Auburn Bay Off-Leash Area - 52nd St and Auburn Bay Dr S.E.
Bottomlands Park - St. George's Drive N.E. (soccer field parking lot)
Bowness - 7937 43 Ave N.W. (in lot behind building)
Braeside Park - 256 Brookpark Drive S.W.
Confederation Park - 905 30 Ave N.W. (east parking lot)
Huntington Hills Athletic Park - 7920 4th St. at Huntstrom Dr. N.E.
IKEA - 8000 11 Street S.E. (northwest corner of parking lot behind store)
Marda Loop Communities Association - 3130 16th Street S.W.
North Glenmore Park - 6615 37 Street S.W. (Weaselhead parking lot)
Park 96 - 14660 Parkland Blvd S.E.
Pop Davies/ Ogden Athletic Park - Ogden Rd & Millican Rd SE
Prairie Winds Park - 44 St. and 54 Ave N.E. (south parking lot)
Sacramento Parks Depot - 10400 Sacramento Drive S.W.
City landfill locations - If you bring any garbage along with your tree then your load will be subject to regular landfill fees.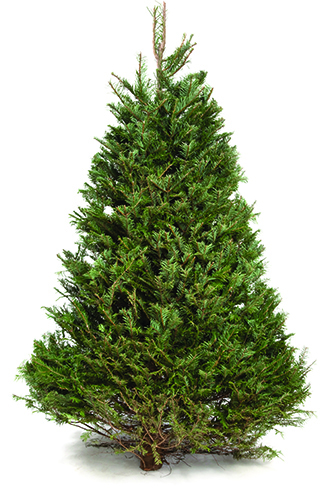 ---
Frequently asked questions
Trees must be cut up so the pieces are small enough to fit into your green cart.
Our collection trucks use the carts for automated collection and we are unable to load materials manually into the truck. Your tree must fit into the cart to be collected without damaging the equipment.
Even paper yard waste bags are placed into the green cart and then emptied into the truck.
By composting your Christmas tree, you help preserve valuable space in our landfills, turn your tree into nutrient-rich compost and reduce harmful greenhouse gas emissions.
Learn more about how composting works.
No. Food and yard waste must be put in your green cart. Black carts containing Christmas trees will not be collected.
Yes, you can put your evergreen wreath in your green cart or it can be dropped off with your real tree at any of the drop-off locations. Please note: The wreath needs to be stripped of all ornaments, ribbons, nails, wires etc.