The City is responsible for more than 16 000 fire hydrants throughout Calgary (those on located on public land). We respond to hydrants that have been damaged or need repairs, and in partnership with the Calgary Fire Department, we conduct hydrant inspections and flow tests biannually (Spring and Fall). Fire hydrants are critical for fire prevention and suppression efforts, and importantly, keeping Calgarians safe.
While the primary function of a hydrant is fire protection, they can also be used for other purposes such as;
Water main flushing to help maintain water quality
Industrial purposes
Bylaws and regulations
Parking and clearance for fire hydrants
When parking your car, do not park within five metres of a fire hydrant.
When planting hedges or trees, or building fences, please note the fire hydrant requires two metre clearance on each side of the hydrant and one metre clearance from the side facing away from the street.
Learn more at Bylaws related to fire hydrants.
Please contact 311 should you have any questions or concerns regarding any of the following:
Painting private hydrants
Obstruction of hydrants
Report theft of water from a City-owned fire hydrant
Other hydrant regulations can be found in section 41 of the Water Utility Bylaw.
Examples of Calgary fire hydrants
Hydrants are connected to our drinking water system via underground pipes. They typically have a flange at ground level to ensure stability and structural integrity. The majority of Calgary's hydrants are painted yellow signifying that they drain. Hydrants that are painted red don't drain on their own.
Fire Hydrant locations
Report an issue with a fire hydrant
If you are experiencing any of the following issues, please complete an online service request below or contact 311.
Water is flowing from a hydrant with no City of Calgary workers present (on either public or private property)
A hydrant has been hit, is missing or a repair is needed
A hydrant is frozen
Please note: If a red OUT OF ORDER sign is on a hydrant, The City is aware of the issue. In this situation, it is not necessary to contact 311 or create a service request.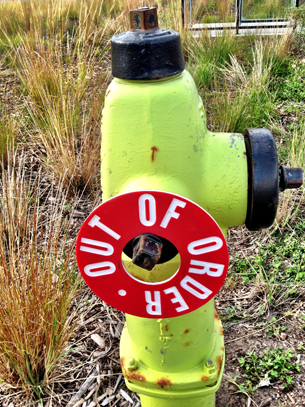 Hydrant usage permits
The City of Calgary administers a permitting system for third party use of hydrants. If you are a contractor, consultant, developer or landscaper requiring access to a hydrant, a temporary water permit and a water meter are mandatory.
All users must apply using a hydrant usage permit prior to using a fire hydrant. Permits are only issued by The City of Calgary.
If you have any further questions about hydrant use and permits, please contact 311.
Please note: There is a $5,000 deposit required on hydrant permits.
Once approved, all authorized hydrant users are provided with a backflow/meter assembly or meter assembly device.
Private hydrants
In some cases, fire hydrants are located on private land. Special permissions are required to operate these hydrants, according to: Bylaw number 40M2006, Part XV, Section 40, part (1), (a - c),
Please obtain approval by completing the Application for Approval to Operate Private Hydrant.
Fire Hydrant flow test
The City also performs flow tests on fire hydrants. If you are looking for the results from a previous test or would like to request a new test, please visit fire hydrant flow tests.
Returning a hydrant meter
All hydrant meters must be returned to the following address:
The City of Calgary Water Centre
625 25 Avenue SE
Shipping and receiving door
Lower East Entrance