Book outdoor artificial turf fields
Outdoor artificial turf fields are available to book for leagues, practices, tournaments, special events or other sporting needs.
Seasonal open/close schedule
---
| Dates | Actions |
| --- | --- |
| Apr. 3 | Fields begin to open for the season |
| Nov. 28 | Outdoor artificial turf fields off season begins (all requests for offseason bookings must be submitted by application) |
Calgary's outdoor artificial turf class locations may have staff and/or amenities such as seating, lights, change rooms, washrooms (some portable) and concessions. They receive regular turf management.

Field locations and features
---
Any rectangular field can be booked for a variety of sports. Fields are lined, with nets and flags available at some locations.
Outdoor artificial turf Locations
Features

Calgary Soccer Centre 7000 – 48 Street S.E.

Three (3) fenced outdoor artificial turf fields that are 104 x 64 metres. They are all Fifa certified -2 Star and are lined for soccer. Two fields are also lined for lacrosse and field hockey.
Covered bleachers seat up to 60 people.

Each field has additional uncovered bleachers seating up to 40 people. Total seating for each field is 100.

Washrooms
Parking

Ernest Manning Athletic Park 20 Springborough Blvd S.W.

One (1) regulation sized artificial turf field with lines for football, soccer and field hockey
Field lights
Score clock
Football uprights
Portable soccer nets
Portable field hockey nets
Parking

Shouldice Athletic Park 1515 Home Road N.W.

Three (3) Shouldice Artificial Turf fields
Lights, score clock and public announcement (PA) system.
Fields are lined for soccer and football, river fields are lined for field hockey early in season .

Portable field hockey nets on Encana, and Stampeder

Field concession
Field house with dressing rooms
Washrooms
Parking
2024 rates
| Field Class | Adult rate | Minor rate |
| --- | --- | --- |
| Outdoor artificial turf | $155.10/hr | $122.25/hr |
Bookings for practice/competitions, tournaments or special events will be charged a non-refundable administration fee of $26.25. It must be paid prior to applications being sent to the site for approval.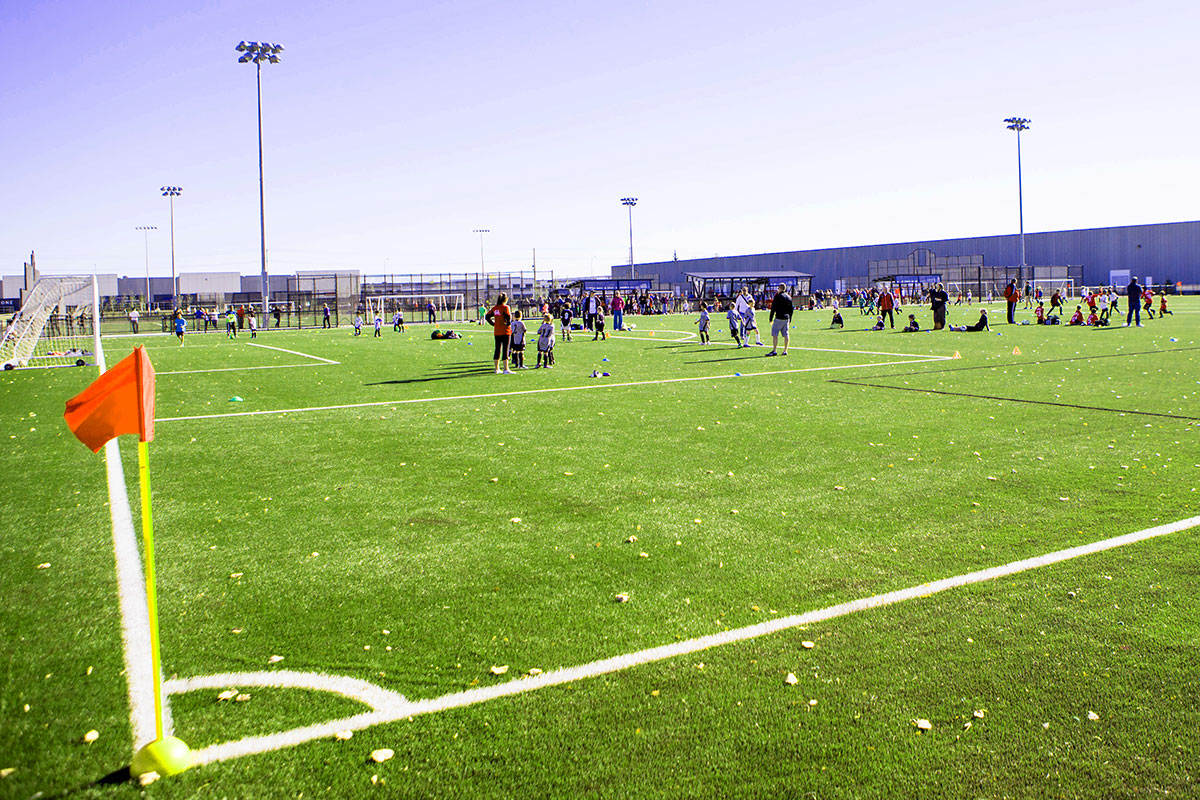 The booking schedule is updated annually by Oct. 31 for the following season. The booking of fields is available first to priority and renewal users.
New requests for booking artificial turf fields are handled on a first-come, first-served basis. All fields can be booked on or after the Public Day of the season. Between Dec 1and April 1, Shouldice artificial turf fields require approval to book (application only).
Booking schedule
Dates
Renewals
New requests

Dec 1, 2023

N/A

New tournament/special event applications due.

Dec. 15, 2023

Tournament/special event tentative renewal booking information sent.

N/A

Jan. 29, 2024

25% non-refundable payment for tournament/special event renewals due.

N/A

Ongoing

N/A

25% non-refundable payment due 7 days after new requests are approved.

Week of Feb. 5, 2024

Renewal bookings sent.

N/A

Feb. 27, 2024

Renewal booking cancellations or reductions in time due without a fee.

Requests for additional time cannot be submitted until Public Day.

N/A

Mar. 6, 2024

Public Day – Application Only

New booking requests can be submitted by application only starting at 8:30 a.m. Applications received before 8:30 a.m. will be closed without processing.

Public Day – Application Only

New booking requests can be submitted by application only starting at 8:30 a.m. Applications received before 8:30 a.m. will be closed without processing.
Renewal bookings are based on an organization's historical use on each field for the previous year. Renewal rights exist when a group has a booking each year for the same time period, on the same day of the week at the same field.
If your booking is considered a renewal, you will automatically receive a renewal permit the following session. You will not have to apply for the space, and you will be given the option to cancel the renewal permit without charge.
To qualify for Athletic Park renewal rights, you must have a minimum of 8 dates at one field, for the same time period, on the same day of the week for 8 consecutive weeks. (Example: minimum of 8 bookings at one field, on consecutive Wednesday evenings from 7:00 p.m. – 8:00 p.m.).
Dates lost or interrupted due to Statutory Holidays, facility closures, or other special events will not negatively impact renewal rights
If you cancel dates from your renewal permit resulting in fewer than 8 consecutive bookings, you will lose your renewal rights.
No-shows are treated as cancelled dates and will not be renewed the following season.
Tournaments, special events, day camps and track and field meets can qualify for automatic renewal if the event has run at the same location for 2 years, without any changes or issues to the event.
For questions about renewals, contact the Customer Service Centre at facilitybooking@calgary.ca.
Check field availability and submit an application using our online form. Applications can take up to seven business days to process after public day has occurred.
Bookings can also be arranged by contacting Facility Bookings. Please note that during the peak season, if your first booking is within 7 days it is best to call in your short notice requests.​
Rules, conditions & terms
---