Visit the YEC for drop-in employment services or book an appointment
Location: Alberta Trade Centre, 2nd floor, 315 10 Avenue SE, Calgary, Alberta, T2G 0W2
Drop-in hours: Monday - Friday, 9:00 a.m. - 4:00 p.m. (excluding statutory holidays) 
Contact us: 403-268-2490
No appointment is necessary, but registration is required during your first visit to YEC. The registration process may take up to an hour.
Registration is not available between 12:00 p.m. - 1:00 p.m. Computer lab and other resources are still available during this time.
Your Social Insurance Number (SIN) is required for registration. Learn what to do if you do not have a SIN or if it is lost.
Prefer to book an appointment?
The YEC is piloting appointment-based employment services for youth 15-24.
You can now book a free in-person visit with an Employment Counsellor.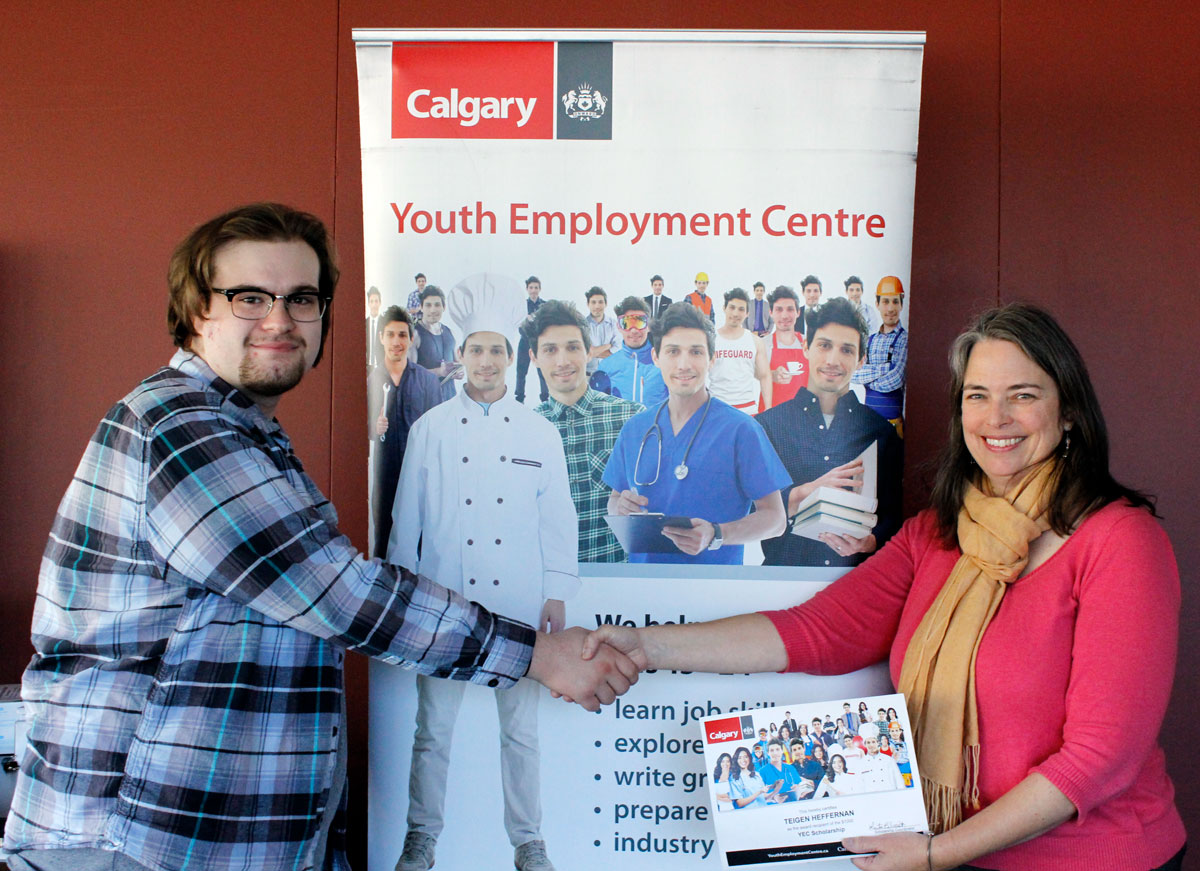 Youth Scholarship 2023
Youth between the ages of 15 – 24yrs can apply for this one-time scholarship when you access career and employment support from an Employment Counsellor at YEC.

All applications will be evaluated by a selection committee appointed by YEC. Recipients will receive one cheque made payable to the educational/training institution selected for enrollment. Payment to the institution must be made by Dec. 31, 2023.
Application deadline is September 30th. Scholarship recipients will be selected and notified in October.
Thank you to the YEC scholarship sponsors McDonalds and Mr. Lube.
Apply now
Employment Counsellor Corner

Are you seeking expert advice to launch or advance your career? Look no further! The Employment Counsellor Corner will be a source of knowledge, brought to you by the Youth Employment Centre's dedicated team of Employment Counsellors.

Each month, we will feature an article covering a wide range of topics that matter to youth. Learn from our experts and stay ahead of the curve in today's competitive job market.

Click the link below and join our community of ambitious go-getters on the path to career success!

Employer Spotlight

Curious about an organization's history, values, culture, or work environment? Want to make an informed decision when reviewing potential employment opportunities?

Each month the YEC highlights a local employer for our Employer Spotlight. Gain insights into various industries, job roles and potential career paths.
​
​ ​​​​​​​​​​​​​​​​​​​​​​​​​​​​​​​​​​​​​​ ​​​​​​​​​​​​​​​​​​​​​​​​​​​​​​​​​​​​​​​​​​​​​​​​​​​​​​​​​​​​​​​​​​​​​​​​​​​​​​​​​​​​​​​​​​​​