Accessibility and disability in Calgary
Guiding our approach to accessibility
Celebrating people with disabilities and local achievements in improving accessibility
Advisory Committee on Accessibility Annual Awards: These awards celebrate individuals, groups and organizations whose work and projects improve the quality of life for people with disabilities.
International Day of Persons with Disabilities: First declared by the United Nations in 1992, we're pleased to celebrate the contributions of people with disabilities on December 3. The ACA also recognizes the winners of its annual Accessibility Awards on or around this date.
Calgary Awards – Award for Accessibility: The Award for Accessibility recognizes buildings or facilities in Calgary that significantly exceeded the minimum requirements of Section 3.8, "Barrier-Free Design" of the Alberta Building Code for accessibility by persons with disabilities.
About people with disabilities in Calgary
Almost 10 per cent of Calgarians* identify as having a:
physical (mobility and/or agility issues)
sensory (hearing and/or seeing)
cognitive (developmental and/or  learning)
communication access (speech and/or understanding)
other (pain and/or psychological)
*2012 Canadian Survey on Disability, Statistics Canada
Read these resources for additional information:
The increasing number of persons with disabilities is directly linked to Calgary's aging-population. Overall, almost one in three seniors report having a disability. Read the Age Friendly Strategy for more information about the overlapping needs of seniors and people with disabilities.
Quick guide to disability-serving agencies in Calgary
Designing accessible spaces and facilities
Access Design Standards (ADS): Complements the Alberta Building Code's Section 3.8 (Barrier-Free Design) to enhance and exceed minimum codes for accessibility.
Accessibility within the broader social context
Community Profiles: Demographic profiles of Calgary communities using the most recent statistics from both the federal and civic censuses.
Indices of Community Well-being 2006 (2010): Detailed report examining Calgary's communities according to the dimensions of economic, social, and physical well-being. The well-being of communities is ranked relative to one another and presented in map and table format.
Signposts (published 2012 and 2014): Reports on community assessment surveys conducted in 2006 that explored the social issues and needs of Calgarians. Results are reported city-wide as well as at the social district level.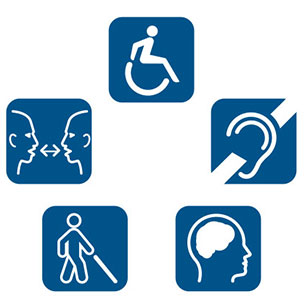 ​​​​​​