​​​
Neighbour Day is a yearly celebration of Calgary's strong community spirit. It started in 2014 in honour of the incredible support and generosity Calgarians showed after the 2013 floods. Now it's an opportunity to connect with our neighbours, show how we care for each other and celebrate how we make Calgary a great city.
What's different this year?
Due to the COVID-19 pandemic, it is more important than ever that we connect with our neighbours. But we must do so while practicing physical distancing to keep everyone safe. We are encouraging all Calgarians to plan and host virtual events and try some of the activities below with your neighbours. Share your Neighbour Day celebrations on any social media platform using #yycNeighbourDay for a chance to be featured on City channels.
​
How to plan for Neighbour Day
Hosting a virtual event via video chat or phone is the safest way to connect with your neighbours this year. Reach out to your neighbours to help plan your event details, such as:
What video chat tool will you use? (Microsoft Teams, Zoom, FaceTime, Google Hangouts, etc.)
Who will schedule the event online and send invitations?
Who will prepare the materials you need for your event activities?
What activities will you do during your virtual event? You could:

Share a virtual meal or BBQ;
Share your acts of kindness with one another;
Help support Calgary businesses (e.g. order delivery or takeout from a local restaurant, purchase local goods, etc.);
See ideas below; or
Make up your own way to celebrate your community spirit!
Don't forget to share your experience with us through social media by using #yycNeighbourDay!
Invite Mayor Nenshi or your councillor
Request an appearance by sending us:
Date, time and virtual event link/location
Estimated number of attendees
Type of event
Neighbourhood name
Contact information
We will do our best to accommodate all invitations, but we cannot guarantee specific attendance at this time. You will receive a response to your invitation prior to the event.
Make a Neighbour Day pledge
Tell everyone three ways you're planning to celebrate Neighbour Day. Don't forget to show the ways that you are helping support Calgary businesses by using #SupportLocalYYC. Post a picture of your Neighbour Day Pledge Card or write out your activities on any social media platform using #yycNeighbourDay.​
Download Neighbour Day Pledge Card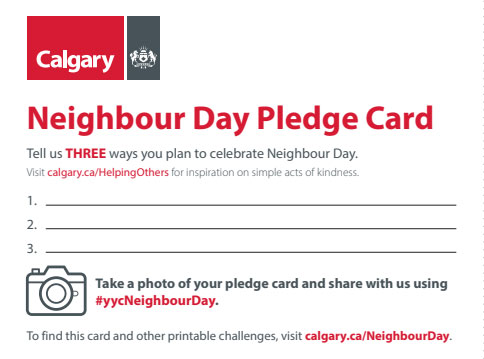 Decorate your home​​​
Gather your family to decorate your yard, balcony, door or window in red and white using lights, balloons and crafts. Leave your decorations up for Canada Day to showcase your pride for our country. Resources for decorating: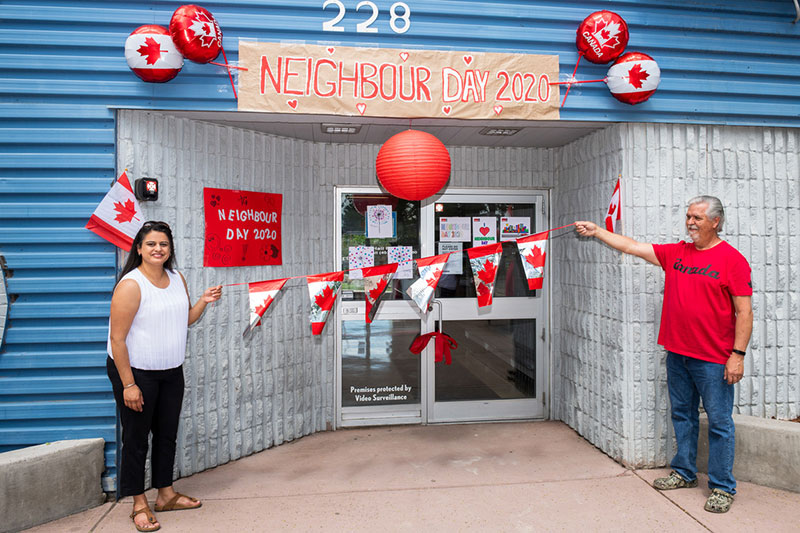 ​
Activities for Neighbour Day
​​​​​​​​​​​​​​​​​​​​​​​​​