​​​
For this year's Neighbour Day we want you to celebrate safely. Please continue to watch for updates as the health restrictions change and vaccines continue to roll out.
Ideas for your Neighbourhood event (following all COVID-19 protocols)
---
Hosting a virtual event via video chat or phone is the safest way to connect with your neighbours this year. Reach out to your neighbours to help plan your event details, such as:
Invite a small group of nearby neighbours for a backyard or driveway get-together
Set up a neighbourhood scavenger hunt
Decorate your windows, fence or patio
Go for a walk in small groups to explore your neighbourhood and local parks
Organize a virtual meal or BBQ
Or make up your own way to celebrate your community spirit (in line with COVID restrictions)
Share your experience with us through social media by using #yycNeighbourDay.
​
Make a Neighbour Day pledge
Tell everyone three ways you're planning to celebrate Neighbour Day. Don't forget to show the ways that you are helping support Calgary businesses by using #SupportLocalYYC. Post a picture of your Neighbour Day Pledge Card or write out your activities on any social media platform using #yycNeighbourDay.​
Download Neighbour Day Pledge Card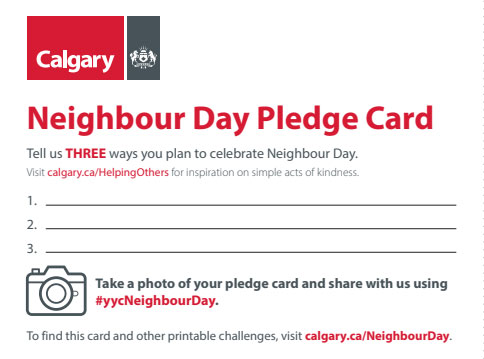 Decorate your home​​​
Gather your family to decorate your yard, balcony, door or window in red and white using lights, balloons and crafts. Leave your decorations up for Canada Day to showcase your pride for our country. Resources for decorating: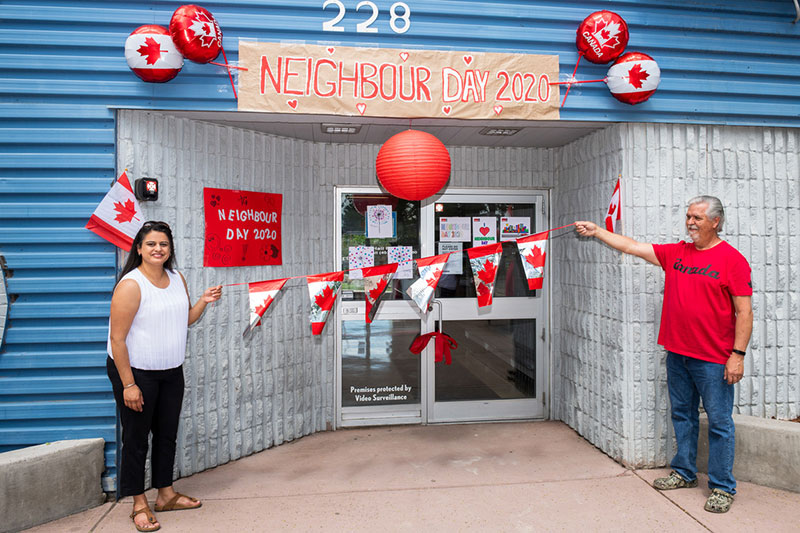 ​
Activities for Neighbour Day
---
​​​​​​​​​​​​​​​​​​​​​​​​​