​​​
We want to help you create an incredible Neighbour Day this year! Whether you are considering a smaller get-together or planning a larger gathering, below are some resources to help you plan events in your community.
Ideas for your neighbourhood event
---
Reach out to your neighbours to help plan your event details, such as:
Organize a block party (see our Block Party Guide)
Invite a group of neighbours for a backyard or driveway get-together
Plan an event for you and your neighbours by applying for one of the two permits below
Organize a BBQ or meal
Set up a neighbourhood scavenger hunt
Go for a walk in small groups to explore your neighbourhood and local parks

Organize a small community clean-up using our TLC Kits
Or use your creativity and try something new!
To request a neighbourhood appearance from Calgary Police Service, contact your district office directly.
To request a neighbourhood appearance from Calgary Bylaw, please email: bylawinspectors@calgary.ca
Share your experience with us through social media by using #yycNeighbourDay.
Invite Mayor Jyoti Gondek or your councillor, or request a fire engine for your event
Request an appearance by sending us:
Date, time and virtual event link/location
Estimated number of attendees
Type of event
Neighbourhood name
Contact information
We will do our best to accommodate all invitations, but we cannot guarantee specific attendance at this time. You will receive a response to your invitation prior to the event.
Resources to plan your event
---
Greenspace Permit
Special events in parks and greenspaces requires additional authorization by City staff due to its potential impact on greenspaces. Greenspace permits do not apply to any events that include:
Fireworks, open flame or other pyrotechnics
Tents, stages and/or other structures exceed a combined 600 square feet
Alcohol sales or service
Use of roadways 
To apply for your free Neighbour Day greenspace permit please apply here. Please make sure to select Neighbour Day as the event type to ensure your free permit. Free permits are only available until May 29, 2022. Free permits are only available for Neighbor Day events that take place on June 18, 2022.
Normally, Green Space permit processing time are between 6 - 8 weeks. To ensure that your permit request is processed, please apply before May 29, 2022.
Block Party and Street Play Permit
Plan a block party to celebrate Neighour Day. A block party or play street is a citizen- initiated event held on a city street within a specific block in a community for entertainment purposes. The following regulations apply for permits:
The block used must be occupied predominately by owner/residents.
Block parties may occur between 10 a.m. and 10 p.m. only.
The permit holder must remain at the event until its conclusion.
No alcoholic beverages are permitted in the city right-of-way.
No open fires are permitted in the city right-of-way
The permit holder must obtain and place barricades to safely close the road during the event.
Citizens will be able to pick up barricades, free of charge from Spring Gardens Building G (840 32 Ave. N.E.) between Monday, June 13 – Friday, June 17 between 7:30 A.M. and 4:00 P.M. You will be required to bring your permit and have a phone number to pick up the barricades. Returning of the barricades will be the following week Monday, June 20 – Friday, June 24 between 7:30 A.M. and 4:00 P.M.

Charges will apply if you do not return the barricades. The permit holder will be charged for the time spent to retrieve the barricades.
To apply for your free Neighbour Day block party or street play permit please apply here. These permits require additional time to authorize. Please ensure that you apply for your permit by May 29, 2022 to allow time to process the permit. Looking for inspiration? Check out our Block Party Guide.
​
Events are not tracked by The City as they are normally organized by small groups. If residents are interested to know what events are planned in their neighbourhood, they should be in contact with their community association or their neighbours.
Sport Calgary will be hosting their annual All Sport One Day events June 17-19, bringing FREE sport discovery opportunities to Calgarians in all quadrants of the city, including an activation in Marlborough Park on June 18, connecting with the Neighbour Day spirit.
Decorate your home​​​
Gather your family to decorate your yard, balcony, door or window in red and white using lights, balloons and crafts. Leave your decorations up for Canada Day to showcase your pride for our country. Resources for decorating: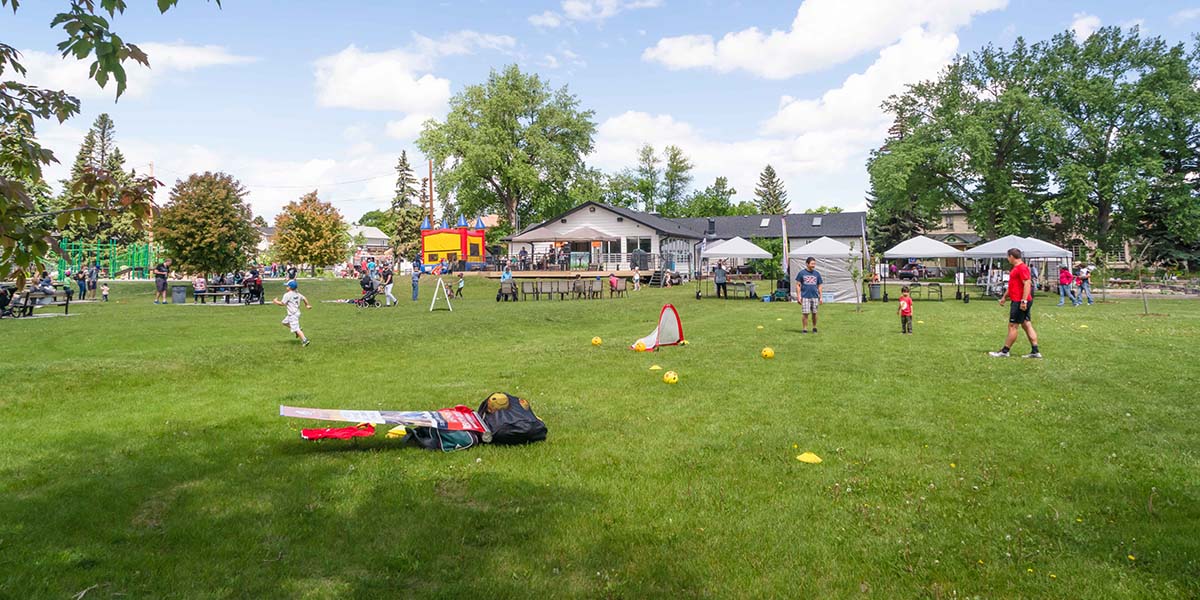 ​
Activities for Neighbour Day
---
​​​​​​​​​​​​​​​​​​​​​​​​​