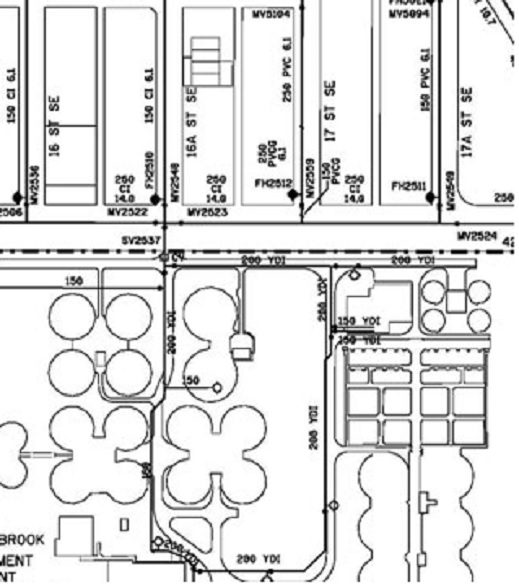 Water Utility Section Maps show the major components of the Water System infrastructure within The City of Calgary. The maps are divided into individual legal sections because of the size of the datasets involved.
The major datasets shown on the maps include water mains, fire hydrants, valves, valve chambers, park services, and commercial services/private areas. The mains shown are located by line assignments referenced from property lines, easements, and utility rights-of-way. The property line information is not included in the maps but can be obtained by purchasing either the Legal Survey Fabric (LSF) or Ownership Parcel Fabric (OPF) map with the corresponding section number.
Developers

Architects

First-Call utility locators

Consulting Engineers

Builders

​



Water Utility Section Maps are used when larger area overviews of water data are needed. When more precise detail or z-coordinate information is required, Electronic Block Profile data is the recommended source.​
​​
Accurate – Water Utility Section Maps are updated on an ongoing basis and are the priority dataset for displaying new and updated sanitary sewer information.
Efficient – Immediate download available; licensing process is completed in minutes, not days.
Cost effective – Obtaining a Water Utility Section Map license saves the cost of developing an original.
Practical – Water Utility Section Maps are sold by the section.
​
​​
Water Utility Section Maps are updated when new infrastructure is created or when existing infrastructure is revised or removed. The trigger to update the data is the receipt of field information gathered and compiled by Water Services field inspection personnel.
Default Legend Scale - Min: 0 Max: 500,001​​​.​