Imagine a twin-towered hotel with snakes incorporated into the design. The CTrain runs through the lobby, adjacent to a pay-what-you-can marketplace. Maybe the buildings are linked to one another by a bridge and there is a dome on the top. How about the potential for a racetrack?
The hotel is the vision of Barrett, a Grade 2 student attending Riverside School in the Calgary community of Bridgeland. His hotel concept was created to house those Calgarians who don't have a roof over their heads free of charge.
Barrett and hundreds of other students across Calgary are redesigning, restructuring, and rebuilding the city's downtown as part of Level Up, Calgary!, a design challenge that will bring pixels to life through Minecraft, a popular and critically acclaimed video game where players build environments in a blocky, 3D world. The challenge is a collaboration between the Calgary Board of Education (CBE), the Calgary Public Library, Microsoft Canada, and The City of Calgary's Downtown Strategy team.
"It's fun to use Minecraft at any time, but especially at school, that is really cool," explains Barrett. "You get to learn on a video game and you don't even know you are learning! And you don't need to actually draw something… place blocks and blocks and blocks and you can imagine actually living in your building."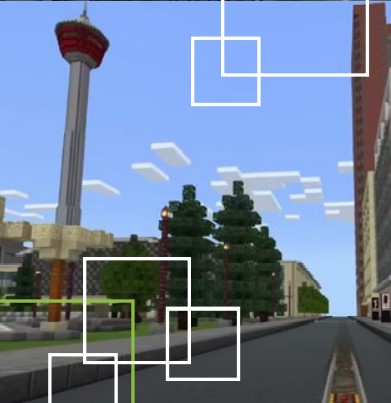 Level Up, Calgary! using the Minecraft: Education Edition is the first student design challenge of its kind in Canada. Through the game, CBE students from all grade levels can visit the Central Library, explore Olympic Plaza, and interact with characters from the Indigenous community and experts from The City in a quest to answer the question 'How might we reimagine our public spaces to enrich the lives of Calgarians and strengthen our community?'
"People don't have places to live. It feels unfair, so this is somewhere to live for free," continues Barrett, talking about his design. "I have included underground parking, but it is nice if people use the CTrain station. It will go through my building – there's a train station right in my building, kind of like the Library. But I want it to be more jazzy."
For The City, this partnership is an effort to connect with Calgary's youth and get them thinking about the challenges and opportunities the city's downtown is currently facing. This partnership with the CBE is a collaboration to bring a new viewpoint to the table.
City building is a priority of The City's Downtown Strategy. The Downtown Strategy was launched in 2019 as an effort to bring together partners to tackle the issues and opportunities that downtown Calgary is facing to begin the downtown's reinvention.
Incorporated into the curriculum, students learn about The City's Downtown Strategy and how it focuses on building a vibrant downtown and liveable communities. This includes learning about creating great public spaces, the efforts to support the downtown business community, making downtown a better place to live and visit, and how people, information, and ideas are connected. Students also have the opportunity to "speak" with virtual versions of downtown leaders to help solve challenges and create their designs. This includes former Mayor Naheed Nenshi, Blackfoot Elder Saa'kokoto, Kate Thompson, President and CEO of the Calgary Municipal Land Corporation, and members of The City's Downtown Strategy team.
Once the Level Up, Calgary! challenge is complete and winning entries announced in early 2022, The City will look at opportunities to recreate student designs around the downtown. This could mean building real-world examples of the designs or representing them visually around the downtown core.
Barrett's mom Bekki says Barrett was very animated coming home from school with a watercolour of the Calgary skyline with silhouetted buildings, excitedly envisioning how he could change that skyline one day.
"When he first came home and told us about the Challenge, I thought 'this can't be right' – that he might have a chance at having his building built? And I tried to downplay it," laughs Bekki. "I thought it would maybe be a sketch or something, but then I actually looked at the details of the Challenge. He talks about it every day, talking about it with his older brother and what he is going to do next."
For Bekki, the Challenge has been a very positive complement to Barrett's learning. 
They have been studying the [Calgary] skyline at school. He already loves the buildings downtown, so this was extra impactful for him. There's a richness in bringing the learning into a 3D environment versus even just building with Lego and stuff, it's just one step further. It just unlocks more imagination.
To learn more about Level Up, Calgary!, please visit the program website.
-30-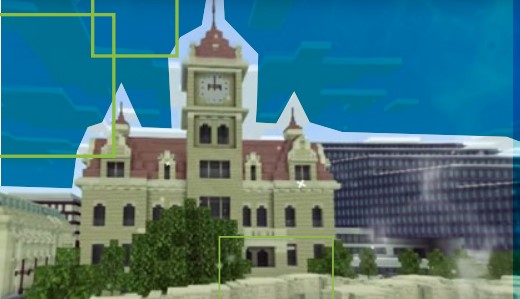 Categories: Youth