The City of Calgary's annual paving program runs each year from June through October (weather permitting) and includes projects of different sizes throughout the city.
To maximize efficiency our paving program is completed in two steps on a designated section of road:
Step one: repair and/or replacement of damaged concrete sidewalks, wheelchair ramps, and curbs and gutters.
Step two: removal of top layer of asphalt, adjustment of utility covers (i.e. manholes) and paving.
Depending on project size and scope, they may take a few days to 12 weeks to complete. As Calgary is a cold weather climate, our season for road rehabilitation is short. Work requires warm, dry conditions so City crews and contractors work seven days a week. Nighttime work is often required to complete work on major roadways, or to ensure there is minimal impact to commuters, businesses, and emergency services.
Some of the major roadways that will be resurfaced this year include:
Location
Impact
Status
End Date
Details

18 Street S.E.

(From 66 Ave. S.E. to 76 Ave. S.E.)

Upcoming

18 Street S.E.

(From 76 Ave. S.E. to 21 St. S.E.)

Upcoming

18 Street S.E.

(From 76 Ave. S.E. to Rivervalley Dr. S.E.)

Upcoming

52 Street S.E.

(From 17 Ave. S.E. to Memorial Dr. S.E.)

Pedestrian detours

Single lane closure(s)

Noise

Congestion and traffic delays

 Active
 October 2023

Curb and gutter repair and upgraded wheelchair ramps complete.

Paving is scheduled for October 5 as weather permits

Southland Drive S.E.

(From Macleod Tr. to Blackfoot Tr. S.E.)

Pedestrian detours

Single lane closure(s)

Noise and vibration

Congestion and traffic delays

Active
September 29

Curb and gutter repair and upgraded wheelchair ramps
Milling complete
Paving is in progress
No current southwest paving projects.
Location
Impact
Status
End Date
Details

Falconridge Blvd. N.E.

(From Falconridge Dr. N.E. to Taradale Dr. N.E.)

Parking impacts

Pedestrian detours

Single lane closure(s)

Noise and vibration
Congestion and traffic delays

Active
October 2023

Curb and gutter repair and upgraded wheelchair ramps are currently in progress.
Location
Impact
Status
End Date
Details

32 Avenue N.W.

(From Shaganappi Tr. N.W. to Crowchild Tr. N.W.)

Pedestrian detours

Noise and vibration

Temporary transit stop relocation – visit calgarytransit.com

Upcoming Oct. 2
Fall 2023
Crews will begin working in the median near the University of Calgary and will head toward Shaganappi, completing the work block by block. Once median work is completed, concrete removal and replacement will continue on north side – block by block – and will wrap up on the south side.

Crowchild Trail N.W.

(From Shaganappi Tr. N.W. to Brisebois Dr. N.W.)

Single lane closure(s)

Noise

Congestion and traffic delays

    Active
    October 6
Northbound lanes are complete. Contractor is currently paving the southbound lanes.
Locations are also marked on the Roadway activities map. Please note, locations may be added, removed or delayed due to budget availability. Dates and additional information will be added to the above once available.
Smaller community paving occurs through the late spring and summer and is typically done over one or two days. You will see message boards in your community before paving begins. Please ensure your cars are removed from the roadway on your paving date.
2023 Communities:
Woodbine / Braeside (May/June)
Montgomery (August)
Pineridge (August/September)
Paving schedule traffic impacts
For information on all roadwork that can affect your commute, parking space or sidewalk use, please refer to one or more of the following daily traffic information resources.
calgary.ca/trafficinfo – find real-time information on road disruptions (detours, lane/road closures, accidents etc), including paving activities, that may affect your movement around Calgary.
107.9 FM – tune in to our dedicated Traffic Advisory Radio station for up to the minute information that'll help keep you on the move.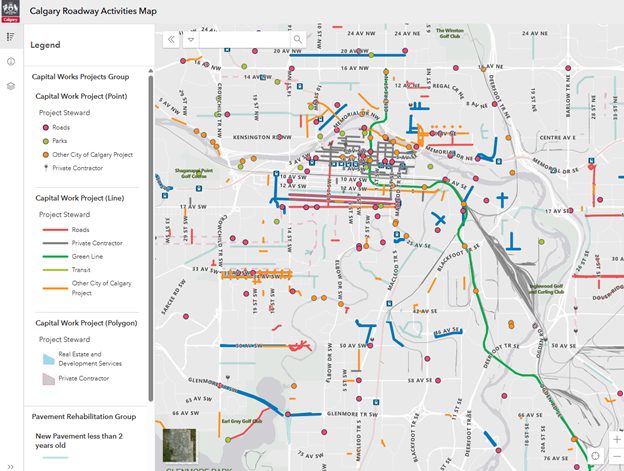 ---
2023 Road paving locations
Schedule is subject to change due to weather and availability. Updated Sep. 28, 2023
---
Frequently Asked Questions (FAQ)
Each year's paving program includes approximately 100 locations where City and contracted crews are replacing damaged asphalt and concrete.
Use the Calgary Roadway Activity Map to see this year's paving projects, next year's tentative paving projects and where The City has repaved in the last two years.

Planned paving work is impacted by:

Budget;

Utility coordination – if a utility in the area needs repair or replacement, TheCity will delay repaving until underground utility repair is complete. This minimizes the impact on the community and ensures efficient use of resources and budget; and

Weather conditions – weather needs to be warm and dry for paving work to take place. If the season is atypically wet or cold, paving work may need to be delayed until the following season.
If paving work is scheduled for your area, you'll receive a hand-delivered notice one to two weeks before work starts. There will also be signs posted in the community alerting you to any parking bans, sidewalk detours and closures, and other short-term impacts.
The City follows a multi-step process that aligns with industry best practices, to objectively evaluate the condition of Calgary's road network and identify priorities for each paving season.
Step 1: Annual Condition Survey: City crews conduct sample inspections and record the condition of Calgary streets. Both the surface condition of the road as well as the condition of the road sub-structure is evaluated.
Step 2: Data collected during the Annual Condition Survey is analyzed using an advanced modelling system called the Pavement Management System. This system uses the defects in the surface of each street to determine deterioration rates and objectively establish the overall roadway condition.
Step 3: The overall roadway condition generated by the Pavement Management System is translated to the Pavement Quality Index (PQI) where road conditions are rated from 0 (worst) to 10 (best). The PQI of a road may change from year to year. The Visual Condition Index, or VCI, is a subset of PQI data.
Step 4: The Pavement Management System forecasts multi-year models to identify the correct treatment (crack sealing, micro-surfacing, repaving, etc.) at the right time for specific roads. Priorities will be adjusted so that major infrastructure projects, utility replacements, or budgetary changes are taken into account. This ensures paving budgets are used effectively for the whole roadway network.
Base repairs Permeable fabrics, which strengthen, reinforce and improve drainage, are used to repair alligator cracking and distortion caused by settlement or heave. Installation involves excavating the area, putting the permeable fabrics in place, laying down and compacting new gravel and finally repaving the road surface.
Crack sealing keeps excess moisture from penetrating asphalt and preventing further cracking, potholes and deterioration of the road. As soon as the sealant pouring into the crack is dry, the road can be driven on.
Microsurfacing is similar to crack sealing, however, instead of being applied to a single, small area it is applied across the entire road. This cost-effective solution slows down the natural deterioration of the road and preserves road lifetime without costly and disruptive construction. Learn more about micro surfacing – an innovative solution.
Pothole repair is a major component of our city's roadway maintenance. The City of Calgary fills over 20,000 potholes each year. Explore the annual pothole repair program to learn what causes potholes and how The City repairs them.
Repaving is when the old pavement surface is milled away and new asphalt is laid down. To learn more about the paving process, please see the road work brochure. Look at this year's paving schedule to see where The City is repaving this year.
Road reconstruction consists of completely removing and replacing an existing road and its substructure. This is the most costly rehabilitation method, and a roadway only qualifies for full reconstruction if: it is extremely deteriorated, other treatments (such as repaving or spray patching) will not be effective, and the cost of other repairs will be higher than the cost of reconstructing the road. A fully reconstructed road will last up to 20 years.
Slabjacking creates a solid foundation under pavement to correct settling in the road. Holes are cored into the settled roadway and grout is injected to fill any voids. The road is raised and leveled, and finished to match the existing roadway.
Spray Patching is a quick, efficient, and cost-effective way to repair cracked and damaged pavement using an emulsified mixture of asphalt and gravel. Large cracks, potholes, localized raveling, alligator cracking and gaps at the lip of gutters can be corrected quickly. The road can be driven on almost immediately after the repair and after two weeks, the patched areas blend into the surrounding asphalt.