Boat launch status updates
Glenmore Reservoir typically opens to the public May 1, dependent on ice melt. See the status tool below for up-to-date schedules.
The Glenmore Boat Patrol is on the water May 1 to the October long weekend, sunrise to sunset, 7 days per week. October 10 to October 30, Thursday - Sunday only.
Reservoir features
Docks and launch ramps
Docks and boat launch ramps are available for public access to the Reservoir. No launching boats is permitted from undesignated shore areas.
Vehicle and hand launching ramps are located at:
Heritage Park boat launch 8003 14 St. S.W. (West of 14 St. at Heritage Drive S.W.)
Calgary Canoe Club and Calgary Rowing Club - hand launch only!
7305 Crowchild Trail S.W. (North Glenmore Park, 24 St. S.W. off Crowchild Trail).
Glenmore Sailing School - 8415 24 Street S.W. (South Glenmore Park - 90 Ave. and 24 St. S.W.)
Refer to the Glenmore Recreational Areas Map for more information.
When boating, remember other people are using the same facilities to launch so please be courteous.
Glenmore Sailing School
The Glenmore Reservoir is the only facility in Calgary for sailing, disabled sailing, dragon boat racing, rowing, canoeing and Kayaking.
South Glenmore Park
Located at South Glenmore Park is Variety Children's Park, a playground and water park accessible to children with disabilities.
The Quinterra Legacy Garden Project opened in 2020. It is a musical garden, complete with new trees and vegetation, green spaces, a small community multiuse stage and outdoor instruments near the existing Variety Park location.
Washrooms
Public safety
Approved life jackets or self-inflating personal floatation devices must be worn at all times while the boat is on the water.
No drinking of alcohol.
We help protect the safety of the public through the Glenmore Boat Patrol.
When Boat Patrol staff are on duty, a green flag is displayed at each of the three launch sites.
The Boat Patrol can be contacted using the radios located near the green flags or by calling 403-371-8674.  (May 1 – October 31 only)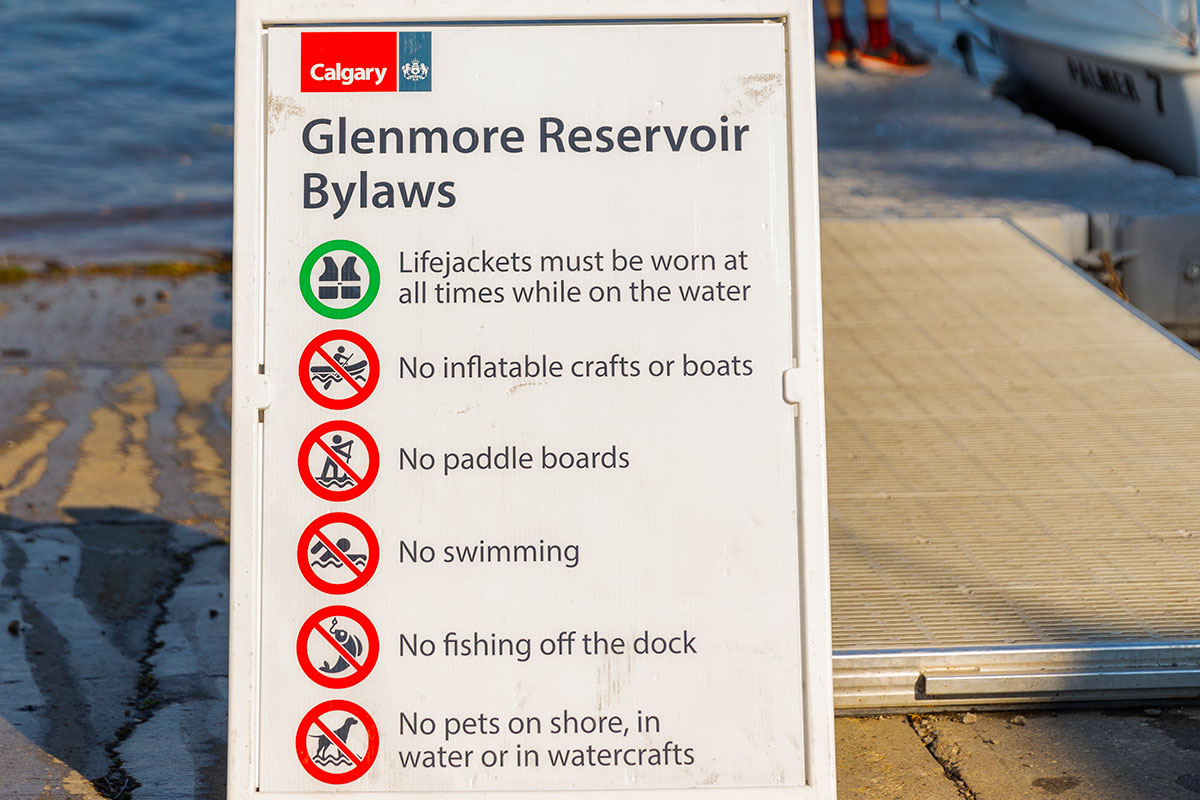 Prohibitied activities and bylaws
Nearly half of Calgary's water supply is drawn from the Glenmore Reservoir, which is fed by the Elbow River.
The Elbow River is susceptible to contaminants that can pollute our source water and make water treatment more difficult and costly.
Limiting recreational use is critical to ensure high quality drinking water for Calgarians.
The City has enacted and enforced the following bylaws:
Prohibited summer activities:
No pets in water or in boats

Pets must be on leash at all times in the Glenmore Park and on the shore of the reservoir.

No stand up paddle boards
No swimming in the reservoir
No inflatables
No power motors
No fishing from docks or ramps (fishing is permitted in non-motorized boats and along the shore)
Prohibited winter activities on the ice:
No walking
No skating
No skiing
No biking 
No snowshoeing
The water flowing into the reservoir is constantly moving, and levels change as water is withdrawn for treatment. During the winter, this makes the ice unpredictable and dangerous.