Emergency alerts and notifications
There are many ways you can obtain information during an emergency or disaster. You can monitor local media through a television set or radio, you can check for alerts through social media and you can monitor the situation on various websites.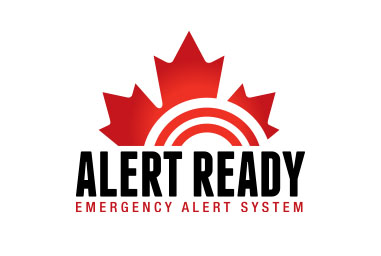 Alert Ready
Alert Ready is Canada's warning system to help you and your family stay informed and safe during an emergency or disaster. Beginning in April 2018, Alert Ready will not only be able to send critical alerts through TV, cable, satellite, and radio but also through some cellular phones.
These alerts will be coming from local emergency officials. If you receive an alert, you should take the appropriate action safely, especially if you receive the alert while driving. You will receive test alerts on your wireless phone when we test the system. To learn more about Alert Ready or to check your phone's compatibility, visit www.alertready.ca.
Alberta Emergency Alert
Alberta Emergency Alerts are issued to warn people about potential risks to their health and safety. By signing up to receive this information directly, you will be better informed and better prepared. You can follow Alberta Emergency Alert on Twitter @AB_EmergAlert​, download their app, or visit www.emergencyalert.alberta.ca for more information.

Additionally, you can find further details from the Alberta Emergency Management Agency (AEMA), Alberta's agency leading and overseeing all emergency and disaster prevention, preparedness and responses.
Download the app
The Alberta Emergency Alert app is available for both apple and android phones and tablets.