Calgary Emergency Management Agency (CEMA)
What is CEMA?
The Calgary Emergency Management Agency (CEMA) plans and coordinates emergency services and resources during major emergencies and disasters. We work with city services, emergency responders and other partners, corporations, communities and non-profit agencies to help Calgary respond to and recover from a disaster in line with Alberta's Emergency Management Act.
Calgary's Municipal Emergency Plan (MEP) outlines the structure and decision making process that we follow during major emergencies and disasters affecting Calgary. The MEP can be activated by the Chief of CEMA.
CEMA leadership
Susan Henry is the Chief of CEMA, which is the City's coordinating body for all emergencies and disasters in Calgary.
​​
CEMA partners
We work with more than 60 City of Calgary departments, external agencies, non-profit organizations, Non-governmental organizations, and community partners both before and during a disaster. Working with them helps to ensure the well-being of Calgarians, businesses and communities.
​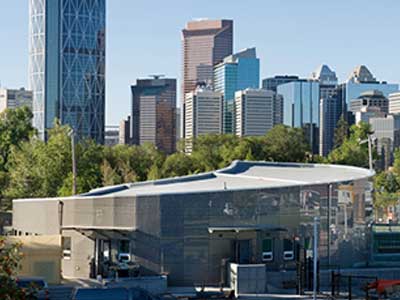 Where are we located?
CEMA operates out of the Emergency Operations Centre (EOC) located in the community of Crescent Heights. It can operate as a self-contained facility for at least the first 72 hours of an emergency.
The Chief of CEMA opens the EOC during a disaster or major emergency and it acts as The City's coordination centre. When it opens, our partners from City business units and external agencies like ENMAX, ATCO, and Alberta Health Services assemble to support front-line personnel and maintain City services.
How do we help those affected by an emergency?
We manage The City's Emergency Social Services program, which is made up of more than 100 City employees. The goal of this program is to meet the immediate physical and psychological needs of people who have been affected by an emergency or disaster.
Have you been impacted by an emergency? Learn what you can do after a disaster.
What is the status of emergency preparedness in Calgary?
What types of disasters and emergencies do we support?
Along with coordinating disaster response, we also provide various levels of support to prepare for emergencies and to mitigate the potential risks. Some examples of the types of emergencies and disasters we have supported are:
Severe weather events

Security threats

Suspicious device threats

Large residential fires in Calgary

Royal visits and Canada Day celebrations

RM of Wood Buffalo fires (2016)

Alberta floods (2013)

Slave Lake fires (2011)

H1N1 pandemic (2009)
What is the Emergency Management Act?
​The Emergency Management Act directs each municipality to establish an emergency management agency. This agency acts as the local authority in exercising the local authority's powers and duties under the Act.
The Local Authority Emergency Management Regulation provides direction on emergency management roles and responsibilities and what is required of municipalities to plan and prepare for the safety of their community.
To give municipalities sufficient time to work towards implementation, it will not come into force until January 1, 2020.
Additional information about our responsibilities and the parameters of the Emergency Management Committee can be found in the City of Calgary Emergency Management Bylaw 25M2002.
​​​​​​​​​​