Overview of Affordable Housing in Calgary
With one in five Calgary households struggling to pay for housing costs, the need for affordable housing is growing. We work in collaboration with our wholly-owned subsidiary - the Calgary Housing Company, federal and provincial governments, non-profit agencies and private sector developers, to make affordable housing more readily available in our city.
Affordable housing solutions require the participation of each order of government.
In Canada, the federal and provincial governments define the housing policy framework and provide funding for building and maintaining affordable housing properties. The province also owns and operates many affordable housing properties, including more than 5,500 units in Calgary.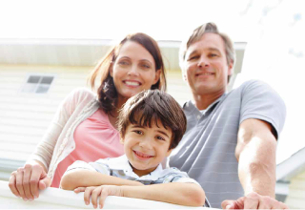 Under the Alberta Housing Act, housing management bodies are responsible for managing social and affordable housing properties, programs and tenant applications. Calgary Housing Company (CHC), a wholly owned subsidiary of The City, is the largest landlord in Calgary and an operator and owner of social and affordable housing. It operates under the direction of a Council-appointed volunteer Board of Directors with City Council representing The City as CHC's shareholder. CHC manages homes for over 10,000 households and 25,000 tenants.
Working with our government partners, as well as many Calgary-based affordable housing partners and champions, we build and support the delivery of new affordable housing units by securing land, managing building design and construction, balancing City funding for new units, and working with citizens to ensure new affordable housing developments are well integrated into Calgary's communities. We also conduct research to enable evidence-based decisions, create policies and programming that advance affordable housing in our city and support advocacy efforts with our government partners.
Once construction is complete on new units, we transfer management to Calgary Housing Company for tenant occupancy, management and program delivery.
To guide our efforts, in 2016, Council unanimously adopted the Foundations for Home - the Corporate Affordable Housing Strategy and accompanying Implementation Plan, which sets the City's affordable housing direction over the next 10 years through six key objectives:
Get the Calgary community building
Leverage City land
Design and build new City units
Regenerate City-owned properties
Strengthen intergovernmental partnerships
Improve the housing system
The Strategy aligns with key Corporate planning and policy guidelines, including Council priorities, the Municipal Development Plan, and imagineCALGARY.​​​