When you use your Blue Cart or a community recycling depot, you help keep valuable recyclable materials out of City landfills.
Find tips for preparing your recyclables the right way so we can make sure they are recycled properly and safely at our recycling sorting facility.
Make sure your materials are not packed in too tightly into the bin or they will not fall out of the cart during pickup. Only put out your carts as needed on pickup days.
Not sure where to put an item? Visit What Goes Where.
What can you recycle - guides and tips
---
Put recyclables in your blue cart the right way
Bundle your stretchy bags and wrap
Bag all your stretchy plastic bags into a single bag and securely tie closed.
This includes the following:
Grocery bags
Produce bags
Ziploc bags
Bread bags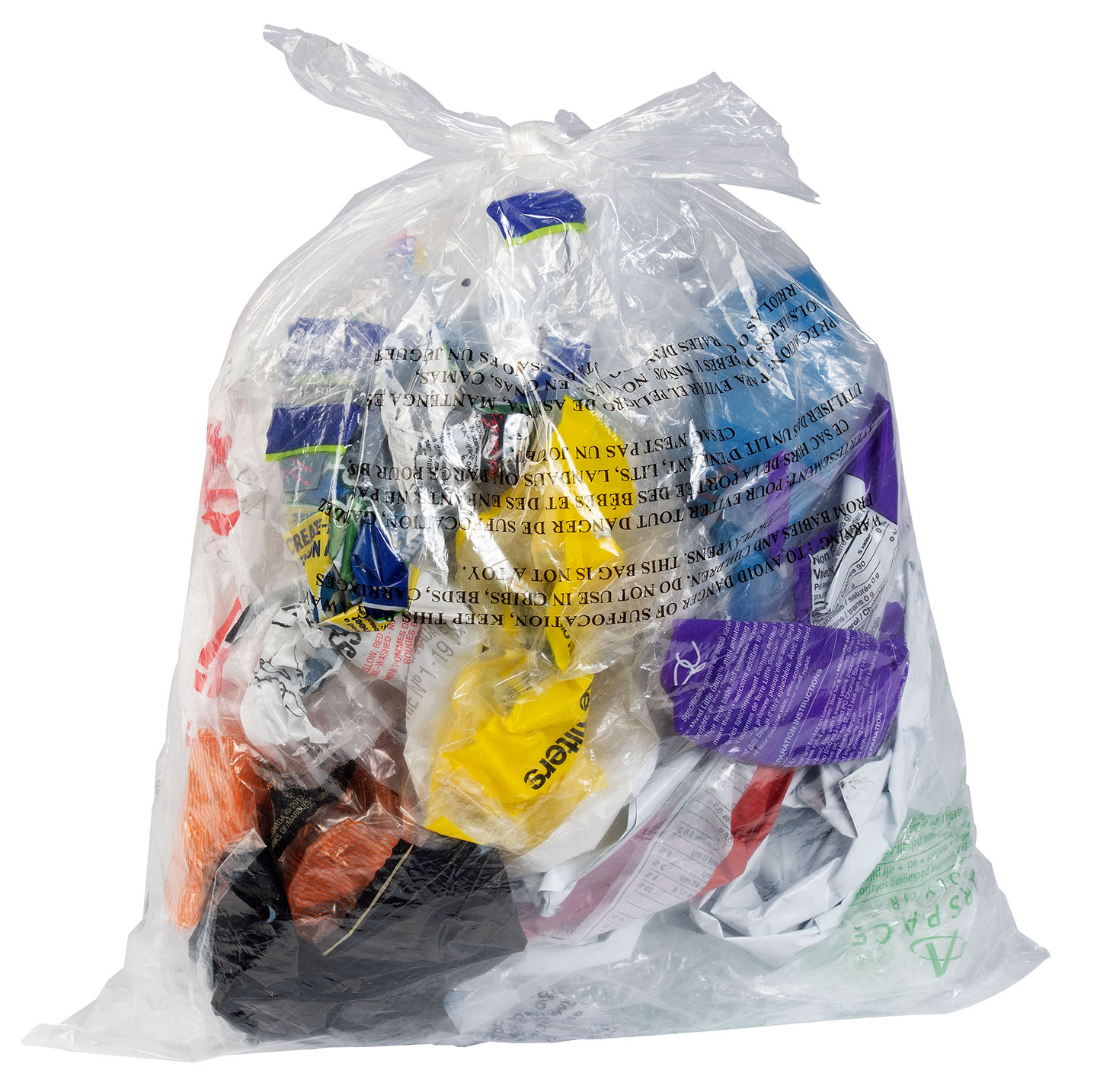 Bag your shredded paper
Shredded paper is one of the few items sorted by hand at the recycling facility.
By bagging your shredded paper in a see-through bag, staff can easily identify it as shredded paper and separate from the other recyclables.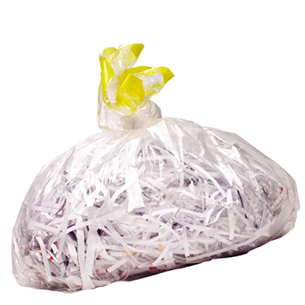 Keep the rest of your recyclables loose
Put the rest of your recycling loose into your blue cart.
Make sure your recyclables are not packed in too tightly or they will not fall out of the cart during pickup.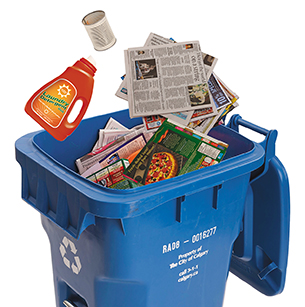 Why can't I bag recyclables?
Don't put recyclables in black garbage or blue recycling bags.
The recycling facility isn't set up to unbag recyclables and they need to be loose to be sorted by the machines.
For the safety of workers, garbage bags are marked as garbage and are not opened.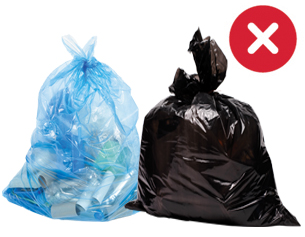 Clean and prepare your recyclables
Empty your recyclables
Recyclables need to be empty, clean, and dry so they can be sorted properly at the recycling facility, prevent other recyclables from getting wet and dirty as well as to ensure that manufacturers are able to use the material to turn them into new products.
Pour out excess liquids
Scrape out food bits to compost
Separate caps and lids from all containers
Peanut butter jars: Some containers might be a little harder to empty like peanut butter jars. Use a spatula to scrape out the remaining food. Store near-empty containers upside down to get the last amounts out to use.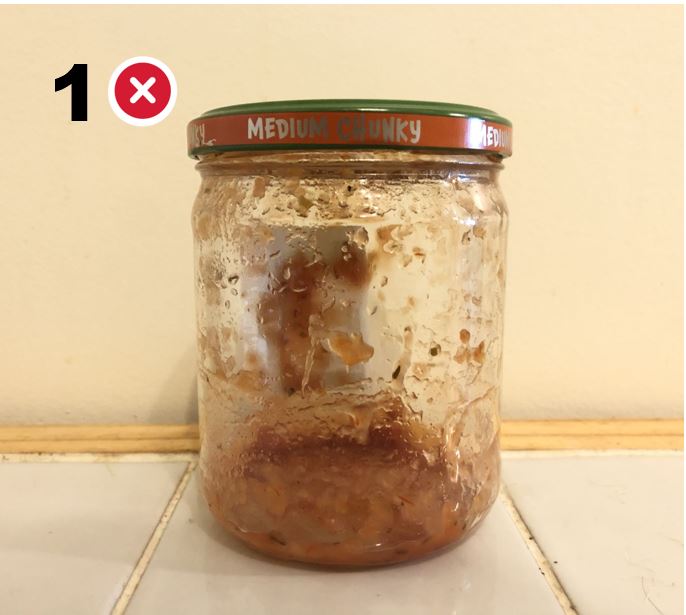 Dirty: Scrape food bits into compost bin and rinse out container.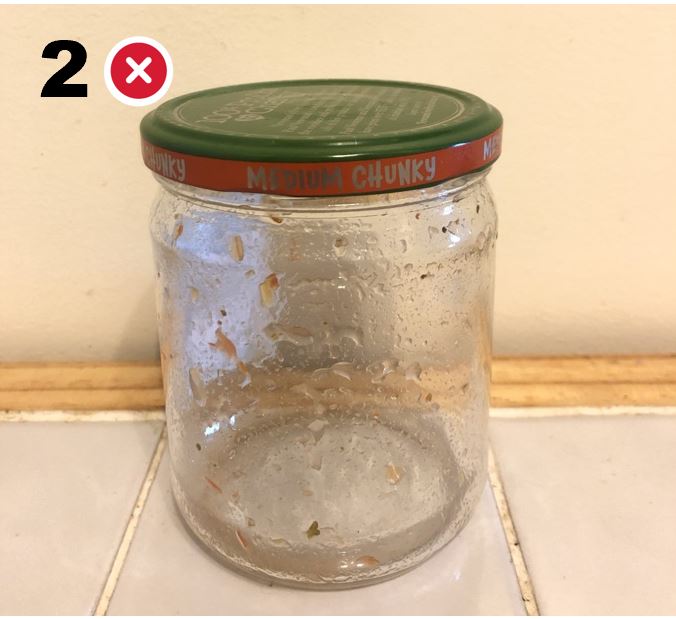 Still not clean: container requires another rinse to clean off all food residue.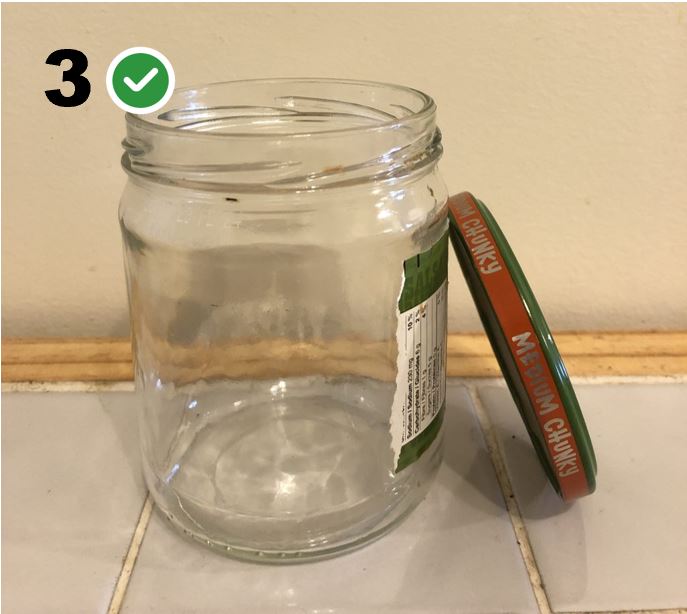 Clean: container has minimal food bits and is ready to be recycled.
Clean your recyclabes
Rinse out all food containers
Remove bits of food, sauce and other residue.
Labels can be left on the containers
Reduce water use:
For most recyclables a little bit of water will clean out most containers.
Add a few centimeters of water to a container, cover with your hand or the lid, shake and drain to clean.
If you wash dishes by hand, use the dirty dishwater to clean off food residue from your containers. Add dishwater to the container, shake and drain out.
Use gray water to clean recyclables (e.g. plug the sink while you rinse off fruits and veggies, then use this water to clean out recyclables.)
Use cold water to save energy
Cleaning tips:
Take a used paper towel or napkin and wipe out any food residue from container, then compost the food-soiled towel/napkin.
Add containers to any empty spaces in your dishwasher
For containers with small openings, use a bottle brush or straw cleaner to scrape out the last bits
Sticky cleaning liquids and gels:

Add water when container feels empty. Shake and use the diluted solution e.g. soap, shampoo etc. until it runs out.
Shampoo, conditioner and lotion: Remove lid and leave bottle below showerhead for a few days – as you shower, the water will naturally drain out the last bits of product.
Liquid detergent: Remove lid and include the container into a load of laundry to clean both your clothes and the container out.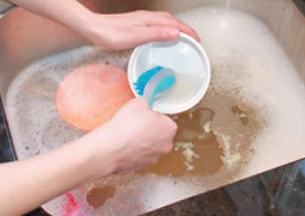 Dry your recyclables
After emptying and cleaning recyclables, air dry in a dish rack before putting in the blue bin.
Put all recyclables inside the blue cart to keep dry
Keep lid closed and clear snow off your blue cart lid
If you have extra recyclables that won't fit inside your cart:
Flatten boxes to create extra room in your cart
Hang on to your extra recyclables for next week's collection
Bring extra recyclables to a community recycling depot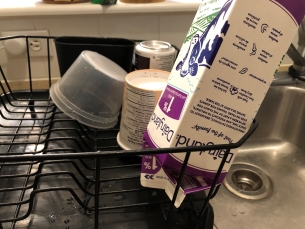 Why can't I put recyclables next to the cart?
Your blue cart protects recyclables from the rain, snow and wind. Your cart also helps keep our communities litter-free. In the winter months, clear snow off of your blue cart lid to keep recyclables dry. Learn how the recycling facility works.