What can't go in your blue cart
Print guides for Blue Carts:
---
No. Keep these items out of the blue cart or recycling depot
No household goods
Household items in good condition can be donated to charity, given to family and friends, or sold online. Some items like small appliances may have recycling drop-off options. To find recycling and disposal options, check What Goes Where.
Put broken and end-of-life items that can't be reused in the black cart as garbage.
Small appliances (e.g. toaster, kettle)
Furniture
Utensils, baking trays, pots and pans
Garden hoses and electrical cords
Cleaning and hygiene products (brushes, sponges, razors, etc.)
Drinking glasses, ceramics and dishes
Light bulbs
Picture frames, mirrors and decor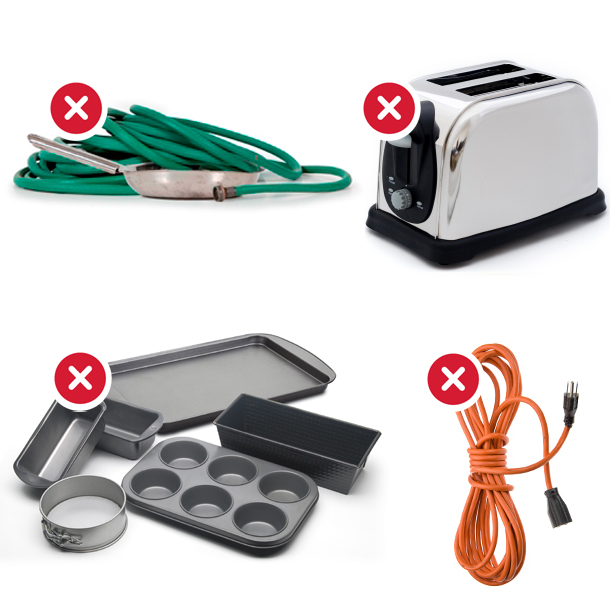 ---
No toys, sports equipment, shoes or clothing
To find recycling and disposal options, check What Goes Where.
Shirts, pants, sweaters, etc.
Outerwear (e.g. coats and jackets)
Shoes and footwear (sandals, runners, dress shoes, heels)
Purses, backpacks, suitcases and luggage, wallets, and belts
Household linens (e.g. bedding, towels, curtains, pillows, tea towels, duvets and blankets)
Accessories like hats, mittens and scarves
Skates, cleats, balls, hockey sticks, etc.
Toys (including plastic toys) and stuffed animals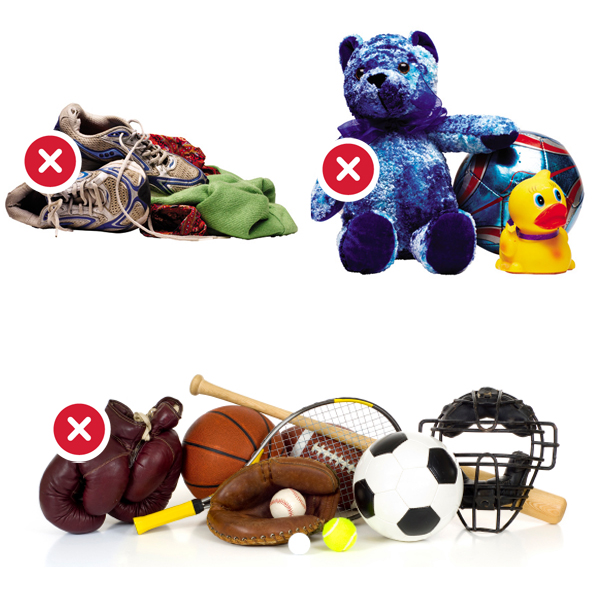 ---
No foam – all types
Polystyrene foam, even recycling symbol #6, must be bagged and placed in the garbage.
Packing foam and packing peanuts
Foam meat trays
Foam cups and takeout containers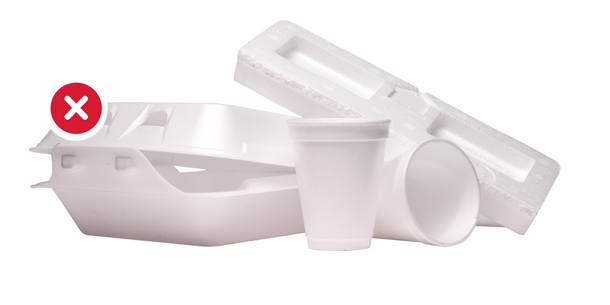 ---
No mixed packaging
Deodorant sticks and toothpaste tubes
Coffee pods
Non-stretchy plastic bags and pouches (e.g. frozen fruit bags, baby food pouches etc.)
Items made from more than one type of material (e.g. chip bags, candy, chocolate granola bar wrappers, butcher paper)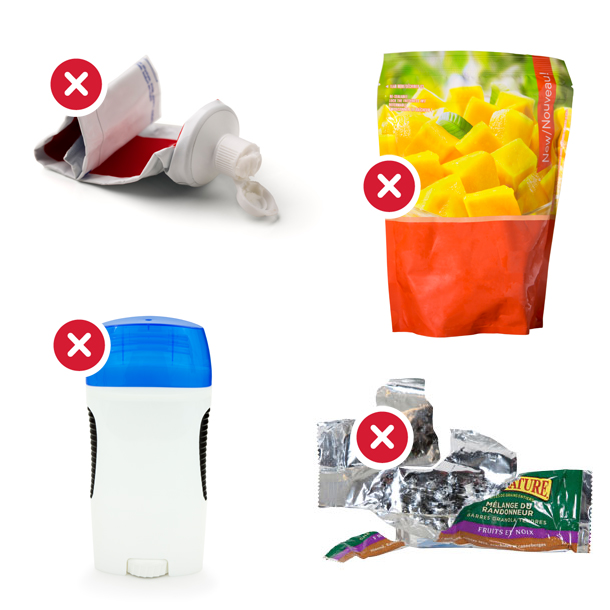 ---
No miscellaneous plastics, even if they have a recycling symbol
Put these items in the black cart as garbage. Your blue cart is for plastic containers – if your plastic item is not a container, do not recycle it.
Plastic cutlery (forks, knives, spoons) and straws
Plastic food wrappers and cellophane e.g. yogurt tubes, popsicle wrappers, noodle wrappers
Plastic mesh bags e.g. onion and avocado bags
Laundry baskets, kiddie pools and large tubs (anything bigger than 5 gallon pail)
Pens and markers
CD cases and DVD cases
Coffee cup lids and fountain pop lids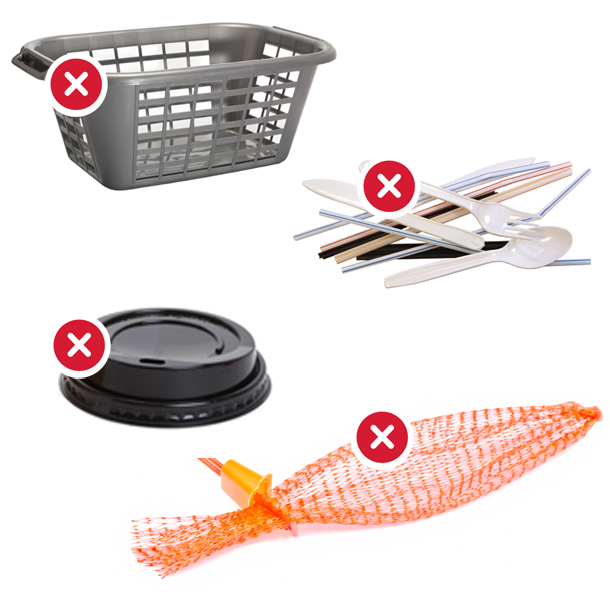 ---
No metal household goods
Take to a metal recycler or the metal bin at a City of Calgary Throw 'N' Go (fees apply).
Aluminum siding
Car parts
Electrical wire and cords
Pots and pans, oven racks
Shelving racks
Wire coat hangers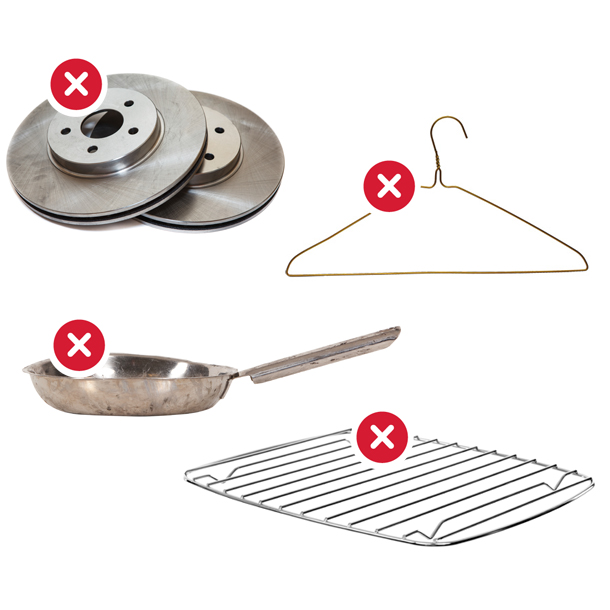 ---
No hazardous materials
If a container has a hazardous symbol (e.g. poison, flammable, explosive), bring it to a household hazardous waste drop-off location, even empty containers.
Aerosol cans
Car batteries and motor oil
Cleaning products and gardening chemicals
Propane tanks, bear spray or helium canisters
Paint cans
Thermometers
Household batteries – take to a participating retailer for recycling.
Needles and diabetic lancets – put in puncture-proof container (e.g. bleach bottle), seal tightly and put in black cart or dispose of through your local pharmacy.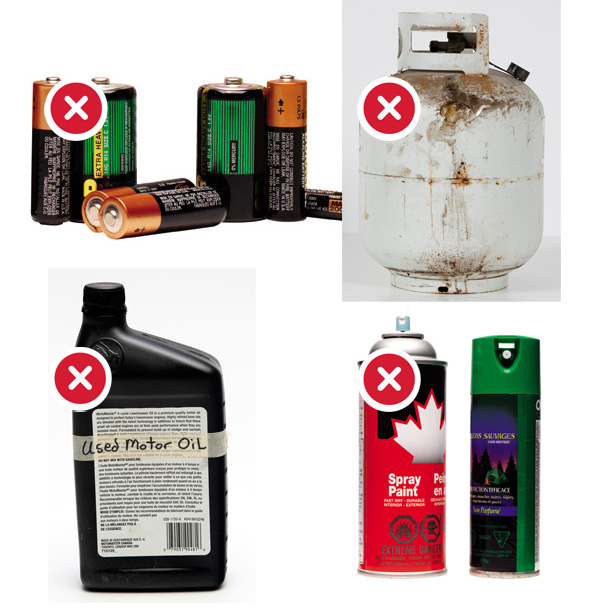 ---
No construction materials
Put small amounts of construction material in your black cart (make sure lid can close) or take large quantities to a City of Calgary landfill.
Bricks, concrete, tile and drywall
Nails
Vinyl siding and plastic decking
Treated wood and lumber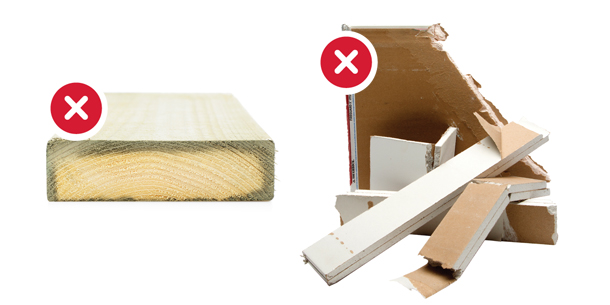 No electronics
To find disposal and recycling options for electronics, check What Goes Where.
Cell phones
CDs, DVDs and video tapes
Computers and computer accessories
Televisions
Video game consoles
Radios and stereos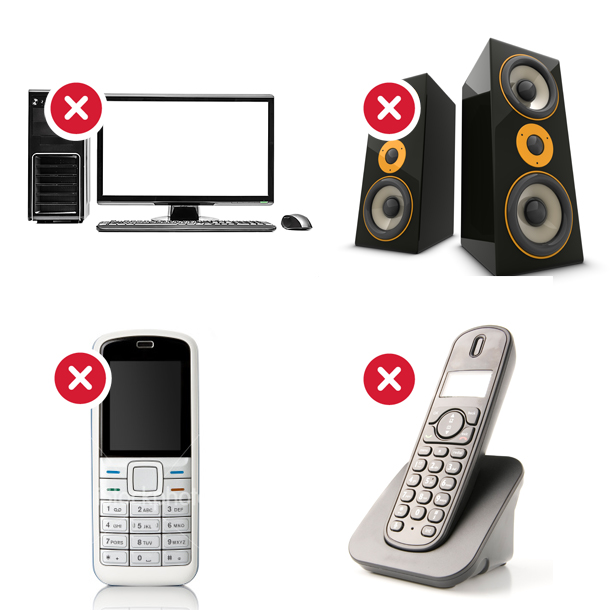 ---
Tips to Recycling Right at Home
Not sure of all the ins and outs when it comes to recycling? Watch these tips from local author Jessica Janzen on how she makes the blue cart program work for her and her family.