The City of Calgary provides Blue Cart recycling to single family residential homes.
Blue carts are collected weekly on the same day as green carts. Set your cart out by 7:00 a.m.
Bundle plastic bags together in a single bag and tie closed. For the rest of your recyclables, put them loose in your bin.
Extra bags are not accepted
– all items must be in the cart. Save extra items for next week or take to a
community recycling depot
.
Winter tips
Clear snow and ice to put your carts on even ground. Place carts in a dry area so they don't get frozen to the ground.
Don't place carts behind or on top of snow banks.
Clear snow off your blue cart lid and keep the lid closed so that paper and other recyclables stay dry.
Please note: Where you place your cart may change during snow route parking bans or spring street cleaning.
---
What can go in your Blue Cart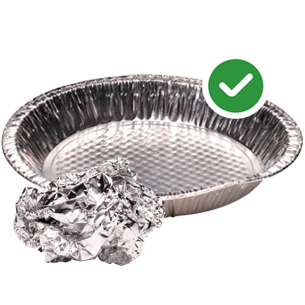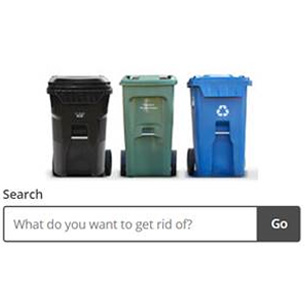 ---
Find your pickup schedule
Print a calendar
Type your address in the search box
Select Get a calendar
You can print a calendar; or
Add an online calendar
Sign up for free reminders
Type your address in search box
Select Get a reminder
Chose type of notice
Add your contact details
Download the Calgary Garbage Day app
Never miss a collection day by downloading the Calgary Garbage Day app onto your mobile device.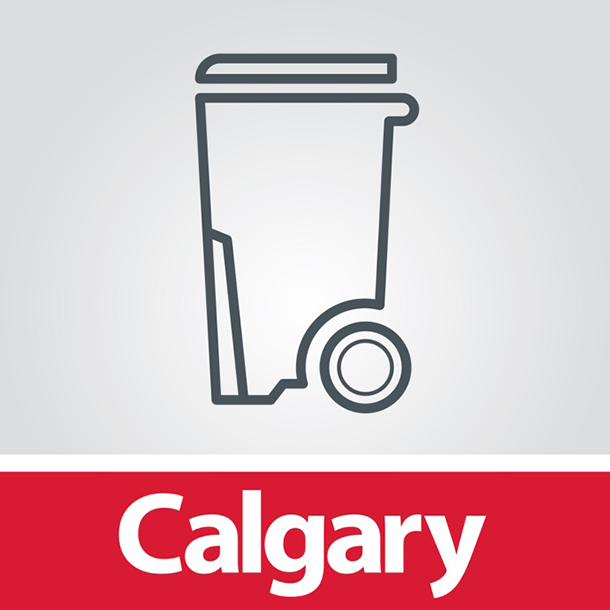 ---
Using your Blue Cart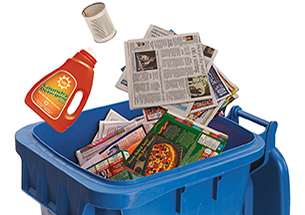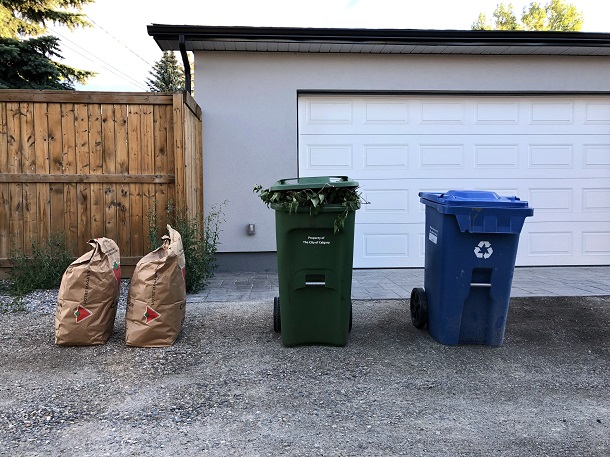 ---
Customer self-service
Report a missed collection
Request additional carts
Request cart for a new home
Report a missing or damaged cart
---
About Blue Cart Program
Who receives a cart?
We provide blue carts to single family homes up to four units, as long as they are not part of an apartment or condominium.
Blue Cart fee

| Monthly Rate | 2023 |
| --- | --- |
| Blue Cart Fee ($ per 30 days) | |
| | |
Your monthly cart program fees are not a "per-collection" fee but cover all the components of the residential cart programs, including providing carts to Calgarians, pickup from your home, sorting and processing of material as well as education and program support.
To learn more, visit Residential Waste Rates.
How recycling works
Through our Blue Cart program and community recycling depots, we've recycled more than 700 million kilograms over the last 11 years.
When your items are picked up from your blue cart, they go to a recycling sorting facility. People and machines sort all the mixed recyclables into different types of materials, bale them and ship them to markets where they will be made into new products.
In 2017, some items were impacted by the changes in the Chinese recycling sector and put into storage. In 2018, new manufacturers were found in other markets to accept recyclables as well as to clear out the backlog of stored items from 2017.
---
Other disposal options