Apply for a bulk water account
Customers that draw water from public bulk water stations need to apply for an account allowing them to obtain water from that source.
To apply for a bulk water account, you will need:
A person with signing authority for the account holder contract.
$25 for every access card issued. You will be required to have an access card for each vehicle that will use the bulk water service.
A refundable security deposit may also be required at the time of application.
To modify your vehicle/tank to fit an Approved Air Gap (AAG) to prevent contamination of the public water supply.
Bulk water accounts and billing
How do I apply for a bulk water account?
Complete the Bulk Water Application Form/Sales Contract and submit for processing in one of the following ways:
In person or via mail
ENMAX Place Storefront
141 - 50 Avenue SE
T2G 4S7
Calgary, Alberta
Mail code #1963
(The ENMAX Place Storefront is temporarily closed. Please submit your request via mail, phone or email.)​

Hours of operation
Monday to Friday: 8 a.m. to 4:30 p.m.
Closed on statutory holidays
Via email
calgarystorefront@enmax.com
Via fax
403-514-3980
Download a cover letter
For more information about applying for a bulk water account, please contact our Utility Customer Centre at 403-514-2691 or email calgarystorefront@enmax.com.
---
Vehicle requirements for bulk water service
Hose requirements
Customers must provide their own fill hose to accommodate the size of adaptor they have on their tank (50mm/2" or 80mm/3").
Please note: Only the fire stations can accommodate the 50mm (2") hose. All stations can accommodate the 80mm (3") hose.
The hose must be capable of withstanding 80 psi of pressure.
Your fill hose should have at least one female coupler end to connect to the male cam-lock adaptor at each station.
Ensure the length of your hose can reach from your vehicle to the cam-lock adaptor.
Vehicle and hose set up example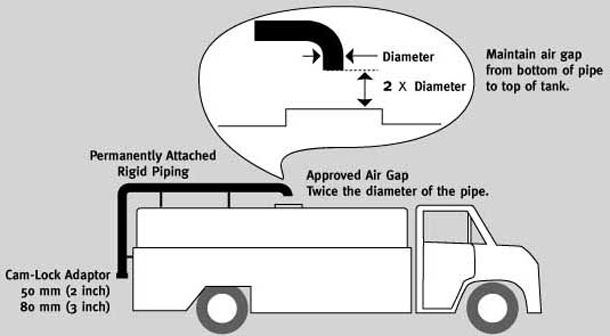 Please note: Failure to maintain the inspected air gap on the bulk water vehicle will result in prosecution under the Water Utility Bylaw and the cancellation of bulk water access card privileges.
Adapter requirements
Male cam-lock adapter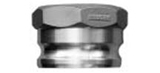 50-mm or 80mm
To be provided by City of Calgary
Female cam-lock adapter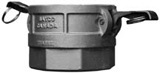 50-mm or 80-mm
To be provided by bulk water customer
Book Vehicle Inspection
After you have made the modifications to your vehicle, contact 311 arrange for an inspection. Once your vehicle has passed inspection, your card will be issued and activated within one business day.