Capturing and using rainwater for your yard
---
Rain barrels collect rainwater and provide a free source of water for your yard.
Your plants will appreciate the soft, warm water, and you will help reduce the amount of rainwater runoff that enters our rivers and creeks untreated.
Buy a rain barrel from Green Calgary
---
Rain barrels cost $78 +GST each for a limited time during the spring season. Use alone or link as many together as you want with a hose kit.
Calgary's average rainfall of 5 cm per month will provide approximately 4,000 litres of water. That can fill a typical 45-gallon rain barrel 20 times.
Purchase your rain barrel online
Visit greencalgary.org to purchase your rain barrel online, and find out about pick-up and delivery options.
Setting up your rain barrel
---
Please read the installation instructions carefully and refer to the barrel manufacturer or retailer for support. You can set up one rain barrel, or multiple rain barrels - each attached to a downspout or connected in series.
Ensure your rain barrel is on a stable and wide surface to prevent it from being pulled or knocked over. And, for safety's sake, ensure your barrel has a secure cover.
Make sure the overflow drain pipe or your downspout is set at least 1.5 metres (five feet) away from your house.
Seasonal rain barrel maintenance
---
When cold weather arrives, here are a few quick actions to keep your barrel from cracking:
Completely drain your barrel of water.
Remove and store taps and place barrel in a protected area away from strong winds.
Always remember to remove your diverter and reconnect your downspout.
Please note: Collected rain water is not potable, which means you shouldn't drink it or use it on food crops.

Risks of using collected rainwater
Rain barrels collect water that runs off a large surface, such as a rooftop. Every catchment area is unique and therefore the quality of water collected by rain barrels is unpredictable and could change each time a barrel is filled.
The primary risks associated with roof-top collected rainwater are bacterial pathogens, mostly those transmitted by birds and small mammals.
The pathogens most carried by these types of animals are Campylobacter and Salmonella. These two pathogens are the most common cause of foodborne illness and have often been detected in studies looking at the water quality of rooftop collected rainwater.
If an individual chooses to use collected rainwater for food crops at their own risk extra precautions can include:
Drip irrigation (as opposed to spraying) for watering gardens
'Base of plant watering' to prevent possible contamination of above ground fruits and vegetables
Washing all fruits and vegetables with mild detergent to remove as much contamination as possible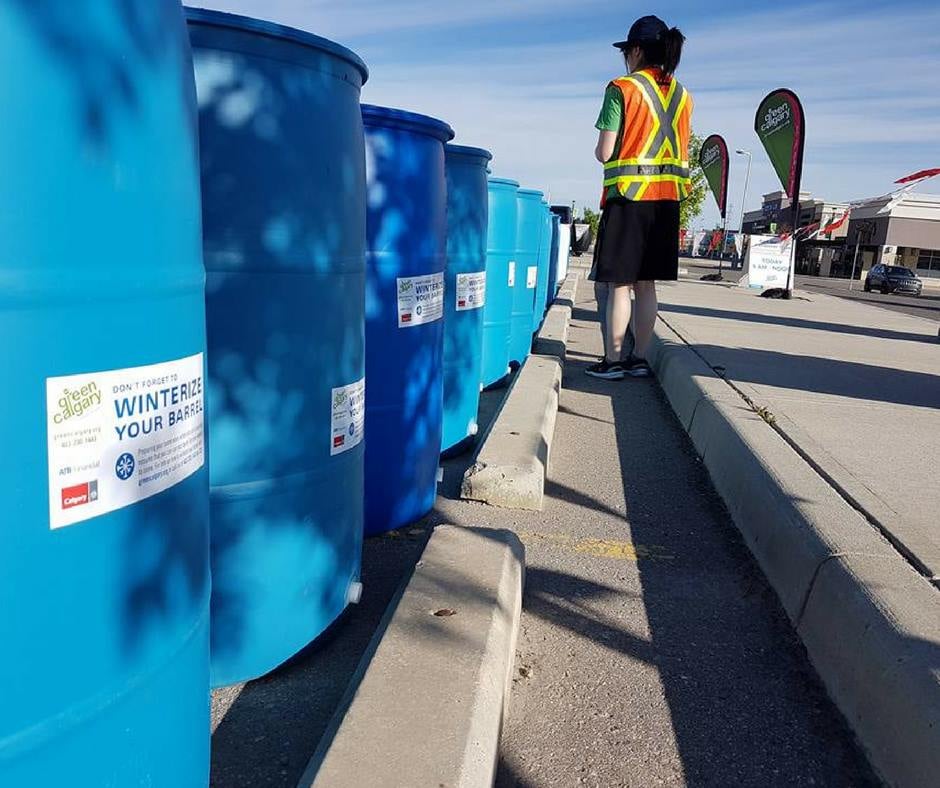 ---
Green Calgary's rain barrel program is sponsored by: