Do you know a person or group making Calgary a better place to live?
Created in 1994, The Awards celebrates outstanding achievements and contributions by citizens. The Awards are an annual event. People, companies, and community groups are nominated. Thirteen awards in five categories are given.
Calgary Award recipients could be your neighbours, co-workers, community leaders, local groups and businesses.
Calgary Awards nominations are accepted at the start of the year. The recipients are announced at an event in June.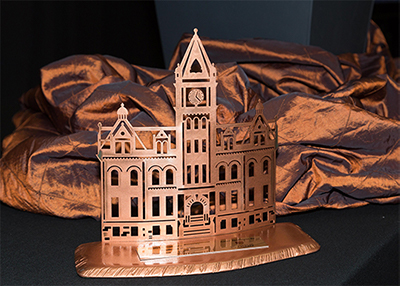 Recognition citizens can request
Requests of the Mayor
Proclamations are ceremonial documents.  They highlight arts, cultural or charity events, campaigns and causes. Proclamations can be made for a specific day, week or month.
Letters of Recognition are ceremonial documents showcasing professional groups or milestone occasions.
These documents are issued on Office of the Mayor letterhead with the Mayor's seal and signature.
View a list of proclamations and letters of recognition​ issued by The City of Calgary.
The Mayor sends messages to Calgarians celebrating a birthday or anniversary. The document is on Office of the Mayor letterhead with a signature.
Program letters offer greetings for event and conference programs. This letter is issued on Office of the Mayor letterhead with a digital photo of the Mayor.
Requests of Councillors
City Councillors send messages to people celebrating a birthday, anniversary, or special event. 
Recognition for amateur athletes
The City of Calgary, in partnership with the Calgary Booster Club, recognizes amateur athletes. National champions or medalists at a major international competition can receive a letter from the Mayor.
Recognition initiated by The City
Sport recognitions
Council recognizes professional sports teams when they win their league championship. Included are the Flames, Stampeders, Hitmen, Roughnecks, and Cavalry FC.
Council recognizes team members after Olympic, Paralympic and Special Olympics World Games. This includes Calgary-based Team Canada athletes, coaches and team officials.
Recognitions by Council Policy CP2018-02​​
Passing of a current or former Council member
We follow Council policy on the passing of a current or former City Council member.
Civic Recognition on the Death of a Current or Former Member of Council Policy CP2016-02​​
Other citizen recognitions
There are other citizen recognition programs within The City. Contact 311 for other recognition options.
Contact
For more information about citizen recognitions and protocol at The City, email  protocol@calgary.ca or call 403-988-5588. Office hours are Monday to Friday from 8:30 a.m. to 4 p.m.
​​​​​​​​​​​​​​​​​