Festivals and Events Subsidy Program
Festival and events enhance our communities and the lives of our citizens. This year, we supported 150 events. These events play an important role in Calgary's growth as an active, vibrant and creative city.
Program
All applications are reviewed by the Event Advisory Committee and our festival and events team. They determine eligibility for subsidy. Events will receive a percentage of their City service costs covered by subsidy as determined by their application score.
​
Subsidy Application
As always, The City wants to ensure the safest and highest quality services for your events. In accordance with The City's procurement policy, a new electrical contract has been awarded and we have a new electrical supplier. The previous RFP was awarded in 2012 and due to inflation, electrical rates will see an increase to align with 2019 rates and fees.
This will have an impact on your event budget, so please take this into consideration when planning your event. The greatest impacts will be on multi-day events as flat rental rates are no longer available.
If your event requires power on City land, your power equipment and supply must be provided by The City's contractor and a power plan must be submitted to your event liaison no later than 30 days prior to your event. If you do not comply with the 30 day power plan deadline, you are subject to a mandatory meeting and a fee may be charged.​
We can assist you with drafting your power plans, and will be holding free training workshops for all event organizers very soon. Consultation with City electrical staff and/or contractors can be arranged for a fee.
When your event SSA has been signed and event set up has commenced, any additional electrical requests from your vendors, suppliers and contractors must be approved by the main event organizer(s). We encourage all event organizers to draft contracts with all vendors, suppliers and contractors as you will be responsible for any additional charges and/or park damages. These charges will not be covered by the subsidy and will be charged directly to the event.
For more information on the Festivals and Events Subsidy program, read the Festival and Event Subsidy Application Guidelines.
The 2020 Festival and Event Subsidy Application deadline was Oct. 31, 2019, the application period is now closed​.
​​​​​​​​​​​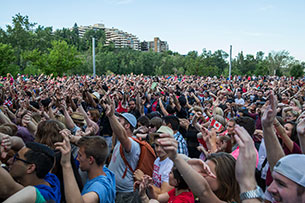 ​​
​​​ ​​​​