Types of commercial bins and dumpsters
We offer a variety of different bin styles and sizes to meet your waste needs. You can utilize different types of bins for recycling, composting and garbage depending on how much waste is created at your location. This flexibility allows for the right complement of bins to suit the tenants of your property. 
---
Kitchen composting accessories
Kitchen compost pails are available for bulk purchase when you set up your commercial food and yard waste service.
If you are part of our cart service, we will replace a compostable liner in the cart after each collection.  We are unable to offer the same service for our dumpster bins.
We do not offer kitchen bags for your indoor pails. Please check with your janitorial service for options or you can purchase kitchen bags at local big box and hardware stores.
---
Front-end loading (FEL) bins and dumpsters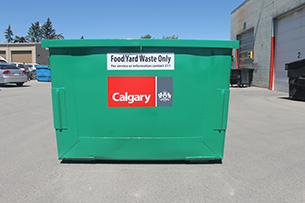 For day-to-day waste and recycling needs with regular collection pick-up.
Front-end loading dumpsters are available in 2, 3, 4, 6 and 8-cubic yard bins. See a full list of our bin sizes and dimensions.
Collection is once a week minimum, Monday through Saturday. Additional collections per week are also possible depending on location and availability.
---
Accessories for dumpsters
You can also add these affordable bin accessories to help you manage your waste properly and save on costs in the long-term.
Lids (metal or plastic) - are helpful for bins that are stored outside to protect from the elements and keep unwanted users from accessing your bin.
Locks - prevent misuse of your bins by securing them with a lock.
Wheels (for 2, 3 and 4 yard bins). These are required if your bin needs to be moved in order to be serviced.
---
Roll-off bin collection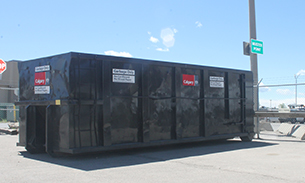 For larger construction or commercial projects.
Roll-off bins are available in 20, 30, or 40 cubic yards. They are collected on request through 311, Monday through Saturday.
---
Carts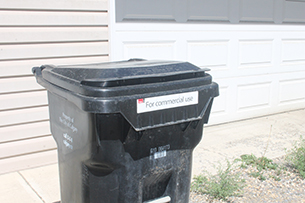 Commercial carts are also available for customers with smaller space needs or produce limited waste. Blue, black, and green carts are the same size as residential carts. The carts are 240L in volume and can hold up to 60 kg of material.
Carts are collected weekly. All material must be inside of the cart for pick-up.
Cart sizes
Please note these are approximate measurements. Carts may vary in size due to changes in manufacturer and supply.
Blue cart: Cart is 107 cm high, 59 cm wide and 73 cm deep.
Green cart size: Cart is 109 cm high, 62 cm wide and 72 cm deep.
Black cart size: Cart is 103 cm high, 68 cm wide and 71 cm deep.
If you are building an enclosure for your carts, please make sure to measure your cart(s) first.
​​ ​​​​​​​