Disposal Surcharge Inspection Program
Many materials can be recycled or composted but often end up where they shouldn't be at the landfill. The Disposal Surcharge Inspection Program works to encourage commercial businesses to properly sort their waste before bringing materials to the landfill.
41% of recyclable construction and demolition materials and 43% of food waste are still ending up in City landfills.
Commercial loads found to have disposal surcharge materials will be subject to a higher rate than the regular basic sanitary (garbage) rate. 
Landfill costs to consider
By separating any disposal surcharge materials from your garbage load, your business can see significant savings when visiting a City landfill.
Disposal surcharge rate - $180/tonne*
Basic sanitary (garbage) rate - $113/tonne*
*Commercial landfill rates are subject to change – please see the landfill rates page for more information.
How the Disposal Surcharge program works
---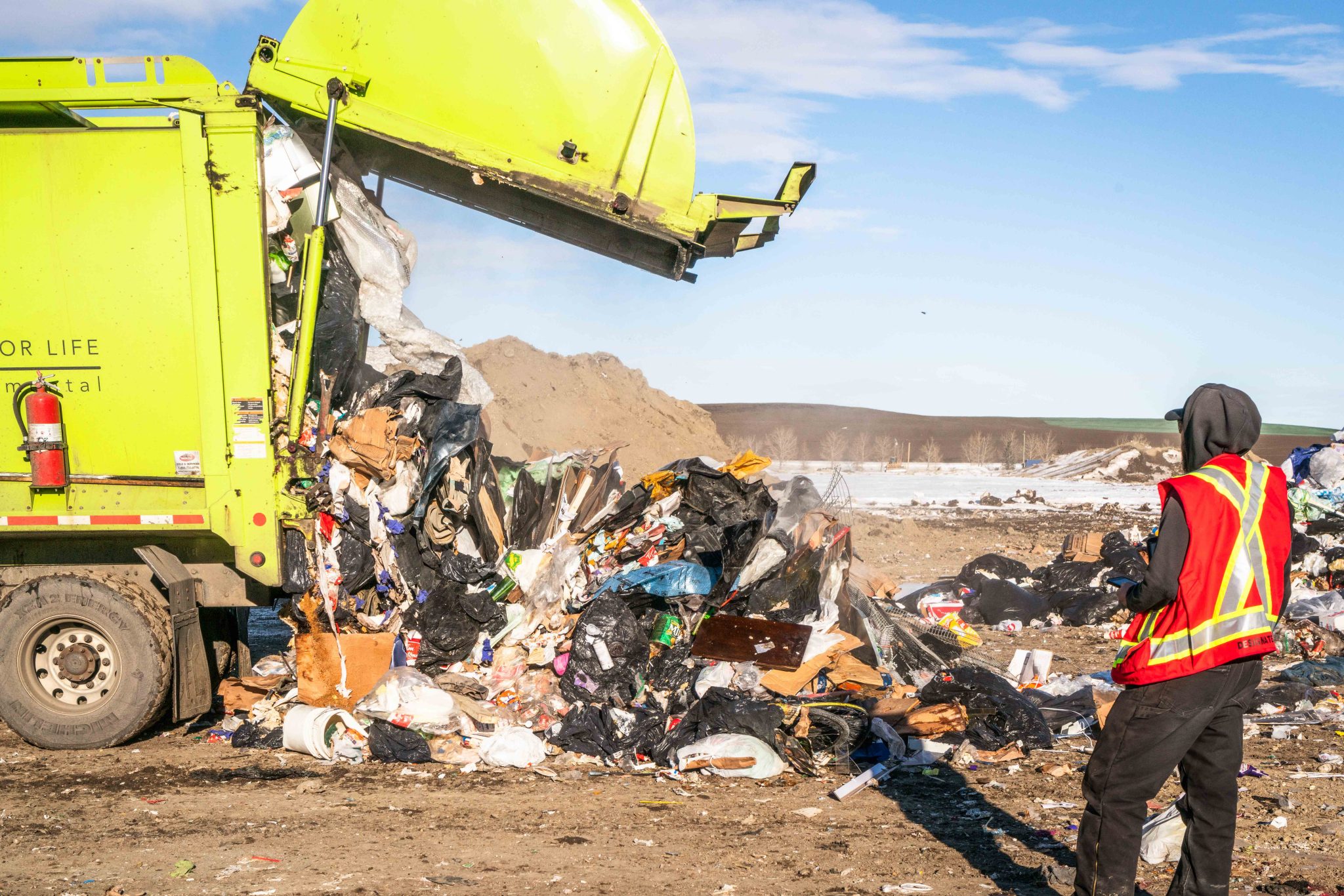 All commercial vehicles are subject to this random inspection.
City staff will evaluate commercial loads for disposal surcharge materials.
If your vehicle is selected for inspection, you will be flagged to a designated inspection area before emptying your load at the landfill.
Composition of waste loads is highly variable. City landfill staff has final say about acceptability of any material and the charges applied to each load.
City of Calgary
The City of Calgary is committed to providing a safe and respectful workplace for all employees and customers. Physical or verbal abuse will not be tolerated.
Disposal Surcharge materials list
---
Below are definitions of each disposal surcharge material and limits that will trigger a higher disposal rate if found in your commercial garbage load.
| Food waste | Yard Waste | Sod Waste |
| --- | --- | --- |
| Raw and cooked food, food scraps, packaged food, food soiled paper. | | |
If a load contains 20% or more of food or yard waste, the surcharge will apply.
Waste type
Newspaper, catalogues, magazines, mixed paper (including office paper), shredded paper, telephone books, boxboard, corrugated cardboard.
If a load contains 10% or more of paper or cardboard, the surcharge will apply.
| Recyclable wood  | Scrap metal | Drywall  | Concrete | Misc materials |
| --- | --- | --- | --- | --- |
| Dimensional lumber, pallets, and other items that are made of raw and un-processed wood. | Construction, demolition and renovation related scrap metals up to 1.2 m (4 ft) | Gypsum wallboard | Whole or crushed, up to 1 metre (3.5 feet), that may contain asphalt, metal reinforcement or aggregate. | Brick and masonry block |
| | | | | |
If a load contains 10% or more of the following C&D materials, the surcharge will apply.
How to avoid the Disposal Surcharge rate
---
Before your landfill trip
Separate recyclable and compostable materials from your loads before arriving at the landfill. Take these items to the proper processing facilities where lower rates may apply. Use the Know Before You Throw business waste search tool to look up recycling options for many different items.
City landfills offer limited source-separated commercial recycling options and composting for yard waste only – see commercial landfill rates for more information.

For waste haulers
Work with your customers to keep disposal surcharge materials out of their garbage bins.
Tell your customers about alternative disposal options to avoid surcharges.
Inform them of what disposal surcharge materials to keep out of the garbage. Encourage them to use the Know Before You Throw business waste search tool.
Make sure your customers have recycling and composting programs at their locations. Provide your customers with additional bins for specialty items. 
For businesses and property managers
Even if your business does not directly bring materials to the landfill, your business may incur additional costs from your waste hauler:
Contact your waste hauler about contract terms that may cost you more if you have disposal surcharge materials in your garbage. Review your waste management bills monthly.
Make sure your property has business recycling and composting programs set up and the bins are being used properly.
Work with your staff and janitorial services to keep these materials out of your garbage bins.
If your business creates large quantities of certain types of waste, check with your hauler to see if recycling options are available or use the Know Before You Throw business waste search tool to look up recycling options.
​​​​​​​​​