The City's Plans and Budgets
Every four years, The City creates service plans and budgets to deliver on what's important to Calgarians. These documents provide the roadmap for how we deliver services to citizens and the financial plan to support our actions. As we are in the last year of the 2019-2022 Service Plans and Budgets, work is underway to create the 2023-2026 Service Plans and Budgets.
Guidance on funding City services from 2023-2026
On July 6, 2022, to maintain services and progress Council's strategic direction, Council approved Administration's recommendation of a projected average annual increase of 3.65 per cent over the next four years in the total amount of tax collected from existing properties. This keeps the estimated property tax increases from existing properties lower than anticipated population growth and inflation. Calgary is growing and changing, and each year there is an increase in the number or size of properties.  This development and redevelopment also increase our property tax revenue by an average of 1.35 per cent per year.
Further discussions in the fall will provide additional clarity on the service provided and service and tax impacts to you. This will depend on the final Council-approved tax rate each year and will vary by property type and depend on the assessed value of a home or business, as well as the provincial tax rate.
Both Water Treatment & Supply and Stormwater Management will have no increase in the next four years due to cost reductions through savings initiatives and relinquishing capital budget where possible. This has resulted in the ability to continue to keep water safe and reliable for customers while keeping rates low despite increasing inflation pressures in fuel, energy, and chemicals, additional costs to build service resilience, and operational resources to address service risks.
Both the Wastewater Collection & Treatment rate increase and Waste & Recycling, the cart program charge increase is well below anticipated population growth and inflation at 2.5 and  2.8 per cent per year, respectively. This equates to $1.38-$1.48 per month for the typical residential monthly utility bill, and $0.70 per month for residential cart customers from 2023-2026. These modest increases allow us to continue to meet regulatory and legislative requirements and provide reliable waste and recycling service, respond to inflationary pressures and demand, and support the needs of a growing city.
Based on this guidance, Administration will develop the proposed 2023-2026 Service Plans and Budgets. They will be deliberated and decided by Council in November 2022, with many opportunities for you to provide input during the summer and fall.
Public engagement and research
Results from our public engagement in February and March are now available.
Here are some of the key themes we heard:
Equity and inclusion are important to consider when making decisions about services and service delivery that impact all Calgarians.
Calgarians have high expectations about fiscal responsibility and receiving value for services provided through a balance of property taxes and user fees.
Quality of life for Calgarians is highly impacted by service affordability and citizens expect us to seek out efficiencies and cost reductions without lowering service levels.
Calgarians understand that increased densification will support increased efficiency for operations and services.
Collectively as a city, mental health and wellbeing are important and citizens expect services to reflect safety, accessibility and connections to create a sense of belonging for all Calgarians.
We appreciate all the time you took to let us know your thoughts on what you value about City services. The insight and input we get from you helps us understand your needs, which allows us to shape our four-year Service Plans and Budgets to better meet those needs.
Stay tuned for more opportunities to participate this summer and fall at engage.calgary.ca/yourservices.
Citizens' View Research Report: Service Value Dimensions Survey
Citizens' View is an online panel that encourages citizens to participate in shaping The City's programs and services through online surveys. Panelists were asked to rank service value dimensions associated with each service as well as evaluate the importance of each service value dimension. The survey was conducted between 2022 January 13 - 24 to 1,952 panelists. A total of 755 panelists completed the survey.
These insights, along with the engagement findings, are being used to ensure our services are aligned with Council's Strategic Direction, advancing citizen outcomes for the next four years. Full results can be found in the 2022 Service Value Dimensions Survey Report.
How the 2023-2026 Service Plans and Budgets are being developed
City Council establishes a strategic direction that identifies what Administration will focus on for the next four years to meet the citizens' vision. These strategies help Administration decide which City services they should invest more in or change. 
Administration uses Council's Strategic Direction to develop scenarios for consideration. For example, what would happen to Transit service levels if the budget were held at 2022 levels? Each of these scenarios are reviewed and an optimal mix of investment in some services and divestment in others is reached. This will be determined based on making progress on Council's Strategic Direction and The City's long-term plans, while at the same time ensuring that The City's budget falls within Council's approved funding envelope and available capital funding. 
Get to know the 2019-2022 Service Plans and Budgets
Our current service plans and budgets outline how tax dollars and funding will be used to deliver the services Calgarians want and need until the end of 2022.
Learn more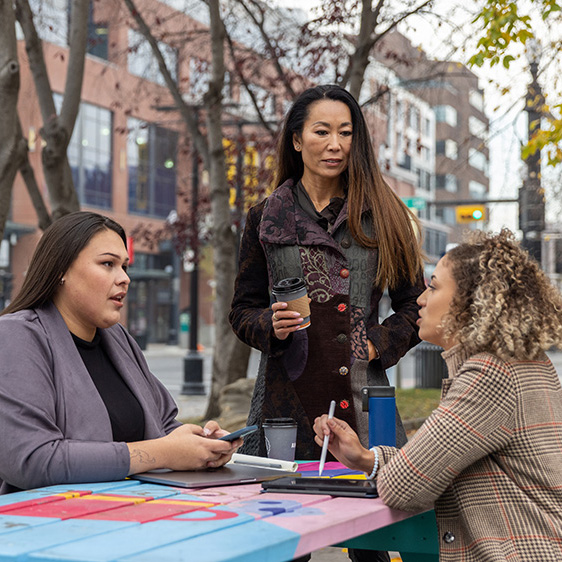 You might also be interested in learning about: