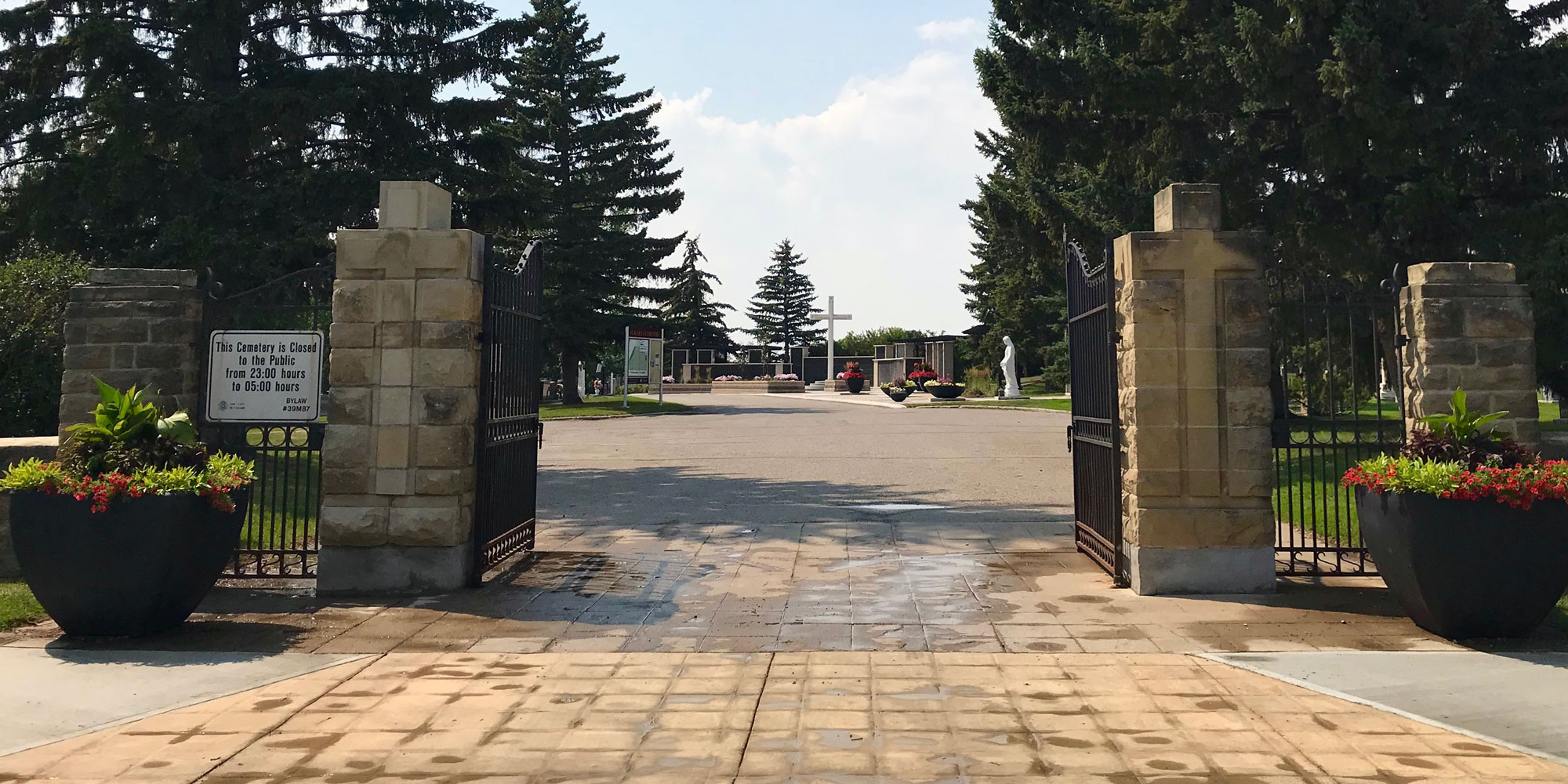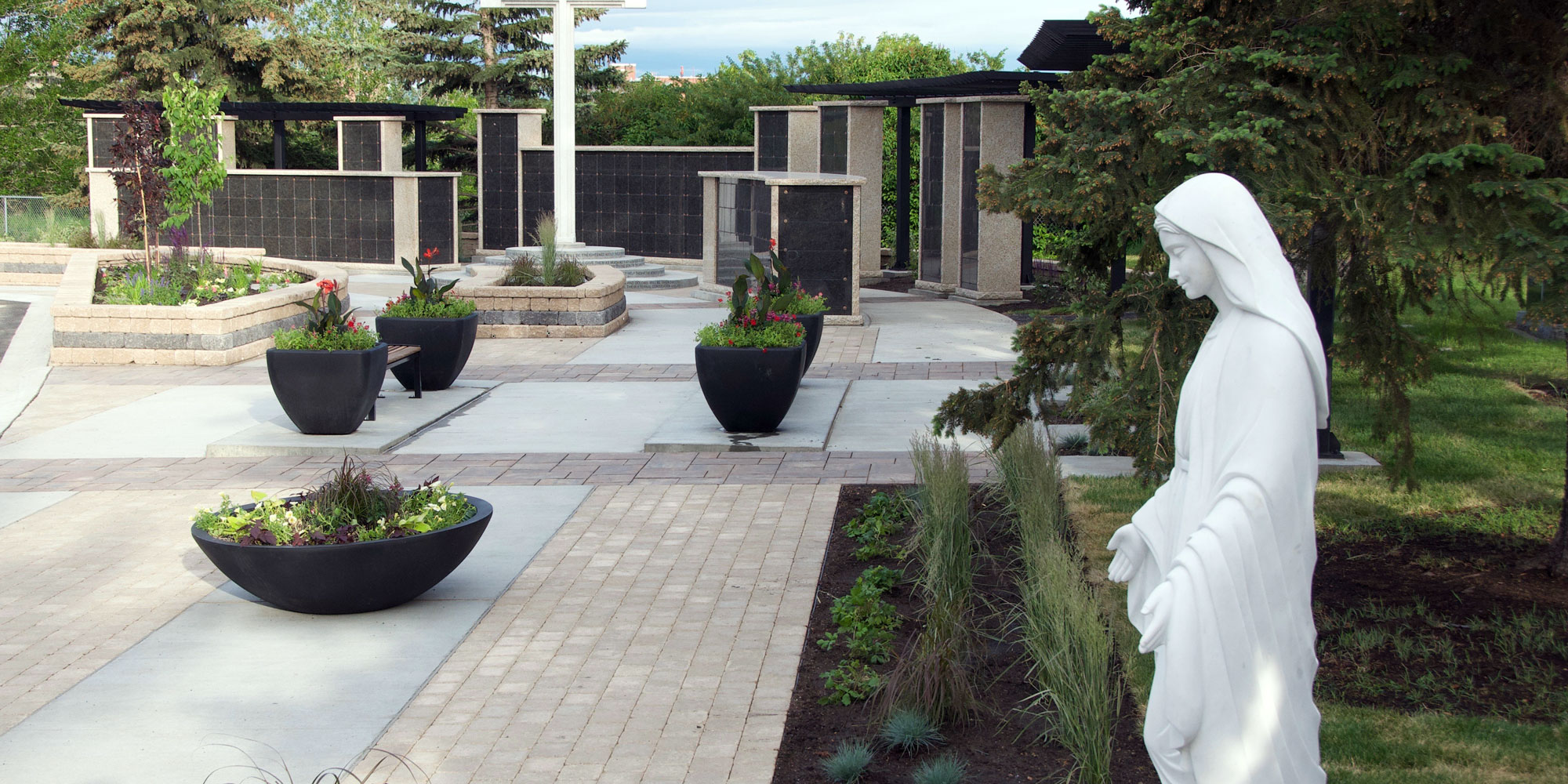 Cemetery features
Space availability: Space in the new columbarium garden is available. In-ground and cremation burial plots are at capacity for St. Mary's Cemetery but become available from time-to-time. Please call 403-221-3660 for availability. 
Features and special areas:
In-ground burial plots
In-ground cremation burial plots
Seven Graces of Mary Columbarium & Garden for cremated remains
Memorial cross
FREE historical cemetery walking tours in the summer
Physical area: 7.1 hectares
Number of burials: 15,000 including many Calgary founders and pioneers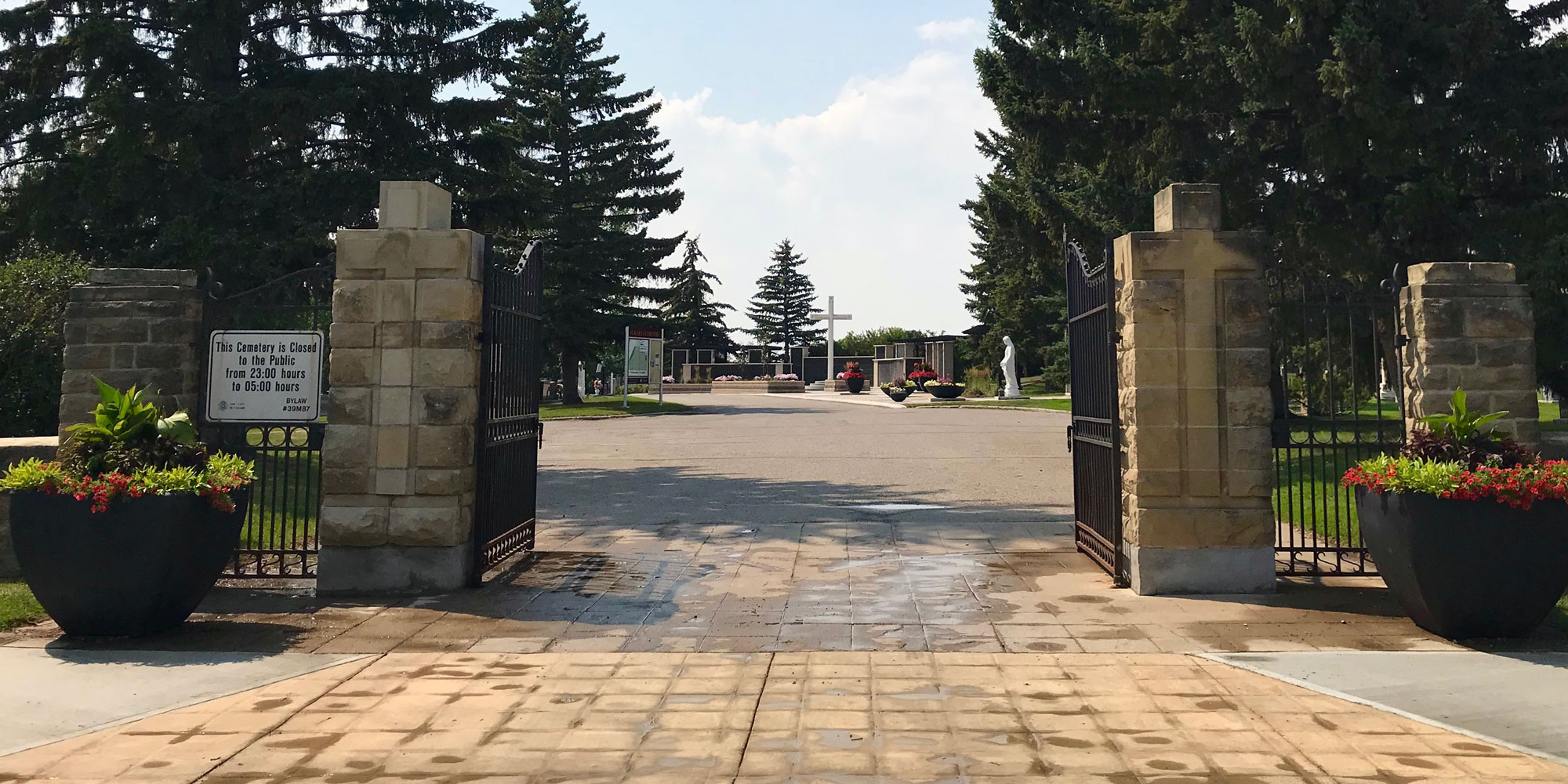 History
In 1876, the year after the Redcoats built their stockade, the Roman Catholic Mission established a burial ground at Second Street & 24 Avenue S.W. The first recorded burial took place in February of that year. After 10 years of use, the small graveyard was officially registered as a cemetery in 1886. When the cemetery closed in 1897, the early graves were exhumed and moved to the site of the new St. Mary's Cemetery, which had been established on the west side of Macleod Trail at Erlton Street and 32 Avenue S.W. The City of Calgary assumed management of St. Mary's Cemetery in 1935, and over time the cemetery was expanded to the south and east. The cemetery offers a mixture of upright monument and flat marker sections. The cemetery also features a new columbarium garden for the interment of cremated remains.
The original northern portion of St. Mary's Cemetery is now known as St. Mary's Pioneer Cemetery.
The Calgary Heritage Authority deemed St. Mary's Cemetery to be a historically significant cultural landscape that played an important part in the settlement and establishment of Calgary as a city. Today it is known as one of the city's oldest Catholic cemeteries.
Since becoming an acceptable interment practice for the Catholic Church, cremation is becoming a popular form of burial for parishioners in Calgary. To meet this growing need, The City of Calgary built a columbarium garden in St. Mary's Cemetery. We've worked with the Calgary Heritage Authority, the Southern Alberta Pioneers and their descendants, as well as the community, to design a columbarium garden that meets the personal and spiritual needs of the Catholic community, while maintaining the reverence and heritage of the cemetery.
Contact
For more information email calgarycemeteries@calgary.ca or call 403-221-3660. Queen's Park Cemetery administration building office hours are Monday to Friday from 8 a.m. to 4:30 p.m. Prairie Sky Cemetery administration building office hours are by appointment only.