What's happening now?
As of April 2021, the feasibility study for the Bowness flood barrier is complete. The results from the study showed a barrier would be effective at helping reduce basement and main floor damage that may be caused by overland flooding. The project would need to be built on private land, and we worked closely with the community throughout the studies. Many community members wanted more details on the Government of Alberta's plans for an upstream reservoir before progressing further with the barrier project. As a result, The City is not moving forward with further work related to a barrier at this time.
For more details about the feasibility study results, read our frequently asked questions.
What are the next steps?
We'll continue our active participation in two key initiatives the Government of Alberta is leading: updates to the flood hazard maps for Calgary and the feasibility study for a new Bow River Reservoir. As more information on these becomes available and is shared with the community, The City will re-evaluate how a flood barrier can help achieve 1:200 level flood protection, and community support.
Updates to the Flood Hazard Area map for Calgary

Land use development and regulations are a fundamental part of our three-pronged flood resilience plan to manage the risk and help avoid the damages caused by flooding.

The City is working closely with the Government of Alberta on the updated flood hazard map for Calgary, which is anticipated to be released later in 2021. As the existing hazard map was created in 1983, the new map will reflect an updated understanding of how a 1:100 flood would impact Bowness and will include new flood zone classifications for Calgary.

We are reviewing our existing floodplain policies and regulations to explore different options for how to regulate these new zones in our city once new flood hazard maps are released, balancing the safety and resilience of river communities while ensuring they remain great places to live. As part of the process, we'll be gathering feedback on these different policy options through city-wide public engagement. We will share more details with the community when they are available.


Phase 2 of the Feasibility Study for the Bow River Reservoir Options

Upstream flood mitigation remains a critical component of The City's flood resilience plan for the Bow River.  We remain in regular contact with the Government of Alberta and will continue to advocate for and support their studies to advance this work.

The Province is examining three reservoir storage options to address both flood and drought risk on the Bow River. Results from this feasibility study are anticipated in 2023. While information released is at the discretion of the Government of Alberta, we anticipate the following information will be part of the study results:

Field study and public engagement results for each of the three potential locations being studied.
One recommended reservoir site (if any), and whether the Government of Alberta should move forward with further study of the recommended site.
An estimated storage capacity of the recommended site for both flood and drought mitigation.
This information will help indicate the extent of flood protection that could be provided by an upstream reservoir and what the residual flood risk could be in Bowness. It will also provide insights on the potential timing of completion for an upstream reservoir (expected to be in the range of 12-15 years), in the event the Government of Alberta continues to move forward on the project.
Visit the Government of Alberta's website for more details on this project and other ways to stay informed about progress and opportunities to provide feedback.
Keeping you informed
As there are developments on flood mitigation projects and opportunities for public engagement, we will share this information with your community through targeted outreach in your community and our Bowness Flood Barrier e-newsletter – subscribe here.
Being ready for floods
While the flood barrier is not moving forward at this time, what hasn't changed is our commitment to the community's safety and personal preparedness through our annual flood season preparations.
The Government of Alberta's agreement for modified operations at TransAlta's Ghost Reservoir is in place until 2026, which will help reduce the risk of smaller floods (up to a 1:20 event) until other mitigation is constructed. In the event of a flood, our emergency response plans are ready to help evacuate residents and keep you safe.
In all river communities, flood resilience is a shared responsibility. There are many actions property owners can take to protect their property and help reduce their flood risk. Find out what steps you can take to reduce flood damage to your home and belongings.  
We also encourage residents to sign up for our flood preparedness e-newsletter. It's sent out every Friday from May to mid-July with information on current river conditions, tips and flood mitigation project updates.
The results of the river modelling show two key low-lying areas along the river in Bowness in the map below. These areas are the main sources of overland flooding in the community.
Area #1 (East of Bow Crescent to 67th Street): A few riverfront property elevations in this area are quite low. When the river is flowing as low as 690-800 m3/s the arrows show where the river begins to enter the community and how the waters spread along Bow Crescent, flooding several homes before exiting back into the Bow River.
Area #2 (East if 60th Street and ending at the Hextall Bridge): Most of the property elevations in this area are lower. When river flows reach levels of 830 m3/s the water spreads more quickly through the community, impacting many homes, buildings and other infrastructure.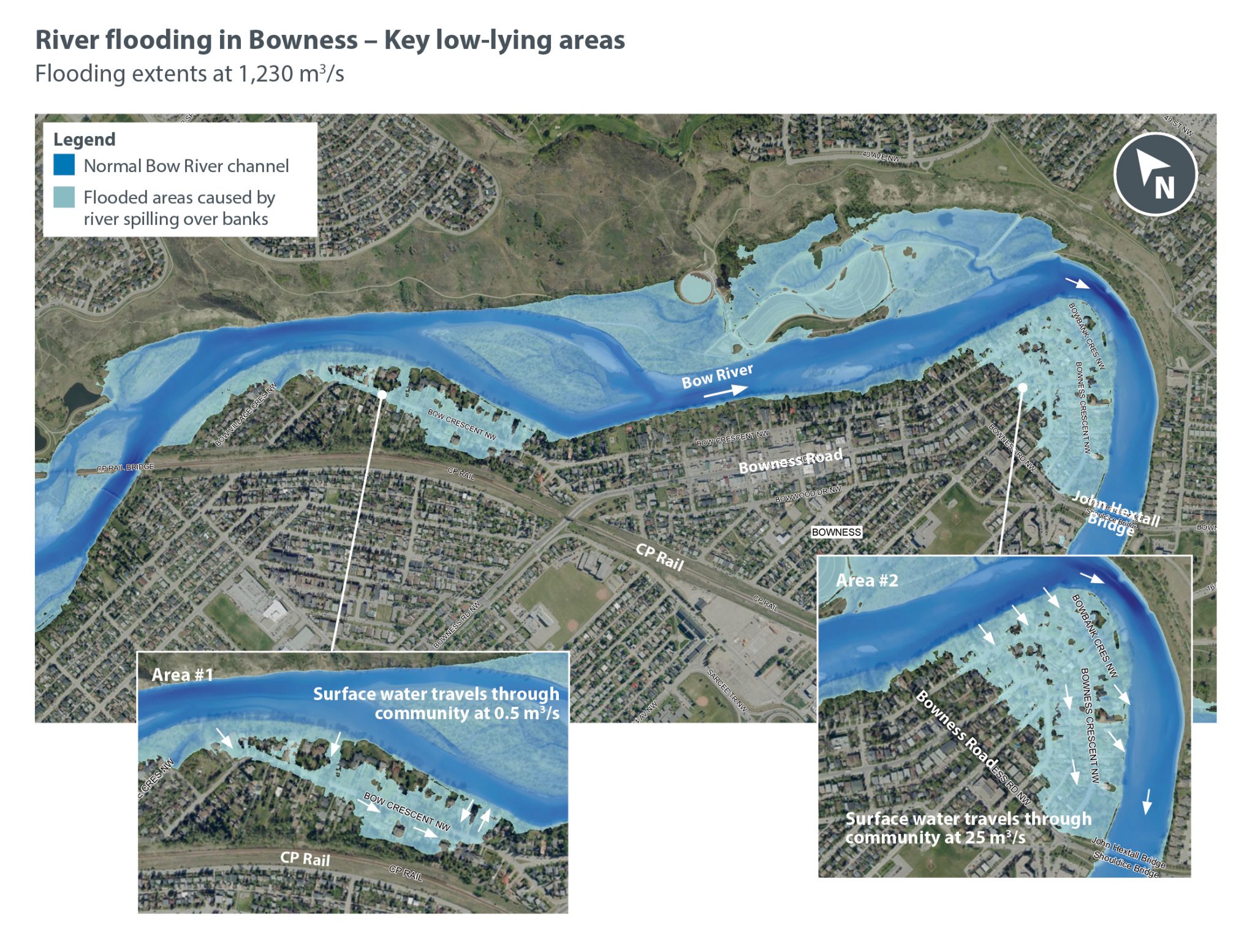 Location
The red line illustrated in the map below shows the potential for a barrier alignment that targets the two key low-lying areas on the north and south ends of Bow Crescent. This alignment would help prevent overland flooding of both riverfront properties and the broader community.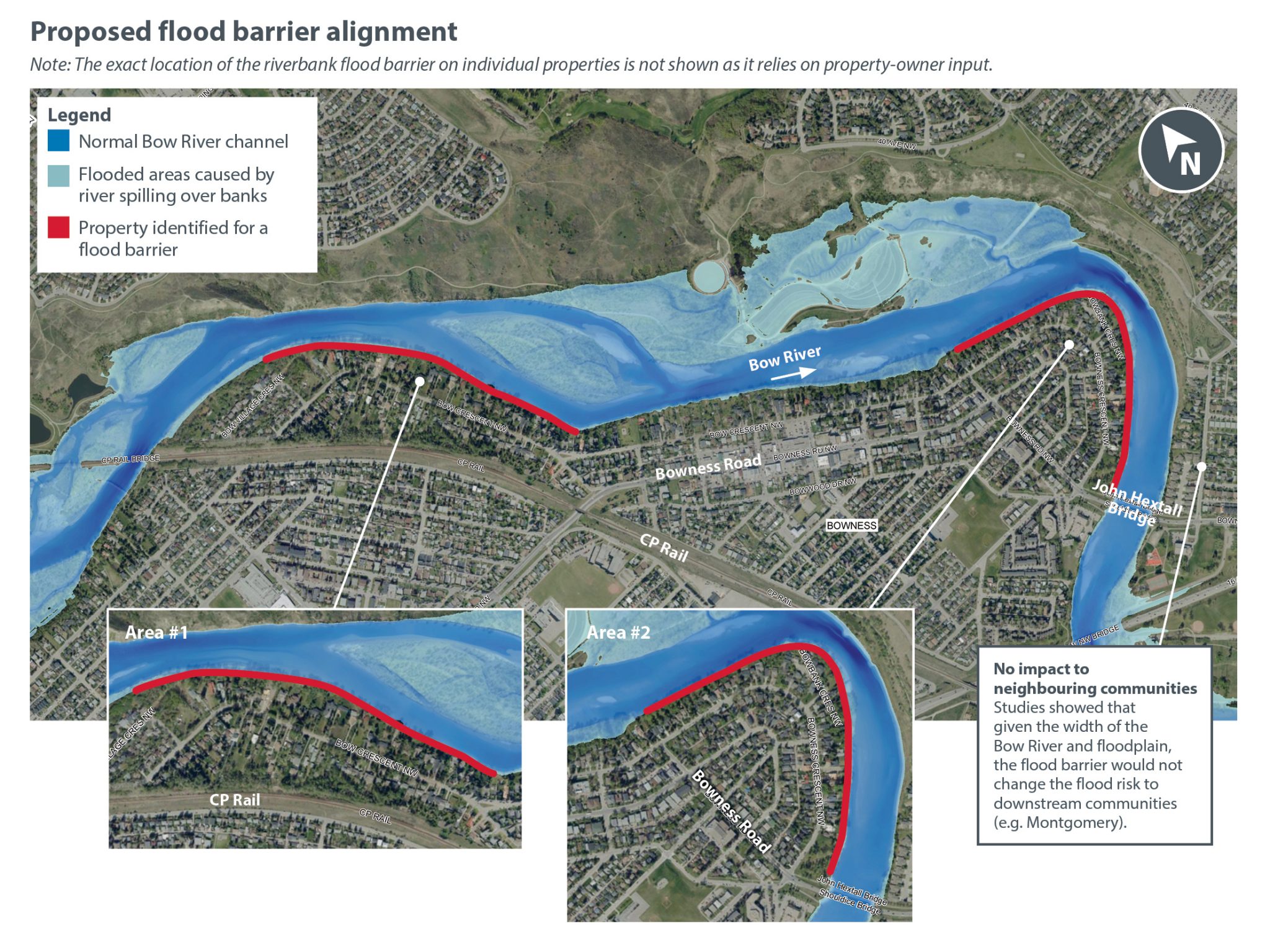 Key facts
Total length of the flood barrier: 1.9 kilometres
The barrier is divided over two sections that target the low-lying areas along the riverfront.
Number of properties identified for a flood barrier: 75 riverfront properties
Negotiated easements with individual property owners would be required to proceed with construction.
No increased flood risk to neighbouring downstream communities
Given the width of the Bow River and floodplain, the flood barrier has a very small impact on water levels and does not increase the risk of flooding in downstream communities (e.g. Montgomery). 
Estimated cost: $25-35 million
This range accounts for different alignments on individual properties that carry different costs and the variability in land costs. Following further engagement, a more refined cost estimate will be used in the evaluation of the feasibility of the flood barrier.
Design
The barrier may include a combination of flood walls, retaining walls and earth berms depending on the alignment and property-owner preference.Majority of properties (60%) would require a barrier that is 1 metre high or less.

Min. flood barrier height – 0.4 metres
Max. flood barrier height – 1.7 metres
The barrier design does not, and will not, incorporate any design for public access or an access road.
Riverfront properties identified for a flood barrier received a property-specific information package outlining the design and feasible alignments available for their property. As part of this phase of engagement, riverfront property owners are invited to meet virtually one on one with the project team to discuss the flood barrier design. Details are available on the project's engagement page.
Construction considerations
If the project proceeded to future phases and was later approved by Council to move forward into construction, it would be completed in stages.
Each property: Estimated to be completed within 4-6 months
Full construction of entire barrier length: Estimated to be 2-3 years
During construction, impacts may include:

On-site construction activity, including construction crews, vehicles and heavy equipment accessing private properties and surrounding areas.
An increase in noise throughout construction.
Soil disturbance and dust emissions.
Temporary utility shut-downs may be required.
Approximately 160-180 properties along with critical public infrastructure are at risk of overland flooding in Bowness. Investments to protect the community from overland flooding:
Improve public safety by delaying or avoiding the need for emergency evacuations during floods and better protecting roads used for evacuations.

Helps reduce the cost of flood damages

Overland flooding is a costly form of flooding. In addition to water damage, dirt and debris also flow overland, which can damage properties and the main floor of buildings and homes.

Protects public infrastructure

including roads and park spaces.



Helps reduce storm and sanitary backup

by keeping water off the street where it can drain into the sewer systems and overwhelm them.



Stay connected

---
Project specific information
---
Bowness Flood Mitigation Working Group
In spring 2019, The Bowness Flood Mitigation Working Group​ was formed to enhance community engagement. The group met monthly to provide the project team with advice and input on engagement and communication, to review and provide input on studies and research and to build mutual trust and understanding, with a focus on delivering the best flood mitigation solutions for the community of Bowness.
The group is made up of members from the Bowness Community Association, Bowness Business Improvement Area, Bowness Responsible Flood Mitigation Society, Bowness Senior's Association and the general community.