What's happening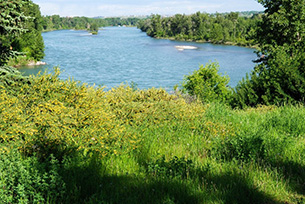 In Bowness, we're in the process of exploring the feasibility of a flood barrier that would extend along the riverbank area, roughly between the CP Rail tracks and the Shouldice Bridge.
The proposed flood barrier is one of the community-level measures that is part of Calgary's Flood Resilience Plan.
The plan is an integrated approach where the proposed barrier would work with upstream mitigation, provided by the construction of a new reservoir on the Bow River, and modified operations of TransAlta's Ghost Reservoir. Working together, these measures would help us better manage overland flooding and avoid the type of damage we saw in 2013.
Phase 1 – Studies and community engagement
We're currently in the first phase, which is studies and community engagement. This phase will continue until late 2020. We're gathering community feedback, completing engineering studies and analyzing information.  
Once complete, we will share with the community the study results and how a potential barrier would address flooding. We'll also share more detailed barrier options with impacted property owners for feedback.
From there, we will use the property owner and community feedback to assess the social impacts, and use the technical data to evaluate the economic and environmental impacts to develop a recommendation for Council.
What's next?
Once Phase 1 is complete, there are three potential next steps:
Extend Phase 1 – Conduct more studies for further evaluation and continue community engagement; or
Proceed to Phase 2

Continue the discussion with riverfront property owners on design and potential land impacts.
Advance design to refine cost estimates.
Another report to Council with cost and land impacts would likely be required before proceeding to a construction phase.

Explore other community-level strategies – If barriers are not recommended for Bowness, explore other community level strategies to mitigate the impacts of flooding in Bowness (i.e. land use changes, building regulations).
Studies and analyses
The following studies are underway:
Groundwater

This will help determine if protection from groundwater seepage is possible. Additional research is needed to better understand the relationship between groundwater and the river.
We installed monitoring wells on public and private land to learn about ground conditions and potential impacts from groundwater flooding. The monitoring wells will be in place until summer 2020. See map of monitoring well locations.

Geotechnical investigations
Flood modelling
Stormwater management
Biophysical impact assessment
Getting input from the Bowness community
We are working closely with the community. We have completed initial site meetings with riverfront property owners. Their feedback, along with results from the technical studies, are being used to develop preliminary design options for a potential flood barrier.
If you are a riverfront resident and have not met with the project team, please contact Lauren Minuk at 403-268-8044 or e-mail bownessbarrier@calgary.ca to arrange a meeting.
Bowness Flood Mitigation Working Group
In spring 2019, The Bowness Flood Mitigation Working Group​ was formed to enhance community engagement. The group meets monthly to provide the project team with advice and input on engagement and communication, to review and provide input on studies and research and to build mutual trust and understanding, with a focus on delivering the best flood mitigation solutions for the community of Bowness.
The group is made up of members from the Bowness Community Association, Bowness Business Improvement Area, Bowness Responsible Flood Mitigation Society, Bowness Senior's Association and the general community.
Background
The City often refers to temporary and permanent flood barriers. A wall constructed of sandbags is an example of a temporary barrier. An earthen berm is an example of a permanent barrier. Whether temporary or permanent, flood barriers are constructed to keep floodwaters from entering a certain space – it could be a home, infrastructure, a roadway, etc.
Right now, the types of barriers being proposed are a combination of earthen berms and floodwalls, however at this time, the design is not complete and we're working closely with riverfront residents along the way to gather their input to develop a solution that works for them but also fits within the overall flood mitigation plan for Calgary.
Homes, buildings and other infrastructure in Bowness are impacted when river flows reach levels of 850 cubic metres per second (m3/s).
Without any flood mitigation in place, there is a 12 per cent chance in any given year that Bowness will experience overland flooding. Mitigation infrastructure like reservoirs and barriers help reduce flood risk. When you factor in the TransAlta agreement for the Ghost Reservoir that was put in place in 2016, the annual flood risk in Bowness reduces from 12 per cent to five per cent.
Through climate modelling, we know Calgary will experience more occurrences of severe and extreme weather, and this includes flooding. It's important to implement processes and build infrastructure that make our communities more resilient - before the next flood occurs.
In 2016, The City hired consultants to update Calgary's Provincial Flood Damage Assessment, and to recommend resiliency and mitigation infrastructure and policies. The resulting document is the Flood Mitigation Measures Assessment (FMMA) report.
This Council approved report recommends a combination of upstream, community, and property level mitigation solutions that would prevent flooding in Calgary, similar in scale to flooding experienced in 2013.
Upstream level mitigation
Community level mitigation
Permanent flood barriers in at-risk communities. Bowness is one of the communities identified as requiring this type of flood mitigation to protect from overland flooding.
Property level mitigation and policies
Policies, bylaws, land use regulations, building codes, possible incentive programs, and public education.
Why not build a larger upstream reservoir?
We continue to advocate for upstream mitigation on the Bow River, and the provincial government is exploring three options. An upstream reservoir on the Bow River is at least 10 years away, and it's unlikely that a large enough reservoir could be built to mitigate all flood risk along the Bow River.
Knowing this, community mitigation projects will be required even with upstream mitigation to ensure Calgary's flood risk is reduced.
Location
The proposed Bowness flood barrier focuses on the river edge roughly between the CP Rail tracks and the Shouldice Bridge, a span of about three kilometres. Because the technical studies and resident engagement isn't complete, the exact alignment is not confirmed.
The map below shows the different areas in Bowness (orange, purple and yellow area) that would be at risk during different flood events without upstream reservoirs or community barriers. The City's flood mitigation plan, which includes upstream and community level mitigation is intended to reduce the overland flood risk for these areas.
During another 2013-level flood, a new reservoir on the Bow River would reduce river flow rates, but likely only down to 1,200 m3/s before it passes through Calgary (in 2013, the Bow River peaked at 1,840 m3/s in Calgary).
At that rate, without additional mitigation Bowness would still flood, since the community is impacted by overland flooding when river flows reach 850 m3/s. A barrier would help provide that extra flood mitigation for the community.
The proposed community flood barrier would help protect the area from river flows up to 1,230 m3/s. Until a new reservoir is built on the Bow River, the proposed barrier would also reduce the flood risk in Bowness from smaller floods that are more likely to occur.
It's important to remember that while the flood barrier would help reduce the risk of overland flooding, we can't prevent flooding entirely. There is still a risk of flooding from larger floods or other sources such as rainfall/drainage, high groundwater or sewer backup. Property owners also have an important role in flood resiliency. This includes preparing for potential floods and incorporating flood protection measures on their property. Learn how you can prepare for flood season.
Project Team
The project team is comprised of a group of internal experts and external consultants. The external consultants hired to work on this project are:
Klohn Crippen Berger Ltd. - Engineering consultant
02 Planning and Design Inc. – Landscape architects - Barrier design/integration into landscape
Matrix Solutions Inc. - Stormwater studies
Context Research Inc. - Public engagement
Public Engagements
Wildlife study
In addition to the wildlife observations that independent biologists will be noting this year, if you have photos of wildlife in the Bowness area, please submit these pictures online at BownessBarrier@calgary.ca
View previous engagement activities, reports back to the community and presentations
---
Stay connected
---
Project specific information
---
Videos