Christmas tree composting program
Help keep Christmas trees out of the landfill by using your green cart.
Put your cut up tree in your green cart
Remove all lights, ornaments, tinsel and tree stand
Cut your tree into small pieces
Place in your green cart (make sure lid can close)
If your green cart is full:

Put in paper yard waste bags and roll closed
Set bags one foot from side of your cart
Please note: Trees that are not prepared properly will not be collected.
Christmas tree drop-off locations are now closed for the year.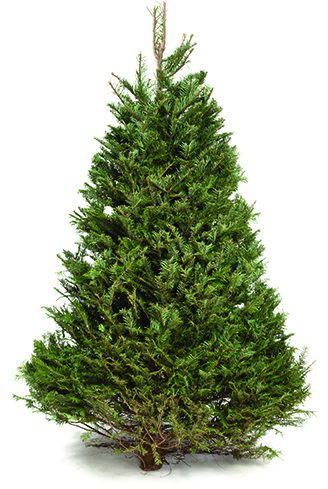 ---
Frequently asked questions
Why do I have to cut my tree up for Green Cart collection?
Trees must be cut up so the pieces are small enough to fit into your green cart.
Our collection trucks use the carts for automated collection and we are unable to load materials manually into the truck. Your tree must fit into the cart to be collected without damaging the equipment.
Even bagged branches are placed into the green cart and then emptied into the truck.
What are the benefits of composting my Christmas tree?
By composting your Christmas tree, you help preserve valuable space in our landfills, turn your tree into nutrient-rich compost and reduce harmful greenhouse gas emissions.
Learn more about how composting works.
Can I put my tree in my black cart?
No. Food and yard waste must be put in your green cart. Black carts containing Christmas trees will not be collected.
Can I compost my evergreen wreath?
Yes, you can put your evergreen wreath in your green cart or it can be dropped off with your real tree at any of the drop-off locations. Please note: The wreath needs to be stripped of all ornaments, ribbons, nails, wires etc.
Can we pick up compost or mulch?
Stay tuned for updates about 2020 compost giveaway events.
You can pick up mulch at the East Calgary Landfill only. There is no charge, but quantities may be limited. Mulch is available for both residential and commercial customers.
You are responsible for loading mulch into your vehicle. The mulch can be used around evergreens, for yard and garden use, and is helpful for water retention and weed control.
Note: The mulch is acidic and may affect tender annuals such as plants and flowers. Consult your local greenhouse for more information.