​​​​
Due to Covid-19​, the followed events are cancelled for 2020:
Features
Military Field of Honour
In-ground burial plots
Cremation burial plots
Historical walking tours
Scattering garden
Memorial wall
Columbarium
History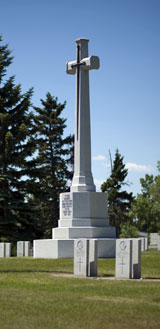 Calgary's public cemetery history started in 1885 when Calgary's first Protestant cemetery was established where Shaganappi golf course is today. In 1890 Union Cemetery opened in its current location to replace the cemetery at Shaganappi Point. The Calgary Heritage Authority deemed the cemetery to be a historically significant cultural landscape that played an important part in the settlement and establishment of Calgary as a city. For more information on Union Cemetery's history or about the people that are buried there, please join one of the summer historical tours.
Special events
The City of Calgary helps citizens honour loved ones at Union Cemetery through several annual special events including Mother's Day, and Father's Day.
How can we help you?
In addition to providing the final resting place for your loved one, Calgary Cemeteries can provide you with a large selection of affordable products and services including:
Our knowledgeable staff have over 100 years of cemetery experience and can help you choose the best options to suit your needs. Please contact us for more information.
Want to locate a loved one's gravesite?
To find the location of a loved one's gravesite, please call 403-221-3660 or email Calgary Cemeteries.
For more information:
Call: 403-221-3660
​​​​​