Public Transit plan and budget
The Public Transit service line provides a network of train and bus transportation for citizens and visitors to Calgary to get from place to place safely, reliably and affordably.
Our service includes rapid transit service by bus and CTrain, local bus routes including On Demand bus service and a support system that keeps customers safe, comfortable and informed.
We are an environmentally friendly service, with a focus on reducing Green House Gas (GHG) emissions and contributing to the climate strategy.
Our customers
Citizens and visitors of all ages; Youth, Adults, and Seniors; who ride buses and trains to commute to school or work, and to visit the services, amenities and places they care about. 
Our service connects people across the city and links to other services like specialized transit, streets, sidewalks & pathways.
Our partners
Mobility
Capital priorities & Investments
Corporate Planning & Performance
Finance
Information Technology
Human Resources
Supply Management
Community Strategies
Recreation & Social Programs
Emergency Management & Community Safety
Public Spaces Delivery
Fleet & Inventory
Downtown Strategy
Climate & Environment
City & Regional planning
Corporate Security & Safety
provides a public transit system that is safe and secure, accessible for all ages and abilities, reliable and convenient to use

connects customers with people and places 
offers other innovative service options, such as Mobility as a Service (MaaS). 
informs riders through customer service and information by phone, online, text and applications
keeps riders safe with a robust security service
The MyFare app makes it easier and more environmently-friendly for customers to purchase fares
Enable customers to travel almost anywhere across the city for their day-to-day activities
service plan budget
service plan budget

| Service line | Breakdown |
| --- | --- |
| Public Transit | |
Expected 2026 performance.
Customers feeling safe
2022 was 65.3%
2023 mid-year was 78%
Bus On-Time Performance - Reliability
2022 was 87.7%
2023 mid-year was 86.9%
Operating cost per trip
2022 was $6.85
2023 mid-year was $4.90
Bus GHG Emissions (CO2) per 1000 km (kg)
2022 was 1,172CO2kg
2023 mid-year was 1155CO2kg
Population within walking distance of Base & PTN Transit Service
2022 was 49%
2023 mid-year was 51.4%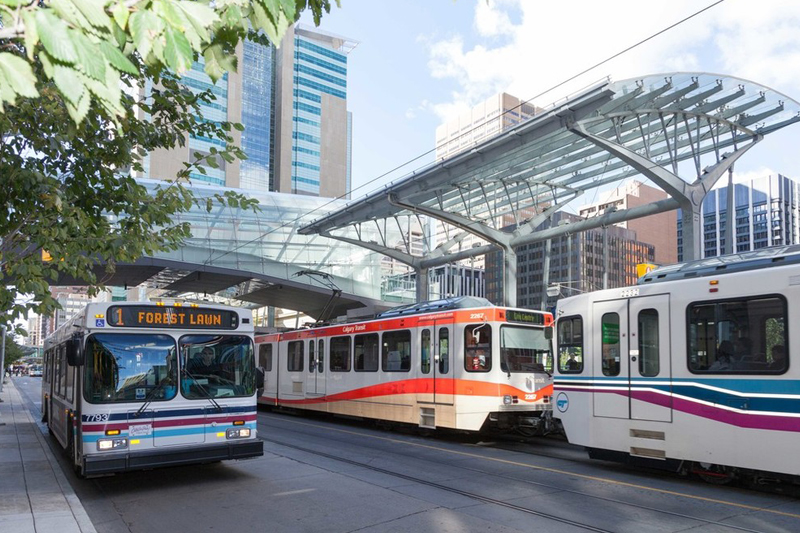 What we've heard
Through the recent survey conducted by the Corporation, the following are the most frequent themes identified regarding why Public Transit and its values
matter.

Provide more frequent service to support the goals of the Municipal Development Plan and be competitive with other modes of travel.
Provide safe public transportation and increase security measures around LRT stations, especially in the downtown core and inner city.
Adapt to changing needs including more service to newer communities and focus on reliability.
Public transit should be affordable and accessible for all.
Consider more connection around transit stations and activate the surrounding area.
This finding is consistent with the surveys conducted by customer research program by Public Transit team. Safety, reliability and affordability have been chosen as the top areas of focus.
Participate and view results of City research
What we're watching
We are closely monitoring the service demand for efficient service delivery, operating and capital funding variability, and changing customer expectations. 
We will also work with internal partners for continuity of Provincial funding support for Low Income Transit Pass program beyond March 2023. 
The emergence of innovative service delivery is changing the transit industry, and we will continue to focus on technological advancements. 
Our service will continue to support the construction and delivery of the new Green Line LRT which will improve the entire system. 
We will evaluate and implement On Demand and other alternate service delivery models to provide efficient and effective service. 
We will evaluate alternate fuel technologies like battery electric, hydrogen and RNG (renewable natural gas) for CT's buses.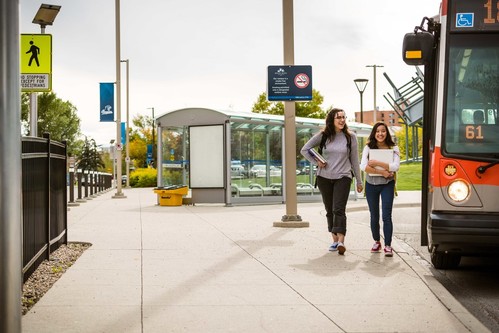 What we plan to do
We will focus on recovering from the pandemic while analyzing the shifts in travel patterns and choices, evaluating technological advancement options, innovative ideas, network improvement opportunities, investing in infrastructure, and reprioritizing service investments.
How we're going to get there
Improve service and align service levels with return of ridership by optimizing routes and schedules.
Improve transit service by investing in innovative service delivery options and technologies.
Improve employee engagement and safety awareness training by investing in employee commitment.
Support transit customer safety strategy, Safety 4 All, by coordinating efforts with Council, other departments and business units.
Reduce greenhouse gas (GHG) emissions by transitioning to Compressed Natural Gas, Zero Emissions Bus, or hydrogen buses, leveraging funding support from other levels of government.