2022 City Services Investments
---
Affordable housing investments
We're helping to fund the planning and feasibility of 300 affordable homes for 1,200 Calgarians, constructing 125 homes this year. In addition, funding to enhance our current programs to increase our affordable housing supply and improve the housing system.
Community Safety Investment Framework
A range of non-profit and community partners investments were approved to continue to enhance the programs and services made available to Calgarians in crisis because of mental health, addiction, and other challenges.
Improved snow and ice control & Pedestrian improvements
Additional investments in snow clearing services were made to achieve a 6 Day Snow Average snow clearing response times now reduced from 24 hours to 18 hours for Priority 1 and Priority 2 routes. In addition, priority pedestrian clearing of over 1000km of pathways and sidewalks is to be completed within 24 hours.
Several public safety and programs improvements
We're adding 56 new firefighters and 6 training officers to enhance public protection and meet the legislative requirements of AB Bill C-30, making investments in Calgary Transit to provide adequate safety and security services for customers and enhance safety at our downtown parks to name a few.
Arts and Culture support
Supporting Calgary Arts Development Authority (CADA) and Arts and Culture micro-grant programs to help ensure a strong and resilient local arts community that contributes to economic resilience and offers arts and cultural opportunities for Calgarians and visitors.
Climate Strategy and Action Plans
Investments in advancing our Climate Strategy and Action Plans will move us closer to meeting The City's targets to reduce city-wide greenhouse gas (GHG) emissions even as our population and economy continue to grow. One of The City's key targets in the Climate Strategy and Action Plan is to reduce city-wide greenhouse gas (GHG) emissions by 80 per cent below 2005 levels by 2050.
Advancing Stream B of White Goose Flying
Spiritual Healing, Culture and Arts Commemoration
We've invested in community spaces for Indigenous ceremonial, cultural, commemorative activities, as well as healing. We're also advancing reconciliation through the identification, protection, and interpretation of Indigenous archaeological sites.
Local area planning and communication relations resources
Investments were made to modernize local area plans that contribute to achieving the Municipal Development Plan objectives, increase predictability and efficiency of development applications and create strong relationships with communities.
How we deliver value through City services and programs
---
The property tax you pay is your investment in making Calgary a great place to live.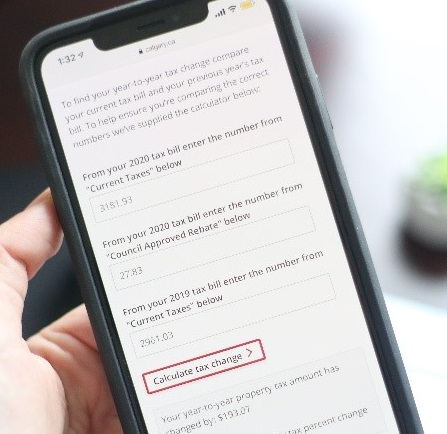 Financial facts
We're answering your questions and addressing misconceptions about our City finances and services as part of our commitment to remain an open, transparent and accountable local government.
Financial facts
Reducing City cost and supporting Calgary's economic resiliency
---
We worked hard to reduce expenses while providing the critical services you need. A total of $177 million in reductions have been achieved since 2019.
Learn more about how we are working to diversify, support and build Calgary's economy to ensure a prosperous and sustainable future for all Calgarians.
Residential tax bill inserts