Green Cart Food and Yard Waste program
We provide food and yard waste collection to single family homes.

Green carts are collected weekly in the spring on the same day as blue carts. Please set your cart out by 7 a.m. on your collection day.
Our bins hold up to 60 kg of waste.  Fill your green cart first, then use extra paper yard waste bags.  Place bags 0.5m (2 ft) to the side of the cart for pickup.
If you still have extra yard waste, please store on your property until your next collection day.
Leave grass clippings on the lawn
The next time you mow, try leaving your grass clippings on the lawn instead of putting in the green cart. Short clippings will quickly break down, returning nutrients to the soil for a healthy yard. It will help you save time and energy from bagging up grass clippings, and save money on paper yard waste bags. You don't need a special lawn mower – just remove the bag and mow.
---
Print a calendar
Type your address in the search box
Select Get a calendar
You can print a calendar; or
Add an online calendar
Sign up for free reminders
Type your address in search box
Select Get a reminder
Chose type of notice
Add your contact details
---
What can go in your Green Cart
---
Using your Green Cart
Compostable bags and liners
---
Customer self-service
Report a missed collection
Request cart for a new home
Report a missing or damaged cart
Please call 311 to report a broken or missing cart.
For more details, see Replacing Your Cart.
About Green Cart Program
Who receives a cart?
We provide green carts to single family homes up to four units, as long as they are not part of an apartment or condominium.
Can I get a replacement kitchen pail?
The City does not provide replacement pails. You can purchase kitchen pails at any big box or hardware retailer. You can also reuse any container with a lid that seals, such as an ice cream pail.
Green Cart fee

| Monthly Rate | 2020/2021 |
| --- | --- |
| Green Cart Fee ($ per 30 days) | |
| | |
Your monthly cart program fees are not a "per-collection" fee but cover all the components of the residential cart programs, including providing carts to Calgarians, pickup from your home, composting of material as well as education and program support.
The property tax subsidy has been removed from the Green Cart fee. To learn more, visit Residential Waste Rates.
How composting works
The Calgary Composting Facility is the largest of its kind in Canada. The facility produces high quality compost collected from the green cart program and the biosolids program.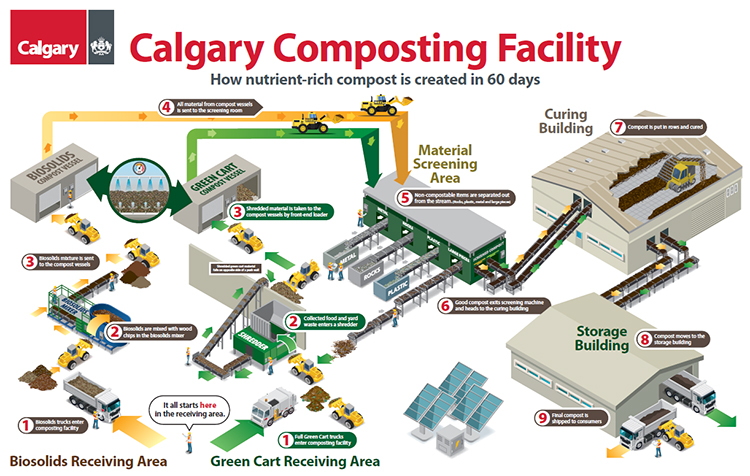 Take an online tour of the facility and learn how composting works.
Other disposal options
​​​​​