Alterations to existing buildings
Interior and exterior renovations, structural changes, interior demolition, leasehold improvements, parkade repairs, racking, and alterations to fire alarms and sprinklers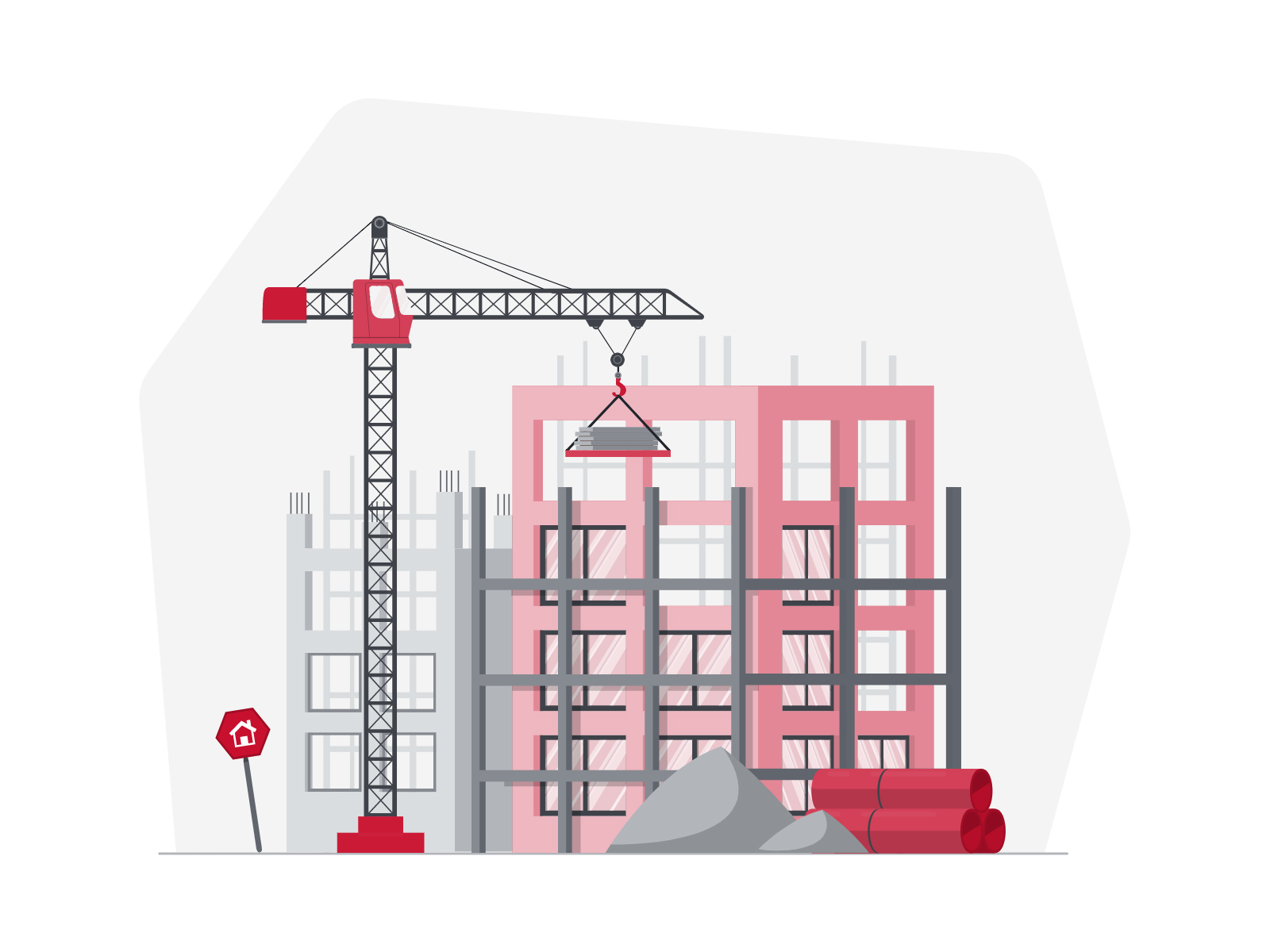 There's an easier way to find planning information.
We've curated the best development and building information from The City and put it one place.
Visit the Development and Building Professionals Hub today
Step 1: Review the rules, application process, and fees for your project
---
Do I need a permit?
A building permit is required if any of these conditions apply:

There's a change to the business activity resulting in a new building code classification or occupant load (e.g. a warehouse changes to a vehicle repair shop). Even if there is no construction planned, a building permit may still be required.
Any construction is being done, including alterations to structural and non-structural walls. If you're making changes to mechanical, plumbing, gas or electrical work, you may need a building permit and additional trade permits.
When upgrading or installing new mechanical equipment to meet building code (e.g. a car detailing business to an engine repair business; using a forklift in a warehouse may require additional ventilation; adding or modifying cooking equipment).
You are the first tenant in a new building.
Alberta Health Services must review the application; some examples are restaurants, daycares, pools, hair salons, massage centers, tattoo parlors, and nail salons.

A building permit is NOT required when the above criteria does not apply to your application, and the scope is cosmetic (painting or furniture).
A development permit may be required, before applying for a building permit. If you are unsure if you need a development permit first, contact the Planning Services Centre.
Fee Calculation
​​ ​Building Safety Approval - Building Permit

Building Safety Approval - Building Permit:

​Alteration to existing building

undefined:

​​Please use the Building permit fee calculator​ to estimate your fee.
Payment Process
For online submissions with large permit costs, there is a deposit process in place that limits the amount paid online.  For building permit fees over $10,000, only 25% of the base permit fee will be charged as an initial deposit, up to a maximum of $10,000. If 25% of the building permit base fee exceeds $10,000, you will be contacted to make payment for the remaining permit fee balance and any applicable additional fees (i.e. partial permit, lot grades, SCC, etc.) For example, if 25% of the permit fee is $25,000, you will pay a $10,000 deposit online and our Cash Office will contact you the next business day to make the payment for the remaining $15,000 of the deposit.
Please note, the remaining permit fees must be paid in full prior to the partial permit of the full permit being issued. In order to pay the remaining total, please choose one of the payment methods listed below and reference your permit number.
Payment method
Our process

By Credit Card

Additional payments can be made via credit card over the phone.

In order to make payment over the phone by credit card please call 403-268-5311.

By Cheque

Cheques can be made payable to:



"The City of Calgary"




Cheques can be mailed in using the mailing address below:




The City of Calgary

Attention: Planning Cashiers - 8108

PO BOX 2100

STN M

Calgary, AB T2P 2M5




By Electronic Funds Transfer (EFT)

If you would like to pay by Electronic Funds Transfer you will select the payment option upon application. No fees will be processed at the time of the application intake. The Planning Cash Office will contact you the next business day and provide you with instructions to complete the EFT payment.
When submitting your application in person, payment is due upon the time of submission. There are several different methods of payment accepted for this method of submission listed below.
Payment method

By Credit/Debit Card

Payment can be made via credit and debit card at the time of submission of your application. All major credit card types are accepted.

By Cheque

Cheques can be made payable to:




"The City of Calgary"




Cheques can be mailed in using the mailing address below:




The City of Calgary

Attention: Planning Cashiers- 8108

PO BOX 2100

STN M

Calgary, AB T2P 2M5




Cash

Payment by cash is only accepted in-person. Cash payment will not be accepted if sent via mail.
There are two payment options to choose from when applying for your permit in person:
Option 1: Submit payment for 100% of the permit fees up front.
Option 2: Pay 25% of the permit fees up front. This option is only applicable for applications over $10000. Please note, the remaining permit fees must be paid prior to a partial or the full permit being issued.
In order to pay the remaining total, please choose one of the following payment methods and reference your permit number
Preparing your application
The building permit checklist will indicate the plans and documents that are required. Plans need to include enough detail to clearly convey the entire scope of intended work, and include information needed to guide the construction process.
All areas covered by the current Building Code including mechanical, plumbing and electrical systems, washrooms and fire ratings should be included in your plans. Submitting a comprehensive set of plans will result in a specific and accurate review process, leading to efficient approval of the building permit application.
Quick releases
 To help plan your project, determine if your permit qualifies for quick release:
Professional architects or engineers
An architect or professional engineer may be required to design and inspect your project. Refer to the current Building Code, Division C, Section 2.4.2 or a consultant to determine if professional involvement is required. Where professional involvement is required, plans or documents must be stamped by the corresponding professional(s).​​
Planning approval requirements
All building permits undergo a use review to ensure the proposed construction has appropriate planning approval. Planning approval can be achieved through a development permit. If no previous approvals have been applied for, then your building permit will remain on hold until the appropriate use approvals have been granted. You can find more information about the Development Permit Process through the linked page. 
Building Code requirements
This information assists business owners and contractors understand and implementing general current Building Code requirements for commercial building permits. Commercial spaces must comply with the Land Use Bylaw as well as minimum requirements established in the current Building Code, including applicable standards for safety of the public and building occupants, health, accessibility, energy, fire, and structural integrity. Commercial spaces must also comply with the National Fire Code (Alberta Edition) also known as the 2019 National Fire Code (Alberta Edition). Businesses are responsible for following the rules and regulations of all applicable governing bodies prior to using the space.
Business owners and contractors should consult a design professional before financially committing to a location. The cost to make necessary upgrades or changes may be expensive. The City of Calgary does not determine who should coordinate or pay for upgrades.
Some activities have very specific code requirements, including restaurants.
Business activities are associated with a type of occupancy and governing building classification in the current Building Code. Classification is determined by building size (footprint area and number of storeys), construction type (wood or concrete and steel), the need for a sprinkler and fire alarm system, and type of occupancy.
Depending on how the building is classified, changes and upgrades may be necessary to accommodate the proposed activity. For example, a building without sprinklers may be suitable for a retail store, but not suitable for a restaurant when taking into consideration the size, construction type, and mechanical ventilation.
Knowing the building classification will assist with design and construction, by helping to determine:
Fire ratings of walls, floors, mezzanines and roofs
Construction type (combustible, non-combustible or combination of both)
If sprinkler and fire alarm systems are required

The current Building Code also determines:
Maximum occupant load
Barrier free accessibility and washroom design
Required exiting
Fire alarm and detection requirements
Due to the complexity of interpreting the classification, you may need to engage with a consultant that can conduct a building code analysis in order to identify the building classification and the rules related to that class before preparing your plans and documents.
Ensure your building classification is clearly indicated on your plans. Providing this information reduces delays in your application review.
On your building permit application, you must indicate one of the following building occupancies:
Assembly: a space (e.g. arena, theatre, restaurant, day care) where people gather for civic, political, travel, religious, social, educational, recreational or similar purposes, including consumption of food or drink

Detention: a space where people are held under restraint or are not self-sufficient due to security measures
Care: the use of a building or part thereof where the provision of services other than treatment by or through care facility management is provided to residents who require these services because of cognitive, physical or behavioural limitations.
Treatment: use of a building or part thereof for the provision of medical or other health-related intervention to persons, and where overnight accommodation is available to facilitate the treatment.
Residential: use of a building or part thereof by persons for whom sleeping accommodation is provided but who are not harboured for the purpose of receiving care or treatment and are not involuntarily detained.
Personal Service/Office/Business: a space (e.g. banks, beauty salons, dental offices, medical offices) used for business transactions, including provision of professional or personal services
Mercantile/Retail: a space including, but not limited to, exhibition halls, department stores and markets that are used to display or sell retail goods
Industrial: a space used for the assembly, fabrication, manufacture, processing, repair or storage of goods and materials
Please see the current Building Code for exact wording of each category. The above information is intended to provide a general summary.
Codes addressing accessibility, or barrier-free design, allow safe access to buildings and facilities for all people. Reasonable access to facilities is required to ensure that everyone has the same opportunities to be active, independent and safe within the community.
The rules for barrier-free design are in section 3.8 of the current Building Code. To help explain this material, the Alberta Safety Codes Council created a barrier-free design guide.
Access Design Standard - is required to be applied ONLY on City of Calgary owned / operated facilities – please speak with the project manager for the City owned project you are working on for details
If the physical layout of the building makes it difficult to provide barrier-free access and/or facilities, you can apply for a relaxation with Alberta Municipal Affairs.
If you are constructing a new building or an addition (including second floors and mezzanines), your design will need to comply with the National Energy Code of Canada for Buildings (NECB) or the current Building Code section 9.36.
Buildings that were constructed to meet the National Energy Code still require compliance when undergoing renovations or improvements. This may include:
Building envelope: requirements for roofs, walls and windows to control heat loss and air leaks.
Heating, ventilation and air conditioning (HVAC): efficiency of heating and cooling equipment
Water heating: efficiency of equipment and controls
Lighting: number and type of lighting fixtures and controls
Visit National Energy Code of Canada for Buildings for more information about how it may affect your business.
We're currently experiencing higher than seasonal application volumes, we apologize for delays. To check the status of your permit, go to vista.calgary.ca and enter in your Job Access Code (JAC) number
Apply in person
Once you have gathered all required documents, you can apply for your permit in person by visiting the Planning Services Centre.
Complete Application Requirement

An application for a permit may be refused if, within ninety (90) days from the date of receipt, adequate information and documentation is not supplied as requested by the Safety Codes Officer. Should a permit be considered for refusal the applicant will be given notification in writing and 30 days to resubmit the missing information. For more information, please review Building Advisory A19-002 Building Permit Complete Application
After you submit your application online, you will get a confirmation email with a Job Access Code (JAC).
To track your application and check its status, enter your Job Access Code in Vista.
If you need help or have questions, contact our Planning Services Centre. 
Revisions and resubmissions
A resubmission may be requested by your plans examiner prior to the release of your building permit. To submit the requested documents, please go to apply.calgary.ca/commercial, and sign in with your myID account. Once you reach step 2 of this application process, you will select the "revisions, resubmission, and inspection documents" option to progress with your resubmission. This process is also applicable when submitting a revision to an already issued building permit.
How long is my permit valid for?
Building permits are valid for 6 months after the date of issuance. If an inspection occurs during this time, then the permit will continue to be valid for another 6 months from the date of the last inspection. Inspections can not be booked once a permit has expired. The permit must be reinstated before another inspection can occur. 
Why do you need an inspection?
Inspections are part of the approval process and are included in the permit price. Your permit is not complete until your work has passed all required inspections.
Inspectors verify that your completed work meets safety or approval standards and they can assist if you encounter problems with your project. Having permits approved and completed allows future buyers to verify that your work was inspected by The City. Remember, any work completed on the building is ultimately the owner's responsibility. If you're working with a contractor, setting your expectations at the beginning of the project in a written contract is a good way to protect your investment. For more tips, visit hiring a contractor.
Book an inspection
Trade contractors can book inspections online through the Inspections Booking Calendar. At this time, building contractors can continue to book inspections through 311.

Our enhanced Inspections Booking Calendar  provides a more streamlined experience for trade contractors to better manage their inspections. Trade contractors can book, reschedule or cancel their inspections all through the online tool.
Please note, inspections can be booked up to 10 business days in advance and occur Monday to Friday from 8 a.m. to 4 p.m. The City continues to do our best to accommodate booking requests, however some dates may be unavailable due to inspection capacity.
Login to ePermit at calgary.ca/vista, or use our mobile friendly site inspections.calgary.ca.
Book, reschedule and cancel
Receive instant scheduling confirmation
View inspections required for each project phase
View inspection results and reports online
View inspection status
Login to Vista with a user ID or Job Access Code (JAC)
Book phase inspections only
No rescheduling or cancellation ability
View inspection status
Trade contractors are encouraged to book their inspections online through the Inspections Booking Calendar .
All commercial building permit inspections can be booked through 311:
Inspections booked through 311 will be confirmed via email on the morning of the inspection, if you provided an email address. This confirmation will indicate if your inspection will be in the morning or afternoon. Please note this does not apply to new home inspections. If you have not received an email by 8:30 a.m. on inspection day, please call 311.
Cancel or reschedule an inspection
Do I require an occupancy inspection?
An occupancy permit​ is the final approval indicating that the building is safe to occupy. The building safety codes officer will review the scope of work to determine if an occupancy permit is required. If required, the building safety codes officer will provide an application for occupancy form to the general contractor at the time of inspection. If occupancy is granted, the building inspector will leave the signed occupancy permit with the contractor on site. New businesses will need to arrange for a business licence after they have received their occupancy permit. ​​

Planning Services Centre
We're currently experiencing higher than seasonal application volumes, we apologize for delays. To check the status of your permit, go to vista.calgary.ca and enter in your Job Access Code (JAC) number
Hours:
Monday - Friday
8 a.m. - 4:15p.m. (MT)

Live chat:
calgary.ca/livechat
Call:
403-268-5311
In person:
Whitehorn Multi-Services Centre
3705 35 Street N.E.