Building a backyard suite
Do I need a permit?
Do I need an Electrical Permit?
You need a separate electrical permit for all electrical installations and renovations.
​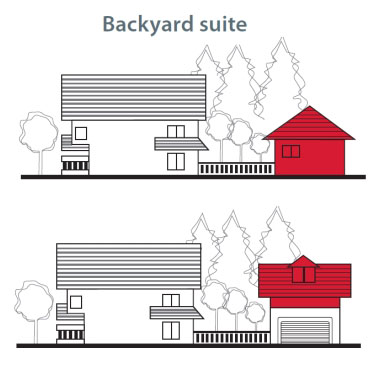 Fees
| Suite type | ​Permit Fee | ​Safety Codes Council Fee (4%) | ​Total |
| --- | --- | --- | --- |
| | | | |
How long will it take to get a permit?
To avoid delays, make sure your application includes all the required documents, plans and information listed on the Backyard Suite Checklist.
| Permit | Timeline |
| --- | --- |
| Planning Approval (Development Permit) | |
| Building Safety Approval (Building Permit) | |
When does my permit expire?
You will receive a permit expiry reminder in the mail. If you need more time, you can extend your permit. Review the extend or reinstate your permit section.
| Permit Type | Expiry (from date of issuance) |
| --- | --- |
| | |
| | |
| | |
Use the information below to prepare your application. Follow the rules in the location, design and construction sections to help make sure your application meets the City's requirements.
We're currently experiencing higher than seasonal application volumes, we apologize for delays. To check the status of your permit, go to vista.calgary.ca and enter in your Job Access Code (JAC) number
Apply in person
Once you have gathered all required documents, you can apply for your permit in person by visiting the Planning Services Centre.
Complete Application Requirement

An application for a permit may be refused if, within ninety (90) days from the date of receipt, adequate information and documentation is not supplied as requested by the Safety Codes Officer. Should a permit be considered for refusal the applicant will be given notification in writing and 30 days to resubmit the missing information. For more information, please review Building Advisory A19-002 Building Permit Complete Application
After you submit your application online, you will get a confirmation email with a Job Access Code (JAC).
To track your application and check its status, enter your Job Access Code in Vista.
If you need help or have questions, contact our Planning Services Centre. 
Visit Building inspections for information on how to book an inspection, cancel or reschedule, permit expiry and the applicable requirements for each inspection type.
Building permit inspections you will need
Two inspections are required.
Framing (rough-in) inspection requirements:
Install and complete any structural changes.
Install and complete all the wall and ceiling framing.
Install proposed windows and exterior doors.
Install and complete any HVAC changes.
Rough in, install and complete all plumbing and electrical components that are required under associated permits.
Have requested documentation on site.
Do not install insulation, vapour barrier or drywall over any work that requires inspection prior to concealing.
Final inspection requirement:
The construction should be completed and the suite should be ready for occupancy.
Framing (rough-in) inspection requirements:
The garage must be at lock-up stage, where all doors and windows are properly installed, with the building secure and the site safe.
Garages can be built into the side yard, close to the property line. Fire rating standards must be completed, with fire-rated materials installed. 
The garage inspection can occur when the project is complete, or at the framing stage when doors and windows are installed.
Trade permit inspections you may need, if applicable
The following tasks must be completed before booking an inspection. Please note it is not necessary to have drywall installed for a final inspection.
Please review the green service label policy to determine if you require a green service label (sticker).
Rough-in requirements
Have all wiring and interior of outlet boxes readily visible.
Remove vapour barrier and insulation where it's covering any wiring. The exception is for wiring fished into walls.
All wiring must be supported.
Remove outer sheath of wiring and terminate all wiring into outlet boxes and fixtures.
Ensure all splices are made and all grounding is complete in outlet boxes and fixtures.
Do not secure devices (plugs, switches) to outlet boxes. Leave all wiring and terminations visible.
Cables may be terminated into the panelboard, but wires should not be on breakers.
Never energize exposed wiring.
Rough and underground inspections should be combined.
Expose the trench on at least one end to confirm depth.
Access must be provided to all areas where electrical work has been completed.
For secondary suites, use the secondary suite electrical load calculation sheet to ensure your current electrical service is adequate. When complete, please email the form to us. If the main electrical service must be increased from 60 amps, 100 amps, or 200 - amp service, please have your Contractor contact ENMAX.
Final requirements
Do not have any exposed live wiring.
Install all devices, receptacles and light fixtures.
Any open outlet boxes or unfinished wiring must be properly secured and installed in a junction box with an approved splice cap and a junction box cover.
Install, terminate and energize all breakers, if safe to do so.
Complete the panelboard breaker directory, all breakers must be labeled correctly.
Access must be provided to all areas where electrical work has been completed.
For more information, review the Homeowner electrical wiring guide.
What you need to complete before you call for each plumbing inspection:
Rough-in inspection
Install and complete all plumbing drainage and venting.


Install and connect water lines to the rest of the water distribution system.


Properly support all drains, vents, and water lines.


Install the bathtub/shower valve.
Final inspection
Install and ensure all fixtures and equipment are ready for use.


Ensure the bathtub and shower water temperature does not exceed 49 degrees Celsius.


Seal all piping designed for future fixtures with an approved plug or cap.


Provide a shut off valve for all toilets.
Following an inspection, The City's safety codes officer (SCO) may identify corrective action to comply with the National Building Code (Alberta Edition). In place of a re-inspection, the SCO may provide an option to submit a verification of compliance (VOC).
Book an inspection
Inspections occur Monday to Friday from 8 a.m. to 4 p.m. The City continues to do our best to accommodate booking requests, however some dates may be unavailable due to inspection capacity. Inspections can continue to be booked up to 10 business days in advance.

You will receive a confirmation e-mail on the morning of your inspection that states your inspection window (8 a.m. to noon or noon to 4 p.m.). If you have not received an email by 8:30 a.m. on inspection day, please call 311.
Contractors
If you have a Vista account:
If you do not have a Vista account:
What is the secondary suite registry?
The secondary suite registry is an online, searchable list identifying legal and safe secondary suites in Calgary. These suites have been registered and inspected to meet Alberta's safety code requirements. View the suite registry bylaw and go to secondarysuites.calgary.ca to view the registry.
What is the goal of the registry?
The registry aims to build awareness with Calgarians about the importance of public safety, and the safety features of a legal secondary suite. Suites that have been inspected by The City and meet the requirements under Alberta's safety codes provide the necessary measures to help protect lives.
What are the advantages of the registry and sticker for owners?
Registered secondary suites are listed on The City's website and receive a numbered sticker that can be posted at the main entrance of the suite. Owners can use the registry and sticker as a means to promote their suite to current and future residents.
Is there a cost to be on the registry?
Not currently, however, in January 2022, we will reinstate fees for the suite registry. The registry program is intended to promote the importance of safe secondary suites for Calgarians.
How do I get a secondary suite sticker for my suite?
Please note it will take two to three weeks after the final inspection to receive your sticker in the mail.
Where do I place the sticker on my property?
We recommend placing the stickers on the entry point of the suite. This informs current and future residents that suite is part of The City's registry program.
If the property is sold, does the registry transfer to the new owner?
Yes. The registry is connected to the address containing the legal and safe secondary suite.
How long is the sticker valid for?
There is no expiry date.
Can I make modifications to my secondary suite after the building permit is approved?
Any changes to your secondary suite could require additional permits and inspections. To ensure modifications meet the requirements of Alberta's safety codes and do not alter the safety features of your suite, contact The City's Planning Services Centre at 403-268-5311 for assistance.
What penalties might I face for owning an unsafe suite?
Safety is always top priority for The City. Our inspectors work collaboratively with secondary suite owners, and we determine appropriate timelines to complete work. However, if owners of illegal suites do not comply with minimum safety standards, we may take legal action.
Can I be removed from the registry?
The City investigates all complaints, should your secondary suite be found to no longer comply with Alberta's safety codes, your suite will be removed from the registry.​
The City of Calgary requires the assignment of a separate address for secondary suites to supplement the basic address of the main dwelling. The identifier for the secondary suite may be alphabetical or numeric. Suite numbers are shown at the start of the address for the following purposes:
Emergency response and wayfinding
If an emergency event occurs in the secondary suite, every second counts and a precise location will assist the emergency responders to locate the suite.
Current and future utility hookups
Utility hookups require the exact suite address where the utilities will be hooked up and for the utility bill to be sent.
Applications for future business licences
A requirement of a business licence is to have the exact suite address to where the business will be operating. Although there might not be a business operating out of the secondary suite at this time, an address will still be created to enable a business to be licenced at the suite when needed.
Applications for future short-term rentals
Although the secondary suite might not be used as a short-term rental at this time, a new address will still be created to enable a suite to be licenced for a short-term rental when needed. The licence requires the exact suite address and not the main dwelling address.
Canada post and other mail delivery services
Although not a City of Calgary requirement, having a separate address for the secondary suite will assist in the delivery of mail to the correct dwelling unit.
Legal and safe suite registry
Check the Secondary Suite Registry to find or verify a legal suite in Calgary.
Registry suites include all necessary permits and have been inspected to meet Alberta's Safety Code requirements. The registry is continually updated as we approve suites.
If an operating suite does not appear on the registry, you can contact Customer support to submit a complaint.