Building a backyard suite
If you are building a backyard suite, this is the right page for you. Find information on the rules for your specific property, how to apply, and how to register your suite.​
We're waiving up to $900 in fees until December 31, 2021
The City is waiving fees for the development permit and secondary suite registry for all secondary and backyard suites​ until December 31, 2021.
What's changing in 2022?
All secondary and backyard suites must be on our suite registry​ by December 31, 2021​. In January 2022, we will reinstate fees for the development permit and suite registry.​
Please note
There must not be more than one backyard secondary suite located on a property
A backyard suite and a secondary suite cannot be located on the same property
​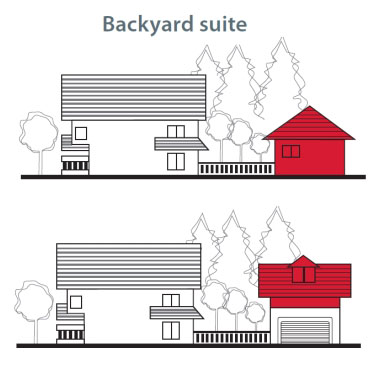 Step 1: Review the rules and fees
---
Fees
​Suite type
​Permit Fee
​Safety Codes Council Fee (4%)
​Total

Suite type:

​New backyard suite

Permit Fee:

​$1312

Safety Codes Council Fee (4%):

​$52.48

Total:

​​$1364.48
Step 2: Prepare your application
---
Use the Backyard Suite Checklist to determine your project's drawing requirements.
Review the Backyard Suites How-to Guide
For online applications, review the criteria for information on how to organize your plans and documents
Complete plans and collect supporting documents. Review the sample drawings if needed.
Step 3: Apply
---
​​​​​Apply online​​​
In order to get started, create a myID account.
​​​​Create a myID account​​​

Businesses can register for a myID business account. A business account is intended for myID services to be submitted on behalf of a business or organization. Please follow the steps outlined on the myID business account page.
In person
You can also apply for your permit in person by visiting the Planning Services Centre. Make sure you have all of the required documents. To skip the line, book an appointment.
Step 4: Inspections and managing your permit application
---
---
Planning Services Centre
We are experiencing higher than normal volumes and longer wait times. We appreciate your patience while our agents answer your questions and review your applications.

If you are trying to reach us, please select only one method of contact for your inquiry. Multiple inquiry services at the same time can increase volumes and wait times. For applications, we encourage the use of our online system as the timelines for drop-off and online submissions are the same.
Hours:
Monday - Friday* 
8 a.m. - 4:15p.m. (Mountain Time Zone)
*closed on statutory holidays
Live chat:
calgary.ca/livechat
Call:
403-268-5311
Drop-off:
COVID-19 Service Changes - Application drop-off
3rd floor, Municipal building
800 Macleod Trail SE
COVID-19 updates:
COVID-19 changes to services
Legal and safe: suite registry
Check the Secondary Suite Registry to find or verify a legal suite in Calgary.
Registry suites include all necessary permits and have been inspected to meet Alberta's Safety Code requirements. The registry is continually updated as we approve suites.
If an operating suite does not appear on the registry, you can contact Customer support to submit a complaint.
​​​​​​​​​​​​​​​​​​​​​​​​​​​ ​​​​​​​​​​​​​​​​​​​​​​​